Ian Easton On Taiwan: Taiwan: Not so safe, not so weak
If there's anything American defense experts agree on, it's that Taiwan should take the threat of an enemy attack more seriously — and make itself harder to invade than it now appears. Given Taiwan's advanced economy, favorable geography, and highly-educated population, the country could be an impregnable fortress. So why isn't Taiwan on a higher state of alert? Or is that chill facade hiding something?
TAKING PEACE FOR GRANTED
To be fair, it would not be reasonable to expect that a nation like the Republic of China (ROC, Taiwan), which has enjoyed over 60 years of unbroken tranquility and unremitting social progress and economic growth, could avoid becoming at least somewhat complacent. The last time the ROC military saw combat was in 1958, during the Second Taiwan Strait Crisis.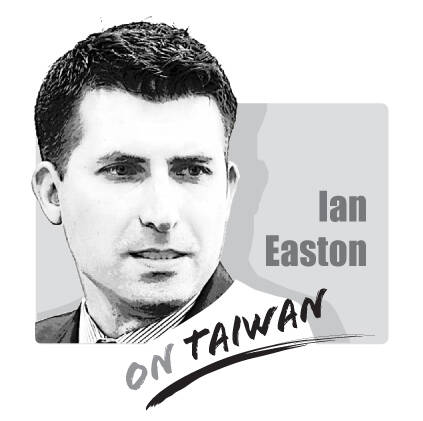 And the last major loss of life occurred in 1960, when the Chinese Communist Party (CCP) responded to President Dwight Eisenhower's visit to Taiwan by shelling Kinmen, killing seven soldiers and six civilians. More recent Taiwan Strait crises have not resulted in any lethal clashes, convincing many people that the Communists are bluffing and won't actually attack.
Taiwan also feels safe because it is safe, at least according to the numbers. Statistics show extraordinarily low levels of violent crime. From 2020 to 2023, Taiwan consistently ranked as the second or third safest country in the world, ahead of even Japan and Switzerland.
Taiwan is politically secure too. It stands among the top ten liberal democracies in the world. In 2022, Freedom House, a non-profit organization, gave Taiwan a score of 94 out of 100 in global freedom. It's understandable, then, that most Taiwanese tend to take their safety for granted. Peace and security are all they have ever known.
Taiwan's government has been trying to elevate the public's awareness of the growing threat they face from China's militant dictatorship. Significant progress is being made in civil defense, but gaps remain.
It will take a lot more effort (and a large measure of good luck) for Taiwan to reach the next decade unscathed. But that message is a hard sell during an election year. Voters want to hear that the future is bright, and political leaders are incentivized to downplay the somber reality that the strategic situation could come unglued. Unfortunately, Chairman Xi Jinping (習近平) gets a vote too. If his aggressive military spending and fiery speeches are any indication, he has territorial conquest on the mind.
TOO MANY SECRETS
Still, Taiwan is better prepared for conflict than it looks. Many of Taiwan's most potent defense programs and activities are kept secret in order to avoid "provoking" the CCP. That's good news. But it's also bad news. Taken too far, secrecy can undercut deterrence, making Taipei appear unable or unwilling to make Beijing pay unbearable costs in the supreme emergency. Ukraine had a similar problem prior to the Russian invasion. Out of concern for Moscow's reaction, Kiev kept many of its military developments under wraps, thereby encouraging Russian President Vladimir Putin to develop the false perception that Ukraine would be a pushover.
Like the Russian military, the People's Liberation Army (PLA) might be less prepared for war than it looks. The CCP puts such a heavy emphasis on deception and political warfare that outside analysts struggle to discern fact from fiction. Yet, in spite of known shortcomings, China's military buildup has routinely exceeded Pentagon estimates. The PLA could be much more capable than believed, putting Beijing in a favorable position to annex Taiwan by force.
Another possibility exists too. Xi Jinping could believe his armed forces are more capable than they really are thanks to poor intelligence. Tyrants like him are always surrounded by fearful men, who will never dare speak truth to power.
Dictators are prone to buying into their own rhetoric about the inevitability of victory, and Xi is a diehard Marxist. As a hedge against the possibility that he miscalculates, the American and Taiwanese governments are moving toward a bolder political-military strategy.
THE IMPORTANCE OF CANDOR
If the People's Republic of China launched a military campaign against Taiwan, it would trigger conflict with the United States (and its many strong treaty allies). President Joe Biden has stated on multiple occasions that the US is committed to defend Taiwan militarily if China attacks. He has underscored that American troops would defend the island. President Biden also acknowledged the Taiwanese peoples' fundamental right to self-determination. "Taiwan makes their own judgements about independence… We are not encouraging them to be independent. That's their decision," Biden said.
Going forward, how might Washington produce a more dynamic and innovative policy toward Taiwan, giving form and substance to the President's stated intention? What policy options exist for enhancing deterrence, based on the requirement to prevent future CCP use of force and other forms of coercion? To explore this question, we might consider ways the US could further assist Taiwan to maintain a credible self-defense — and wage a winning campaign of resistance should war come.
For deterrence to be truly effective, the US must play a prominent role in the use-of-force decision calculus of China's leadership. Xi Jinping and his topmost advisors must be certain that they have no prospect of isolating Taiwan for a one-on-one battle. They must know without a doubt that an attack on Taiwan equals an attack on America and, most likely, the entire free world.
LESSONS FROM UKRAINE
The war in Ukraine shows that Taiwan is not a lost cause and remains defensible. Three variables underpin this judgement. First, most people in Taiwan can be counted on to fight or otherwise support the war effort in noncombatant roles. As the war in Ukraine has made clear, even politically and ethnically divided societies will come together in the face of a clear external threat.
Second, Taiwan is not outgunned to the degree that is commonly assumed. Blockades are not decisive, and any war would have to be decided on Taiwan's beaches and in the cities. Supply shortages, missile strikes, and air raids are far more likely to galvanize the Taiwanese peoples' will to fight than to break it.
Third, America and other friendly democracies can be counted on to support Taiwan far more than they did Ukraine, given their own vital interests in Taiwan's survival. The PLA will not be strong enough to invade and occupy Taiwan in the face of a determined resistance from a coalition force, and Taiwan will not surrender if it has outside support.
But the cardinal lesson of Russia's invasion of Ukraine is far more obvious. It's so simple and easily perceived, in fact, that it's a wonder anyone ever thought otherwise. The lesson is this: Relatively small, non-nuclear democracies cannot and should not be expected to successfully deter large, nuclear-armed dictatorships in isolation.
The implications for the future of America's policy toward Taiwan are plain. Diplomatic nonrecognition and strategic ambiguity represent high-risk, low reward approaches that by their very nature isolate and weaken Taiwan, invite miscalculation on all sides, and heighten the probability of disaster.
To be sure, the opportunity costs associated with continued inaction out of fear of angering the CCP may seem low in the near term. But they come with compounding interest rates that generate increasing strategic burdens over time. Moreover, Washington validates Beijing's coercion tactics when it forgoes opportunities to treat Taipei like the legitimate country that it actually is.
SECURING A BRIGHTER FUTURE
Democratic diplomacy and collective security have a long and distinguished track record in the history of US foreign policy. They are the most effective and appropriate antidotes to war. For a long time, the CCP succeeded in conditioning many American foreign policy elites to believe the big lie that the most powerful instruments of peace they have available are actually dangerous war triggers. President Biden's candor about Taiwan indicates that longstanding assumptions in Washington have been falsified by events and are being replaced by something truer.
CCP activities and operations demonstrate that the status quo in the Taiwan Strait is neither static, nor stable. A continued American adherence to outdated policies could result in grave outcomes. Looking ahead, the White House should reinvigorate its relationship with Taiwan, better aligning government and military efforts with changing facts on the ground.
Taiwan is neither as safe as it feels, nor as weak as it looks. With greater American political courage — and diplomatic ingenuity — a lasting peace can and will prevail.
Ian Easton is a senior director at the Project 2049 Institute and the author of The Chinese Invasion Threat: Taiwan's Defense and American Strategy in Asia.
Comments will be moderated. Keep comments relevant to the article. Remarks containing abusive and obscene language, personal attacks of any kind or promotion will be removed and the user banned. Final decision will be at the discretion of the Taipei Times.