Richard D. Fisher, Jr. On Taiwan: 2023: A year for military mobilization
For Taiwan, Japan and the United States, 2023 must be a year of decisive mobilization of people and military resources, as the Chinese Communist Party (CCP) has been mobilizing its people and resources for forty years not just to destroy freedom in Taiwan, but to advance its murderous march to global hegemony.
The CCP's December 25 Christmas present of military coercion for Taiwan, 71 combat aircraft deployed to violate Taiwan's Air Defense Identification Zone (ADIZ) — the largest incursion to date — was preceded by the December 12 largest-ever deployment of 18 Xian H-6 bombers with the potential to launch 108 Land Attack Cruise Missiles (LACMs) against Taiwan.
Concurrently, from December 17 to 27, the largest 8-ship PLA Navy (PLAN) aircraft carrier strike group centered on the carrier Liaoning, along with four Russian Navy combatants, practiced dominance of the Second Island Chain to block US reinforcements for Taiwan from Japan and Guam, and to dominate invasion routes and Japanese islands 70 miles [113km] east of Taiwan.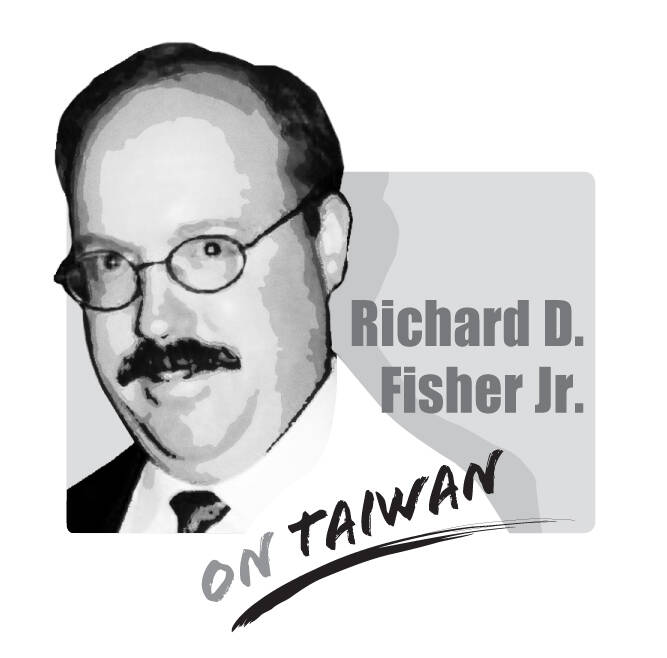 From their Mid-Pacific exercise zone, PLAN Shenyang J-15 strike fighters on the Liaoning could reach Australian military bases where US Marines are stationed, and a potential future base for the US Air Force B-52 strategic bombers.
These aggressive exercises are a clear statement that the CCP and its People's Liberation Army (PLA) are now at war with the free world, not just the free people of Taiwan. A series of CCP-led wars for hegemony could begin in a few months or a few years.
But in Taipei, Tokyo, and Washington, realization of the CCP's existential threat is only slowly translating into action. In Washington, the Biden Administration simply refuses to deploy the maximum amount of power that could for at least a decade arrest the CCP's hegemonic trajectory.
The gravity of the CCP/PLA threat was made personal for Taiwanese on December 27 when President Tsai Ing-wen (蔡英文) announced that, effective January 1, 2024, the term for military conscription will be extended to one year, with an increase of six to eight months of Boot Camp, with training to stress the use of soldier-fired anti-tank and anti-aircraft missiles.
A move long encouraged by Washington, this announcement was likely delayed until after November 26 local elections due to fears that it might exacerbate Taiwanese anxieties.
However, a Taiwan Foundation for Democracy poll revealed on December 30 showed that 71.9 percent of Taiwanese polled would "protect Taiwan," and 63.8 percent would "fight." This seems to be an indication that Taiwanese would welcome far greater Taiwan Government initiatives to mobilize collective contributions to national defense.
In 2023 the Taiwan government could produce multiple public service television and radio announcements detailing family-level and local-level preparations, to include evading PLA bombardment, stockpiling of food and medical supplies, elementary combat medicine, organization of community mutual support committees, and assembling student survival packs to be stored in public schools.
In addition to planned increases in training for Army reserve units, the Taiwan government should follow the advice of industrialist Robert Tsao (曹興誠) and retired Chief of the General Staff Admiral Lee Hsi-ming (李喜明) and acquire masses of small arms to create and equip local Militia formations.
The gravity of the CCP/PLA threat justifies official Taiwan appeals to the International Committee of the Red Cross to mobilize international humanitarian assistance for Taiwan before the CCP begins blockade or invasion operations.
There have been welcome policy turns in Washington and Tokyo that could be expanded.
Washington is ramping up missile production — mightily. The US Army version of the 2,700+ km range Long Range Hypersonic Weapon (LRHW) ballistic missile could be deployed for the first time in 2023, with a US Navy version to follow on cruisers and nuclear submarines — finally countering the PLA's longstanding superiority in long-range theater missiles.
This is just some of the over 1,000 theater missiles the US is buying in 2023, with the Air Force's 950km to 1,500km Joint Air-to-Surface Standoff Missile (JASSM) plus an anti-ship version slated for eventual annual production up to 1,100.
In addition, multi-year production contracts for over 100,000 Guided Multiple Launch Rocket System missiles and 28,000 Javelin anti-tank missiles, both having been used to deadly effect in Ukraine, means there are options to also increase Taiwan's missile reserves.
The Biden Administration should with dispatch fulfill the bi-partisan recommendations in the 2023 National Defense Authorization Act passed on December 15 by the US Senate, and on December 8 by the US House of Representatives.
These include: giving the commander of the US Indo-Pacific Command authority to conduct complex military exercises with Taiwan involving other partners, perhaps Japan; inviting Taiwan to participate in 2024 multinational Rim Of The Pacific (RIMPAC) exercises; increasing US direct training for Taiwan's military forces; making Taiwan eligible for excess US weapons military aid; and annual allocations of US$100 million for ten years for a Regional Contingency Stockpile of munitions/weapons for Taiwan.
However, it is China's recently revealed recruitment of "mercenary" Australian, British, French, South African, and even a former US pilot to help increase PLA pilot skills against Taiwan, US, and Japanese air forces which should prompt Washington to revive the spirit of the World War Two Flying Tigers and enable US companies to provide training and even combat services to Taiwan.
The US Air Force and Navy employ a number of private air combat training companies that use retired but unarmed jet fighters that could be legally enabled to pursue training contracts in Taiwan.
Why not consider "loaning" one of these companies a small number of Lockheed-Martin F-35B5 fifth-generation combat aircraft to provide long-range surveillance and data-link capabilities to assist Taiwan, while also giving US and Japanese F-35 pilots greater familiarity with the Taiwan theater of operations?
But more importantly, US companies able to engage in training with unmanned combat systems, or their actual use, should also be allowed to secure contracts with Taiwan. This could allow Taiwan to more rapidly expand the variety of unmanned combat systems able to find, fight, and tie down invading PLA forces.
In mid-December the government of Japanese Prime Minister Kishida Fumio announced new military expansion policies that could increase its ability to deter a CCP attack, and help deter a war over Taiwan.
Japan will increase its defense spending, from a longstanding annual 1 percent of GDP to 2 percent, and for the first time acquire long-range missiles and hypersonic missiles capable of attacking targets in China. This is in addition to the previously announced decision to significantly increase personnel and weapons deployed to the southern islands of Japan's Ryukyu island chain.
In addition, Tokyo should be encouraged to join training opportunities with Taiwan and to consider selling Taiwan military technology, especially submarine, anti-submarine, and mine warfare technology.
But the most important military mobilization decision to deter a Chinese invasion of Taiwan must be made by the Biden Administration: to end its reluctance to build and deploy a robust US tactical theater nuclear strike capability in Asia.
In 1958 President Dwight Eisenhower approved the deployment of tactical nuclear artillery shells and nuclear warhead-armed cruise missiles to Taiwan, to fulfill obligations under the former US-Taiwan Mutual Defense Treaty.
As they successfully deterred a CCP invasion then, the US required a rebuilding of low-yield tactical nuclear warhead-armed artillery shells, cruise missiles, short-range ballistic missiles and aircraft bombs to deter the current threat of PLA invasion.
When Xi Jinping (習近平) understands that his planned naval invasion of Taiwan with 100,000 to 300,000 troops on thousands of large Chinese ferries and barges can be wiped out with tens of low yield tactical nuclear weapons, he will see that his invasion will fail and very likely decide on a lengthy delay.
China's turning North Korea and Pakistan into nuclear missile states means the CCP has not been impressed by US nuclear restraint. A revival of US theater nuclear weapons capabilities holds the greatest chance of preventing a massive loss of American sailors and soldiers, and the potential loss of millions of Taiwanese on the streets and in CCP gulags.
Richard D. Fisher is a senior fellow with the International Assessment and Strategy Center.
Comments will be moderated. Keep comments relevant to the article. Remarks containing abusive and obscene language, personal attacks of any kind or promotion will be removed and the user banned. Final decision will be at the discretion of the Taipei Times.