John Tkacik on Taiwan: The best defense is a good offense
Ever since US president John Kennedy "leashed" Chiang Kai-shek's (蔣介石) army in the early 1960s to prevent Chiang's Taiwan from attacking a China paralyzed by the "Great Leap Forward," it has been an unspoken article of dogma for both US and Taiwan defense planners that Taiwan must be limited to "defensive" weapons.
Washington policy-makers continue to refer to the Taiwan Relations Act (TRA), which says "it is the policy of the United States ... to provide Taiwan with arms of a defensive character," meaning the US can only sell Taiwan "defensive" arms.
This interpretation ignores the plain language of the TRA that "the nature and quantity of such defense articles and services [shall be] based solely upon ... the needs of Taiwan."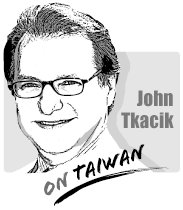 The State Department still insists that Taiwan be limited solely to "articles of a defensive character."
As a result, the Pentagon has been hampered in giving their best judgment on what Taiwan "needs" to deter Chinese aggression.
The State Department fought hard against selling Taiwan the production technology for the IDF fighters in the mid-1980s, and battled against the Pentagon's push to sell F-16s in 1992.
In 1992, France sold Taiwan 60 Mirage 2000-5 jets, long-range fighters with a heavy bomb load -- clearly an "offensive weapon."
But as a French official told me in 1992, "the government of France believes that any weapon system sold to a country of 17 million to confront a country of 1.2 billion is a `defensive' system."
Although US President George W. Bush made an exception to this policy in 2001 by approving the sale of conventional submarines to Taiwan, a defensive-arms-only mindset still seizes US and Taiwanese policy-makers.
China's People's Liberation Army now has over 900 short-range ballistic missiles (SRBMs) aimed at Taiwan.
By the beginning of next year, there will be over 1,000 SRBMs aimed at Taiwan.
Each missile can carry a payload of 500kg of high explosives -- which means each missile can leave a crater 50m wide and 20m deep. Each has an accuracy within 50m and can reach any target under Taipei's control except for Taiping Island in the South China Sea.
At least half of those missiles, the DF-15s -- otherwise known as the M-9 -- have a range of 1,000km. This is sufficient to reach US bases in Okinawa.
Chinese military writers say these missiles would not be used all at once, but would be part of a barrage campaign lasting several weeks or months.
They can destroy every military installation in Taiwan, all its power generation plants, communications nodes, and most of Taiwan's major political centers.
These missiles probably cost around US$1 million a piece -- meaning China has spent less than US$1 billion over the past 10 years to assemble them.
To counter this threat Taiwan certainly needs an advanced ballistic missile defense (BMD) system to protect high value targets. But existing BMD technology that the US is making available to Taiwan costs in excess of US$3 million per missile, and their 50 percent "kill ratio" means that Taiwan needs over US$6 million worth of defensive missiles to kill US$1 million in offensive missiles.
To protect Taiwan convincingly against US$1 billion worth of Chinese SRBMs, then, Taiwan must spend US$6 billion.
This is doable, but it is not much of a deterrent.
China's civilian and military chiefs need not fear that Taiwan will be able to inflict similar damage on China because Taiwan does not have offensive weapons.
Even now, China's leaders can launch offensive missiles at Taiwan for intimidation purposes and the only cost to Beijing is the cost of the missile.
But missiles are not Taiwan's only concern. Since 1995 the PLA Navy has commissioned about 31 new submarines, including two nuclear powered submarines, all based on advanced Russian technology. And there are two new nuclear-powered submarine programs under way at present.
These submarines are ultra-quiet and at least some are equipped with "air independent propulsion" (AIP), which gives them the capacity to cruise underwater for weeks at a time.
The stealthiness of these vessels was proven last October when a Chinese Type-039A "Song" class submarine from the South Sea Fleet's 32nd Submarine Squadron lay waiting in Japanese waters for the arrival of the USS Kitty Hawk carrier battle group. On Oct. 26, as the carrier and its escort ships passed overhead, the Chinese sub surfaced within torpedo range of the US ships.
The Chinese commander of the operation, Deputy PLAN chief of staff Admiral Ding Yiping (丁一平), reportedly planned the entire operation.
The fact that the submarine remained stock-still in the water for several days before it surfaced meant it was virtually impossible to detect unless it had been tracked leaving its Hainan port.
If an entire US carrier battle group can be traumatized by the appearance in its midst of a single advanced, stealthy, armed and dangerous Chinese submarine, Taiwan's seaports and naval bases are even more vulnerable.
In the short term, Taiwan certainly needs anti-submarine weapons, such as the P-3 Orion aircraft. However, the best anti-submarine platform is another submarine. Taiwan has only two torpedo-armed submarines and Ding's submarines no doubt keep a close eye on where those two boats are at all times.
But China does not imagine that those two subs present a blockade threat to China.
This is all to say that Taiwan has no deterrence against China. As things now stand, China can attack Taiwan without having to calculate possible losses to a Taiwan counterstrike.
Hence China's military calculus of attack is based solely on the cost of the equipment.
The diplomatic cost-benefit is also minimal as more and more countries accept that China has a right under international law to use military force in its own sovereign territory.
Former Chinese Nationalist Party (KMT) chairman Lien Chan (連戰) made exactly this point in 1999.
Lien said that Taiwan must establish a credible deterrent by developing a long-range ballistic missile force to convince China "that it should not dare to attack Taiwan."
At the time, Lien said China's missile threat made it imperative that Taiwan strengthen its anti-missile early warning, target acquisition and interception capabilities.
Lien said a Taiwan "second strike" capability was the only way to guarantee security.
Seven years later, Lien's words have proven prescient.
But now, Taiwan's legislature -- particularly the pan-blue camp -- cannot even pass a defense budget, much less agree on what weaponry to include in it.
Meanwhile, US officials still fret that Taiwan limits itself to harmless "defensive" weapons.
Both sides fully understand how to deter China's missile threat, but neither wants to admit it.
It is as if both US and Taiwanese politicians have decided that defending Taiwan and deterring China are too difficult and surrendering Taiwan's vibrant democracy to the threats of China's aggressive dictatorship is the easiest solution.
John Tkacik is a senior research fellow at the Heritage Foundation.
Comments will be moderated. Keep comments relevant to the article. Remarks containing abusive and obscene language, personal attacks of any kind or promotion will be removed and the user banned. Final decision will be at the discretion of the Taipei Times.