TSMC wins approval to invest US$3.5bn in Arizona
The Investment Commission yesterday approved a Taiwan Semiconductor Manufacturing Co (TSMC, 台積電) application to invest an additional US$3.5 billion in its Arizona subsidiary to manufactured advanced chips.
The world's largest contract chipmaker's board of directors last month approved the funding project after TSMC started moving manufacturing equipment into the fab in December last year in preparation for the production of 4-nanometer chips next year.
TSMC said it has also commenced the second phase of facility construction in Arizona.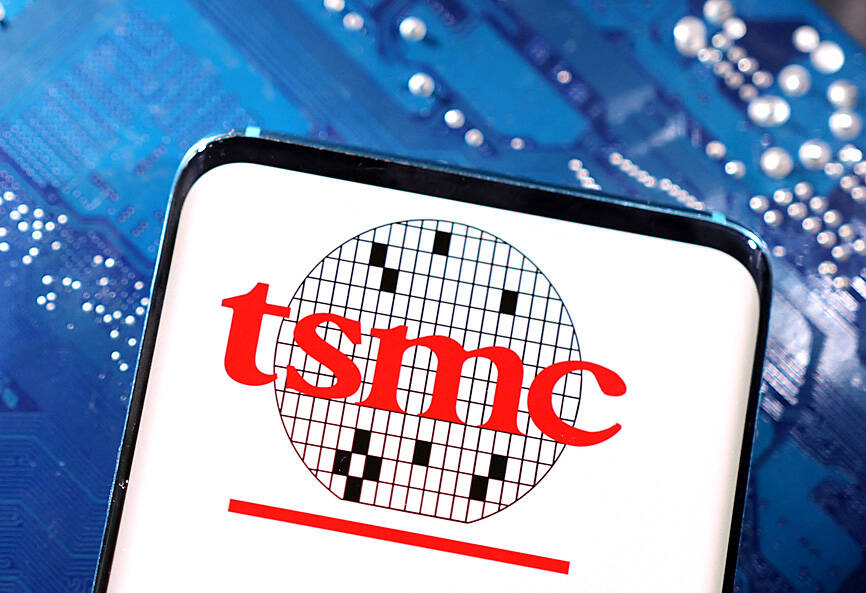 A smartphone displaying the Taiwan Semiconductor Manufacturing Co logo is pictured above a circuit board in an illustration photograph taken on March 6.
Photo: Reuters
The second fab is to produce semiconductors using 3-nanometer technology in 2026. Altogether, TSMC plans to spend US$40 billion on the Arizona fabs, doubling its original investment of US$20 billion.
The US became the fastest-growing overseas investment destination for local enterprises last year, enjoying an annual growth rate of 128.32 percent to US$1.09 billion from 100 projects, the commission said in a statement.
Cloud-based server maker Wiwynn Corp (緯穎科技) plans to invest US$400 million on its US marketing subsidiary Wiwynn International Corp to meet robust demand from the US market, it said.
It approved that investment plan during yesterday's meeting.
It also approved a plan from Hon Hai Precision Industry Co (鴻海精密), a major iPhone assembler, to invest US$500 million indirectly in India to produce iPhones and smartphone components through its Foxconn Singapore Pte Ltd subsidiary.
The company was also granted approval to invest more than US$361 million indirectly in its Mexican subsidiary to make components used in electric vehicles through its Singaporean unit ECMMS Precision Singapore Pte Ltd, the commission said.
PharmaEssentia Corp (藥華醫藥) received permission to invest US$80 million in its Japanese subsidiary and US$200 million in a US subsidiary, as the company prepares to sell new drugs in the countries, it said.
The commission also approved Yunlin Holding GmbH's plan to invest NT$29.23 billion (US$962.4 million) in offshore wind energy developer Yunneng Wind Power Co (允能), a subsidiary of Skyborn Renewable Taiwan Co (天豐新能源), to improve its financial structure.
The company is developing an offshore wind power project off Taiwan's west coast, which is to comprise 80 wind turbine generators with a total capacity of 640 megawatts rated power.
Comments will be moderated. Keep comments relevant to the article. Remarks containing abusive and obscene language, personal attacks of any kind or promotion will be removed and the user banned. Final decision will be at the discretion of the Taipei Times.