World of Warcraft China deadlock cuts off millions
'IT HURTS TOO MUCH': After talks between Blizzard and NetEase over their contract broke down, servers hosting Blizzard's games in China were shut down
Millions of Chinese gamers have lost access to World of Warcraft after a furious dispute between US title owner Activision Blizzard Inc and NetEase Inc (網易), its longtime local partner in the world's biggest gaming market.
Devotees of the popular game took to social media networks to bemoan the loss, with one posting an image of a failed connection message accompanied by crying emojis.
"It really hurts my heart," one wrote. "It hurts, it hurts too much," another said.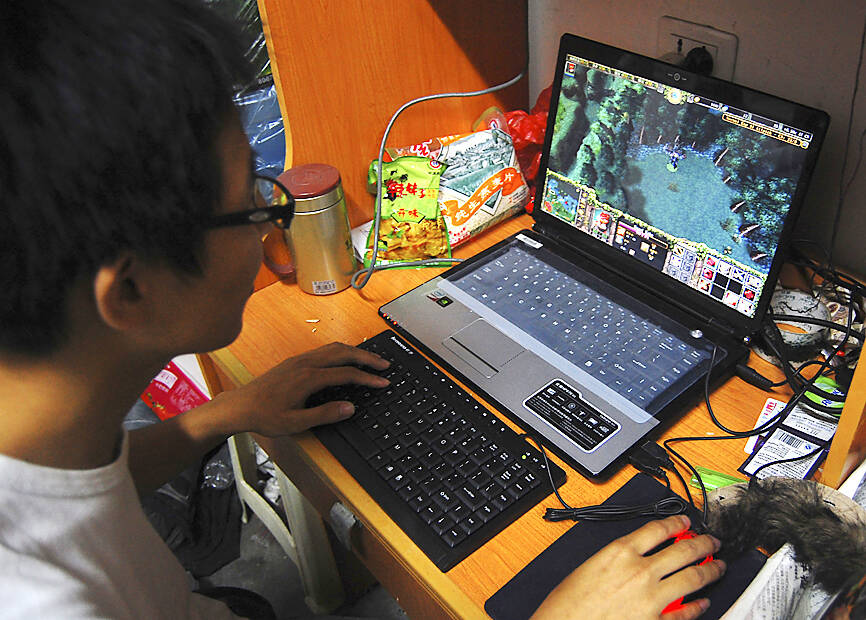 A college student plays World of Warcraft online in his dormitory room in Chongqing, China, on Oct. 12, 2009.
Photo: AP
Massively popular worldwide, particularly in the 2000s, World of Warcraft — often abbreviated as WoW — is an online multiplayer role-playing game set in a fantasy Medieval world where good battles evil.
It is known for its immersive and addicting gameplay, and players can rack up hundreds of hours of game time.
Blizzard's games have been available in China since 2008, through collaboration with NetEase — under local law, foreign developers are required to partner with Chinese firms to enter the market.
The 14-year partnership had brought significant benefits to both sides, helping NetEase become China's second-biggest games distributor after Tencent Holdings Ltd (騰訊) and giving Blizzard a way into an enormous Asian market.
However, the two companies broke off talks late last year on a new licensing agreement to make Blizzard franchises like Diablo, Warcraft and Overwatch available in China.
The acrimony escalated this month when NetEase accused its longtime partner of being "rude and inappropriate." Blizzard had offered to extend their licensing agreement another six months while they work out new terms, but NetEase described the idea as "proposing a divorce while still engaging with the same partner."
Beyond financial terms, the key sticking points in the dispute included ownership of intellectual property and control of the data of millions of players across China, Bloomberg News previously reported. In its January statement, NetEase said it never sought to control IP rights in its tie-up with Blizzard, whose gaming assets it only used upon mutual agreement.
Servers hosting Blizzard's games shut down in China at midnight on Monday. The company has promised to let World of Warcraft players save their progress with a new service. NetEase warned that it cannot guarantee the safety of that service, saying it may pose a security risk.
Rather than taking sides in the corporate dispute, for ex-players the dominant sentiment expressed on social media was disappointment.
"It is truly a sad day for World of Warcraft players and Blizzard Entertainment fans everywhere," one wrote online. "The sudden shutdown is a stark reminder of impermanence, displacing millions of players."
Comments will be moderated. Keep comments relevant to the article. Remarks containing abusive and obscene language, personal attacks of any kind or promotion will be removed and the user banned. Final decision will be at the discretion of the Taipei Times.