Australian rate hits nine-year high
QUARTER-POINT HIKE: The central bank's head said its board is determined to return inflation to its target and it would 'do what is necessary to achieve that'
The Reserve Bank of Australia yesterday boosted its benchmark interest rate for a sixth consecutive month to a nine-year high of 2.6 percent.
The central bank's increase of 0.25 percentage points to the cash rate was smaller than those at recent monthly meetings.
The banks had hiked the rate by half a percentage point at the past four meetings.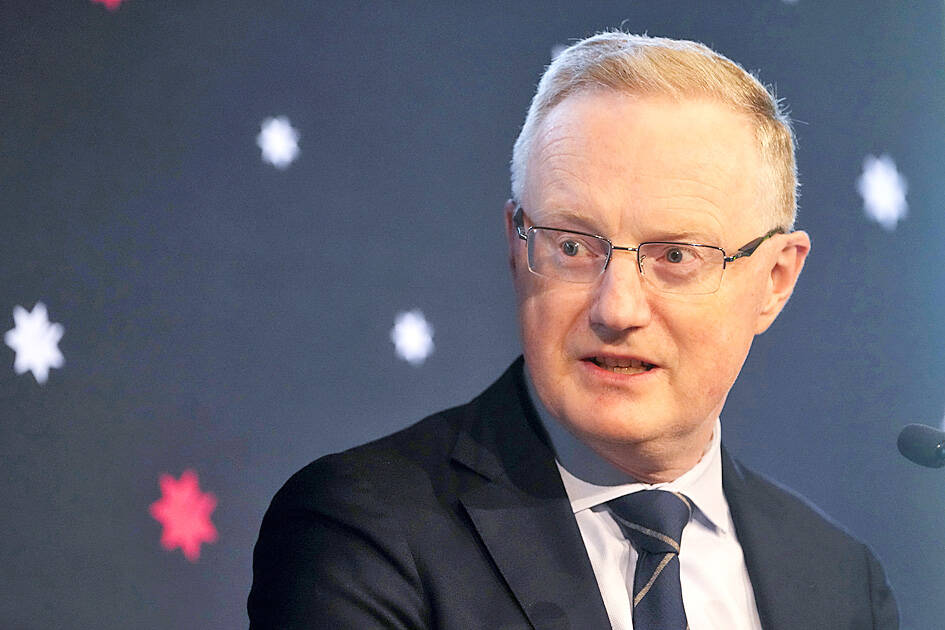 Reserve Bank of Australia Governor Philip Lowe speaks in Sydney, Australia, on Sept. 8.
Photo: AP
Most economists had expected another 0.5 percentage point rise.
When the bank lifted the rate by a quarter percentage point at its board meeting in May, it was the first rate hike in more than 11 years. It is now at its highest point since August 2013, when the bank cut the rate from 2.75 percent to 2.5 percent.
Reserve Bank of Australia Governor Philip Lowe said that the smaller rise reflected the fact that the "cash rate has been increased substantially in a short period of time."
"The size and timing of future interest rate increases will continue to be determined by the incoming data and the board's assessment of the outlook for inflation and the labor market," Lowe said in a statement.
The board lifts interest rates in an attempt to reduce inflation to a target band of 2 to 3 percent. Australian inflation is running at 6.1 percent and the Australian Department of the Treasury expects it to peak at 7.75 percent this quarter.
Unemployment is at a near 50-year low of 3.5 percent.
"The board remains resolute in its determination to return inflation to target and will do what is necessary to achieve that," Lowe said.
The rate increase is the last before Australian Treasurer Jim Chalmers on Oct. 25 outlines his economic blueprint for government spending.
His Labor Party was elected to power in May after nine years in opposition.
Chalmers said that rising interest rates and inflation, falling real wages and a deteriorating global economic outlook were the most important factors shaping that economic plan.
"Even in the last month or two the global situation has deteriorated dramatically and in many of the major economies that we monitor the chances of a recession have edged over from possible to probable," he said.
"We wouldn't be spared completely a downturn of the US or global economy for obvious reasons," Chalmers said.
"I think one of the biggest things that has changed in the last month or two is the way that our expectations for the global economy have deteriorated so substantially," he added.
Additional reporting by Bloomberg
Comments will be moderated. Keep comments relevant to the article. Remarks containing abusive and obscene language, personal attacks of any kind or promotion will be removed and the user banned. Final decision will be at the discretion of the Taipei Times.