Far EasTone calls on NCC to resolve spectrum dispute
Far EasTone Telecommunications Co (遠傳電信) yesterday urged the National Communications Commission (NCC) to deal fairly with a spectrum dispute, as Taiwan Mobile Co (台灣大哥大) would own a bigger slice of prime frequency band than regulations allow following the acquisition of a smaller rival.
The commission is to hold two public hearings tomorrow and on Sunday to address potential problems related to Far EasTone's acquisition of Asia Pacific Telecom Co (亞太電信) and the merger between Taiwan Mobile and Taiwan Star Telecom Corp (台灣之星).
Taiwan Mobile's merger would give it a combined 60 megahertz (MHz) of the 5G spectrum in the 1 gigahertz (GHz) band, surpassing the upper limit of one-third, or 50MHz, of the total auctioned spectrum of 150MHz, as the Regulations for Administration of Mobile Broadband Businesses (行動寬頻業務管理規則) stipulate.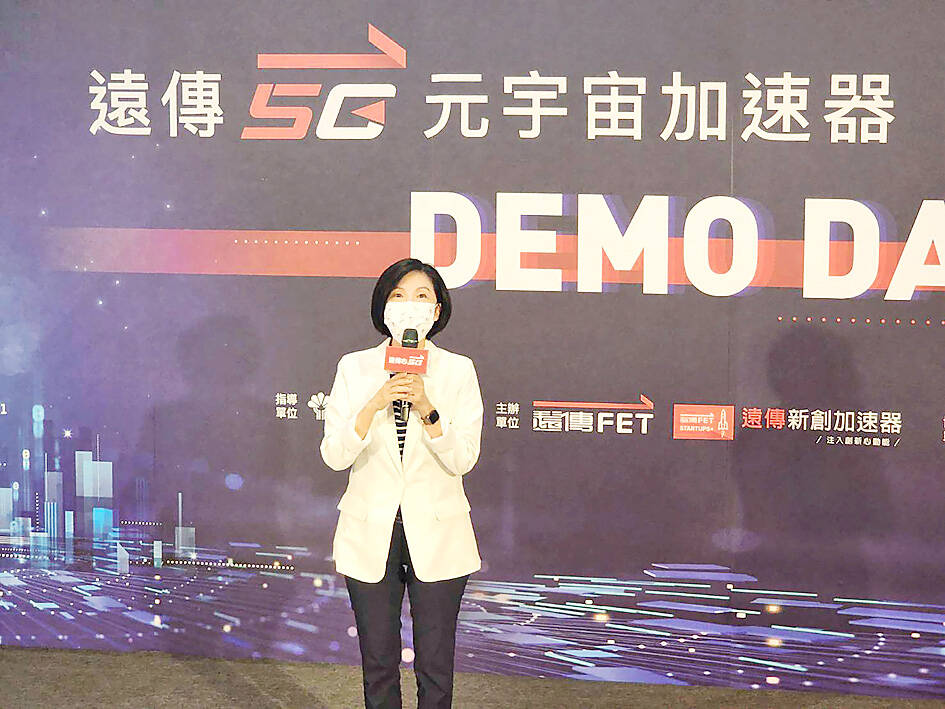 Far EasTone Telecommunications Co president Chee Ching speaks at a news conference in Taipei yesterday.
Photo: CNA
Taiwan Mobile said the restrictions would be unreasonable after the nation's telecommunications market again becomes dominated by the three major operators.
It suggested that the commission relax the rules and raise the limit to 40 percent.
It added that it would continue fighting for the right to retain the 10MHz spectrum in exchange for offering services that benefit the public, such as deploying more 5G base stations in rural areas.
Far EasTone and Chunghwa Telecom Co (中華電信) have called on Taiwan Mobile to abide by the regulations and return the 10MHz to the government for a second auction, or other arrangements.
"Our rival would own a bigger spectrum than the rules stipulate. That will have a big impact," Far EasTone president Chee Ching (井琪) told reporters on the sidelines of a press conference in Taipei.
With a larger spectrum in the low-band, Taiwan Mobile would gain a competitive edge in cost, as the 1GHz band — dubbed the "golden frequency band" — would allow a wireless carrier to achieve a similar 5G network coverage by installing much fewer base stations, compared with those using a mid-band or high-band spectrum, Ching said.
Far EasTone has abided by related rules and invested heavily in acquiring 5G spectrum assets, Ching said, adding that it would make no sense if Taiwan Mobile were allowed to breach the rules and gain extra spectrum.
Far EasTone said it has deployed more than 700 base stations in remote areas, the most among local peers, to provide real-time information and healthcare delivery in Taitung and Hualien counties' rural areas through 5G network.
The company has also helped incubate 20 local start-ups by launching applications using 5G and metaverse technologies, aiming to provide solutions for local businesses seeking to facilitate digital transformation, it said.
The solutions developed by the start-ups could create about NT$70 million (US$2.2 million) in production value, it said.
Far EasTone launched its first 5G incubator last year and started its second one yesterday.
Comments will be moderated. Keep comments relevant to the article. Remarks containing abusive and obscene language, personal attacks of any kind or promotion will be removed and the user banned. Final decision will be at the discretion of the Taipei Times.