Europe's sub-zero rate era ended with 75bp hike
The Swiss National Bank (SNB) raised interest rates by 75 basis points (bp) to bring borrowing costs above zero for the first time in almost eight years, following recent moves in the eurozone.
The hike by officials led by Thomas Jordan takes Switzerland's policy rate to 0.5 percent and is their most aggressive tightening action in two decades.
Policymakers said they cannot rule out further rate hikes and said they are willing to intervene in currency markets if needed.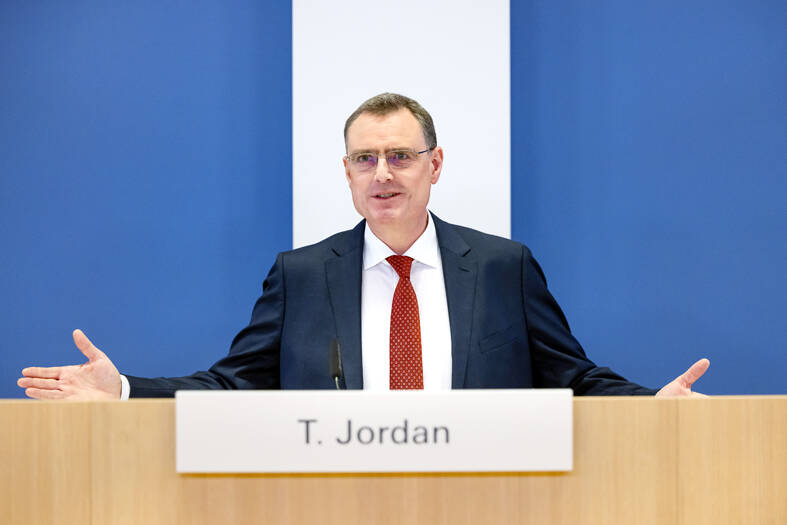 Swiss National Bank Chairman Thomas Jordan attends a news conference in Zurich yesterday. Photo: AP
The decision ends Europe's decade-long experiment with negative borrowing costs. Globally, the only central bank left with sub-zero policy is now the Bank of Japan, which earlier yesterday held its benchmark at minus-0.1 percent.
The SNB hike is the second move by policymakers in Zurich to confront inflation in a year when about 90 counterparts have also raised rates. The SNB has now matched the European Central Bank's 1.25 percentage point of tightening since July.
Separately, Norway's central bank raised its benchmark interest rate by 50 basis points yesterday, and said it plans to hike again in November.
Norges Bank's monetary policy committee raised the sight deposit rate to 2.25 percent from 1.75 percent, having signaled last month that a hike is likely this month.
"The policy rate will most likely be raised further in November," the bank said in a statement.
The rate, now at the highest level since 2011, is set to increase to about 3 percent during the upcoming winter, the bank said, adding that projections were more "uncertain than normal."
Meanwhile, the Philippine central bank raised its policy rate for a fifth time this year to quell inflation pressures amid a slumping currency and a hawkish US Federal Reserve.
Bangko Sentral ng Pilipinas yesterday raised the overnight reverse repurchase rate by 50 basis points to 4.25 percent.
Indonesia's central bank also delivered a bigger-than-expected interest rate hike to stem inflation and stabilize the rupiah, marking an aggressive turn for policymakers who were monetary policy outliers until last month.
Bank Indonesia raised the seven-day reverse repurchase rate by 50 basis points, the biggest increment since 2018, to 4.25 percent.
Bank of Korea Governor Rhee Chang-yong yesterday widened the door for an outsized rate hike after another large move by the Fed pushed the Korean won below a key level.
"I will assess with the board members how the changes in these preconditions affect domestic inflation, growth trends and foreign exchange markets to determine the extent, timing and trajectory of rate hikes," Rhee told reporters just after the currency weakened past 1,400 to the US dollar. "But no decision has been made."
Additional reporting by Reuters
Comments will be moderated. Keep comments relevant to the article. Remarks containing abusive and obscene language, personal attacks of any kind or promotion will be removed and the user banned. Final decision will be at the discretion of the Taipei Times.