Gudeng Precision sees growth until H2 next year
SOLID DEMAND: The company expects consumption of extreme ultraviolet pods to increase rapidly in tandem with semiconductor process technology upgrades
Gudeng Precision Industrial Co (家登精密), a key supplier of extreme ultraviolet (EUV) pods to Taiwan Semiconductor Manufacturing Co (TSMC, 台積電), yesterday said it is positive about growth for the next 18 months, as demand is expected to spike after its major customer's 3-nanometer chip begins mass production later this year.
The consumption of EUV pods should increase rapidly in tandem with upgrades of process technologies, as more EUV layers would be used. Chipmakers use eight times more EUV pods for 3-nanometer process technology than for 7-nanometer technology, Gudeng said.
Based in New Taipei City's Tucheng District (土城), Gudeng is the world's largest EUV pod supplier, with a market share of 80 percent.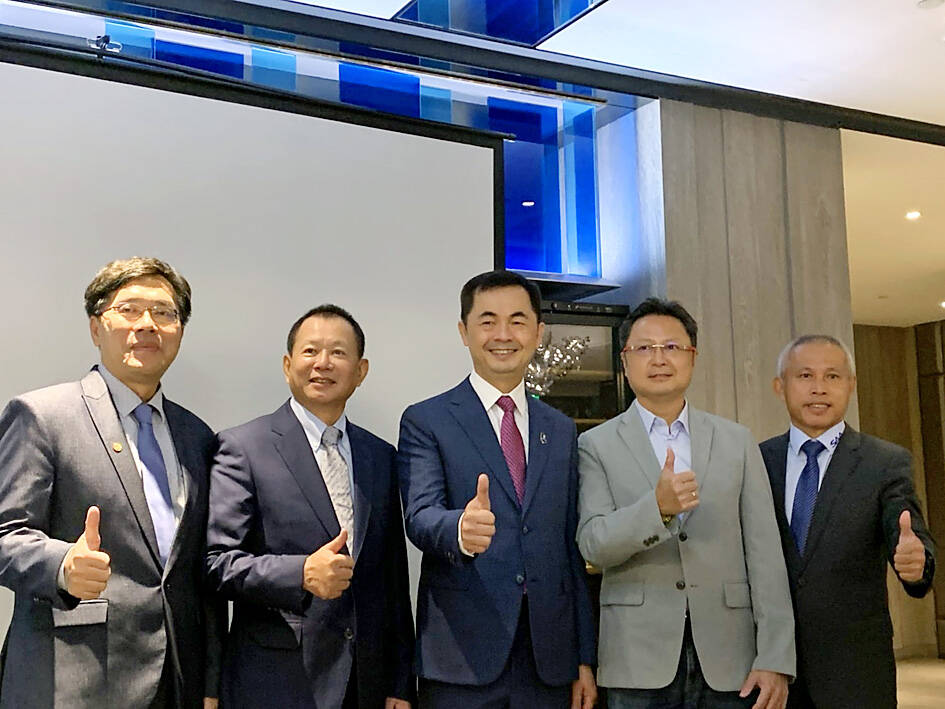 Gudeng Precision Industrial Co chairman Bill Chiu, center, and others attend a news conference in Taipei yesterday.
Photo: Grace Hung, Taipei Times
"We have clear order visibility until the second half of next year," Gudeng chairman Bill Chiu (邱銘乾) told a media briefing. "We believe that revenue in the second half of this year will be better than in the first half. This will be a quite good year, and revenue should grow further next year."
Gudeng said its revenue growth would not be affected by a key customer's EUV tool adjustments, providing some relief to its production lines since the company's capacity has been full for the past two years, it said.
Media reports last week said TSMC was shutting down several EUV machines in response to faltering customer demand.
However, a person within the supply chain said on condition of anonymity that TSMC is upgrading its EUV machines to cope with fast-growing demand for advanced chips.
Gudeng yesterday said that front-opening unified pod (FOUP) business provides a second growth source for its revenue this year and next.
As Chinese chipmakers accelerate new factory construction to reach self-sufficiency amid an intensifying trade dispute with the US, demand for Gudeng's 12-inch FOUPs is spiking, Chiu said.
Gudeng, which commands a 40 percent share of China's FOUP market, expects FOUP revenue to grow up to 40 percent year-on-year, Chiu said, adding that similar growth is expected next year.
The box-like FOUPs are used to ship, transport and store 12-inch wafers, which are unloaded from the FOUP within processing equipment to keep the wafers sterile. EUV pods are used to carry reticles when EUV tools are utilized to produce chips.
Gudeng reported that revenue last month grew 119 percent to NT$400 million (US$12.96 million) from NT$198 million in August last year. That brought the company's revenue for the first eight months of the year to NT$2.81 billion, soaring 67.23 percent from NT$1.68 billion during the same period last year.
Separately, semiconductor equipment supplier Symtek Automation Asia (迅得機械) said that it is positive about revenue growth prospects for this year and next.
The company expects revenue to expand about 14 percent year-on-year to NT$5.6 billion, from about NT$4.9 billion last year. It aims to grow revenue by 15 percent annually next year.
"We have received NT$3 billion of orders for delivery next year," company president Jordan Wang (王年清) told the same news conference yesterday.
To satisfy customer demand, the company plans to spend about NT$1.8 billion to build a new factory in Taoyuan's Jhongli District (中壢), Wang said, adding that it is to start operations at the end of 2024.
Symtek counts TSMC, ASE Technology Holding Co (日月光投控) and Zhen Ding Technology Holding Ltd (臻鼎), the world's biggest flexible printed circuit board maker, among its major clients.
Comments will be moderated. Keep comments relevant to the article. Remarks containing abusive and obscene language, personal attacks of any kind or promotion will be removed and the user banned. Final decision will be at the discretion of the Taipei Times.