Investors brush aside US government shutdown fears to lift European stocks
European stock markets on Friday mostly rose as investors shrugged off a looming shutdown of the US government.
"Investors don't appear particularly bothered about the prospect of a government shutdown, with the assumption being that one [bill] will eventually be signed and any economic impact will be minor or nonexistent," Oanda Corp senior market analyst Craig Erlam said.
The US House of Representatives on Thursday approved a short-term spending bill to keep the government open after funding runs out, but the measure was dead in the Republican-controlled US Senate.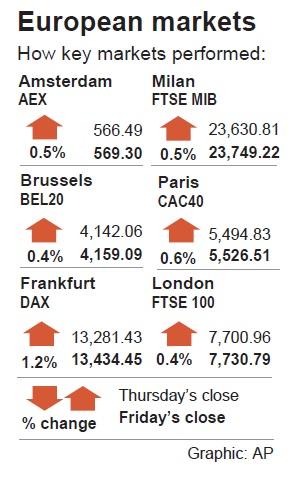 Leaders of both US political parties were pointing fingers at one another.
Fitch Ratings Inc said a shutdown in itself would not impact the US government's top rating, but could further destabilize budget policymaking and lead to brinkmanship over raising the debt level before the US Treasury runs out of extraordinary measures to fund the government in March or April.
"Investors don't really fear a shutdown, as they don't foresee it happening, but it has cast enough doubt over the stock market to curtail buying momentum," CMC Markets UK analyst David Madden said. "American stocks have enjoyed such a positive run lately, these concerns are the perfect excuse for profit-taking."
Frankfurt's DAX on Friday pushed 1.2 percent higher to 13,434.45, jumping 1.4 percent from 13,245.03 a week earlier.
London's FTSE 100 managed to break a four-day losing streak, despite poor UK retail sales data, rising 29.83 points, or 0.4 percent, to 7,730.79. However, for the week it fell 0.6 percent from a close of 7,778.64 on Jan. 12.
British retail sales last month slid 1.5 percent from November last year after consumers had brought moved their Christmas shopping, official data showed.
IG Group PLC analyst Joshua Mahony said that the "disappointing set of retail sales figures should be put in the context of shifting shopping habits."
Retail sales had already jumped 1 percent in November, boosted by Black Friday price reductions, the British Office for National Statistics said.
Comments will be moderated. Keep comments relevant to the article. Remarks containing abusive and obscene language, personal attacks of any kind or promotion will be removed and the user banned. Final decision will be at the discretion of the Taipei Times.