China defends rescinding Viagra patent
IPR WORRIES The ruling by the State Intellectual Property Office followed complaints by Chinese companies but it has been condemned by the US-China Business Council
China yesterday defended its decision to overturn Pfizer's patent for Viagra in a ruling seen as a setback to protection of intellectual property rights in the country.
The US makers of the top selling erectile disfunction drug were in breach of China's intellectual property rights (IPR) law when they failed to accurately explain "technological" uses of Viagra's key ingredient, an official with the State Intellectual Property Office (SIPO) said.
"If you widen the description of the [ingredient's] technological uses, you could likely be violating the patent right of others," the SIPO official said on condition of anonymity.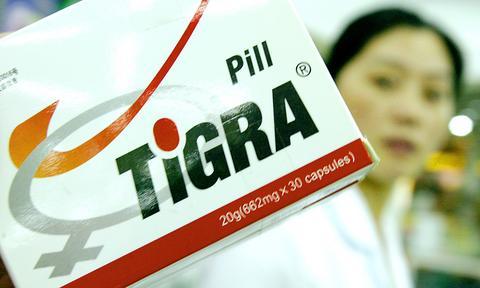 A pharmacist in Beijing shows one of many local erectile disfunction drugs on the Chinese market based on Viagrai yesterday. China has defended its decision to overturn US drug maker Pfizer's patent for Viagra, the top selling drug of its kind, in a ruling seen as a set back to protection of intellectual property rights in the country.
PHOTO: AFP
Although the same office granted Pfizer in 2001 a patent for sildenafil citrate, Viagra's key active ingredient, the official maintained SIPO had the right to revoke the patent.
A Pfizer company statement promised to appeal the judgement.
The official said after approval of sildenafil citrate, more than 10 Chinese companies filed official complaints, forcing the SIPO to review its decision.
"When there are [domestic] requests to invalidate the patent, our review committee should go back to look to it," she said.
"We did grant the patent to Pfizer before, but that does not mean that we are really giving it to you," she said.
She further argued that given the potential size of the Chinese market the office could not afford to be imprudent.
"We are very cautious when we grant a patent, because a patent means a market, and that can mean allowing the monopolization of a market," she said.
The ruling has heightened concerns in the US and is likely to do so in the EU, as they have watched the case closely, concerned about intellectual property rights.
The US-China Business Council, a major Washington-based business association and lobby group, censured the decision and said it was "deeply concerned."
"Given how China has to strengthen IPR enforcement under its WTO obligations, its disheartening to see a lower-level agency make a decision clearly responding to pressure from Chinese companies," said the council's director, Patrick Powers.
Powers added the New York-based Pfizer, the world's largest pharmaceutical company, would take legal action in China, where foreign companies find their products are routinely copied and counterfeits are widespread.
China's decision likely does not augur well for the pharmaceutical industry, which has viewed the case as a litmus test for the protection of intellectual property rights.
"If China is going to embark on a strategy of patent nullification in order to avoid paying research and development costs, that does not bode well for a strong commitment to strengthening IPR," Powers said.
Pfizer plans to introduce up to 15 new medicines in China in the next five years to treat conditions such as neurological and cardiovascular problems, reports said.
"Intellectual property protection is essential to these plans," the company said.
Pfizer added that it "was extremely disheartened" by the move in China, where it had invested US$500 million by bringing advanced medicines, building facilities and hiring and training local employees.
A Viagra pill costs about one yuan (US$0.10) to make but Pfizer sells them in China for 98 yuan a tablet.
The entry of local producers is likely to see the price drop to 22 yuan a pill, the price of lookalike domestic products which do not contain Viagra's key ingredient.
Comments will be moderated. Keep comments relevant to the article. Remarks containing abusive and obscene language, personal attacks of any kind or promotion will be removed and the user banned. Final decision will be at the discretion of the Taipei Times.