Slowing economy forcing a rethink
FORCING BEIJING'S HAND Administrative tactics don't appear to be working so the central bank may have no choice but to raise interest rates for the first time in years
When inflation is accelerating and the central bank warns that it will not stand idle, people in advanced economies start watching for a rise in interest rates.
In China, this might mean padlocks and handcuffs.
The combination of rapid growth and rapid evolution from Communism toward a version of market capitalism that have made China the boom story of the past few years have also made its economy a complex puzzle. Some regions are thriving while others slow noticeably; some industries are wildly overbuilt while others struggle to keep up with demand.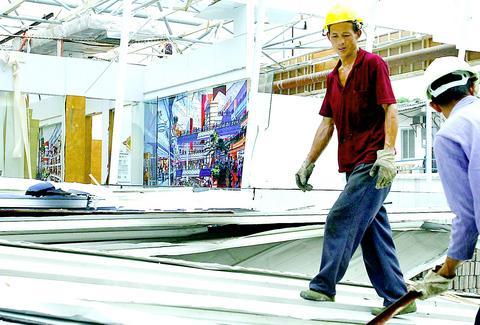 Workers demolishing the entrance to a huge mall in Guangzhou lastFriday. As China's central bank struggles with whether to follow the US example in raising interest rates, it faces a confusing economy in which some industries and regions are still growing while others are slowing noticeably.
PHOTO: NY TIMES NEWS SERVICE
Faced with the task of gently cooling down such an economy, policy-makers at the Chinese central bank and other agencies have so far avoided raising rates -- turning instead to administrative measures like increasing bank reserve requirements, cracking down on unauthorized construction projects and even jailing loan officers, local Communist Party officials and entrepreneurs who have charged ahead with projects without obtaining the required permits.
But there are signs that the economy may be forcing the hand of the central bank, and that it may have to raise rates for the first time in nine years. Though the bank has sent a series of signals in the past week that it is reluctant to raise rates, it has not publicly ruled out a move.
Liang Hong (梁紅), a Goldman Sachs economist in Hong Kong, said the decision probably would depend on fresh economic statistics scheduled to be released beginning on Friday and continuing through next week.
"It's a hostage to the data," she said of the bank.
Many economists, including Liang, contend that the government should be using market measures like higher interest rates in place of the blunter methods now employed. Among other things, the lending restrictions and other administrative controls that the central bank and the China Banking Regulatory Commission have tried so far have been anything but uniform in their effects.
Executives in a few industries, like construction equipment and carmaking, say they have been pummeled by the bank's moves. But other industries seem to be faring better, including some retailers, many exporters and those builders that are working for foreign investors on new factories for exports.
The demand for raw materials last autumn and winter has largely evaporated, as credit-starved companies have drawn down their stockpiles and stopped placing new orders. Prices have slumped in commodities markets as a result. As the lines of ships waiting to unload cargo at Chinese ports dwindle, ocean bulk freight rates have tum-bled as well, falling by more than half on some routes after shooting up seven or eightfold last year and early this year.
But shortages of coal, and the freight cars to haul it, remain acute. Blackouts are spreading across cities this summer, forcing factories to close for days at a time as power plants struggle to keep up with demand from the country's many new industrial complexes and even more air conditioners.
With state-owned banks suddenly restricting what had been a flood of loans, borrowers are starting to run into trouble in regions that relied heavily on this lending, including the northeast and the area around Shanghai. There have been fewer problems in the southeast, where construction cranes still work seven days a week and exporters get less of their financing from Beijing and more from Hong Kong and abroad.
While executives in Guangzhou remain fairly bullish, though, there is a new and noticeable gloom on the streets, particularly about rising food prices.
Beijing began hitting the brakes in the spring. In late March, the central bank ordered commercial banks to keep more capital reserves on deposit. In April, the government ordered new residential, commercial and industrial projects to be halted unless they had received all relevant permits. In May, regulators ordered banks to choose their borrowers more carefully.
But inflation continues to worsen. The consumer price index was 4.4 percent higher in May than its level a year earlier. By contrast, inflation was running at less than 1 percent a year ago, and prices fell slightly in 2002. Figures for last month are not due to be released until July 19, but this year officials have tended to release inflation data ahead of schedule. The first widely watched figure for last month will probably be industrial production, due for release on Friday.
Comments will be moderated. Keep comments relevant to the article. Remarks containing abusive and obscene language, personal attacks of any kind or promotion will be removed and the user banned. Final decision will be at the discretion of the Taipei Times.