Two French teens, Ukrainian man killed in avalanche
INFURIATING: The French government is to investigate why a school teacher took students to a closed trail that had an avalanche risk warning of three out of five
Two French teenagers and a Ukrainian man were killed on Wednesday when an avalanche swept away skiers in the French Alps, including a group on a school outing, local officials said.
The avalanche hit a piste (trail) at the Deux Alpes resort in eastern France which has been closed to the public all season, engulfing a group of French students and their teacher from the city of Lyon, police sources said.
A 16-year-old girl died in the deluge while a teenage boy died later in hospital. The Ukrainian man who was killed was not part of the school group.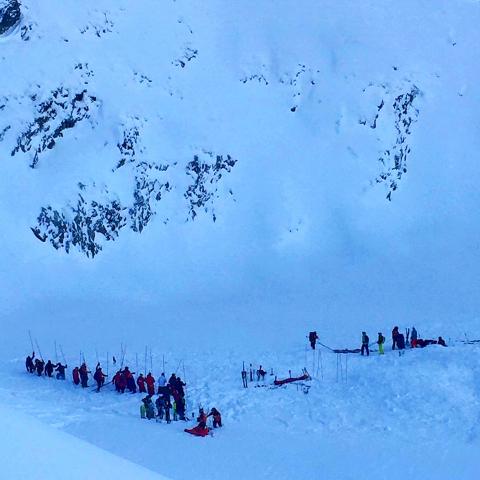 A user-generated content video image shows the site of an avalanche in the French Alps on Wednesday.
Photo: AP/ Verified UGC
The two teenagers were skiing as part of a group of 19 students. Their teacher was seriously injured and taken to a hospital in nearby Grenoble.
All the remaining students were said to be safe, the French Ministry of Education said in a statement.
"A judicial inquiry will say why the teacher, who was himself injured, took [the group] onto a piste which was not open," French Minister for Youth and Sports Patrick Kanner told reporters.
"How can you think of taking children, following periods of heavy snowfall, onto a piste which was closed?" he said.
Dozens of emergency workers earlier swarmed the black piste — the highest difficulty rating in France — while search dogs hunted for any other possible victims.
Three helicopters hovered above the resort, one of them equipped with a thermal camera to try and track any survivors under the snow following the mid-afternoon incident at about 2,500m altitude.
The Deux Alpes resort rises to an altitude of 3,600m and is about 60km from the city of Grenoble.
"The avalanche was 20m wide ... and 300m long," said Dominique Letang of France's National Association for the Study of Snow and Avalanche's (ANENA).
"It was a typical case of a slab of snow formed by the heavy winds in recent days. Fresh snow did not attach enough to the older layer," he added.
"What is surprising is the number of people involved, even though we keep on saying that they must take it one at a time when the snow cover is unstable. It is infuriating,' Letang said.
"The avalanche risk was three on a scale of five," he added.
The skiing season got off to a slow start in France as unseasonably warm temperatures left slopes bare over the festive season with skiers and snowboarders having to make do with artificial snow.
However, a sudden flurry of snow in recent days has covered the mountains, prompting authorities to warn of a high risk of avalanches across the French Alps.
Four other people have died since January last year in avalanches in the French Alps — two Lithuanian mountain climbers and two skiers from Spain and the Czech Republic.
Dozens die each year in avalanches in France's popular ski resorts.
At least 45 people died in snowslides during 2014 to last year's winter season in France, ANENA said, more than double the previous year.
Avalanches, which can see snow rushing down the mountainside at up to 200kph, can be triggered by several factors such as heavy rain, strong winds and the state of the soil beneath the snow.
The deadliest avalanche in France's history took place in 1970, when 39 people where killed when their chalet was hit by an avalanche at the Val d'Isere ski resort.
Comments will be moderated. Keep comments relevant to the article. Remarks containing abusive and obscene language, personal attacks of any kind or promotion will be removed and the user banned. Final decision will be at the discretion of the Taipei Times.