Film star calls for end to poaching
Ivory jewelry and carvings are prized by some in Asia, but people should know they come from the massacre of elephants whose survival is threatened by rampant poaching, Chinese film star Li Bingbing (李冰冰) has said.
"I want to spread the message ... that we should stop the killing because there's blood slaughter and a poaching crisis happening behind the beautiful carvings and jewelry," Li said, visiting elephants in the wild in Kenya.
"Many consumers in Asia do not realize that by buying ivory, they are playing a role in the illegal wildlife trade and its serious consequences," added Li, a "goodwill ambassador" for the UN Environment Program (UNEP).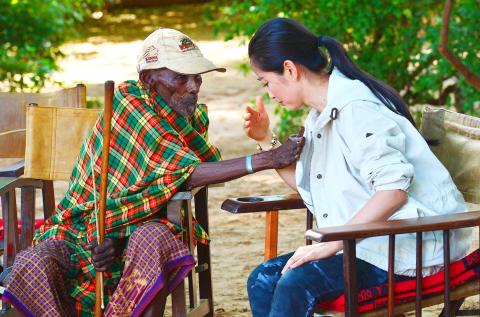 Chinese actress Li Bingbing receives a blessing from a Samburu tribe elder in Samburu game reserve in Kenya on Wednesday.
Photo: AFP
"The current poaching crisis raises major concerns about the survival of elephants and rhinos here in Kenya," she added, speaking on Wednesday in the Samburu national reserve, about 300km north of Nairobi.
Li, a major star in China, said citizens and the business community in Asia can "play a crucial role in preventing the illegal killing of elephants in Africa by saying no to ivory products."
She has been visiting the east African nation as part of an awareness campaign aimed to help stamp out a rise in elephant killings, and reduce the demand for ivory.
Demand for ivory is highest in the rapidly growing economies of Asia, particularly China, UNEP said, adding that seizures of ivory heading to Asia have doubled since 2009.
In Samburu, Li saw efforts of the Save the Elephants, a group working to protect wildlife including by collaring animals and tracking using satellites.
Ivory trade is often linked to organized crime and the financing of armed groups in Africa, she added.
"An excessive demand for ivory is at the root of the rise in the illegal killing of elephants, and attempts to save them will fail unless this is tackled," said Iain Douglas-Hamilton, from Save the Elephants.
"Appetite for ivory can be changed, as it was in the US, Europe and Japan. The reality of what is happening to elephants in Africa must be communicated — such as through the work of Li Bingbing and other celebrities — in ivory consumer countries. If it is not, the outlook for elephants looks very bleak," he added.
Last year poachers slaughtered 384 elephants in Kenya, up from 289 in 2011, according to official figures, from a total population of around 35,000.
This year, poachers have already shot dead more than 75.
Li, followed by over 20 million people on Chinese social media networks, recently starred in the Hollywood film Resident Evil.
Comments will be moderated. Keep comments relevant to the article. Remarks containing abusive and obscene language, personal attacks of any kind or promotion will be removed and the user banned. Final decision will be at the discretion of the Taipei Times.