Zelaya followers threaten to boycott Honduran poll
More than 3,000 supporters of ousted Honduran president Manuel Zelaya on Monday threatened to boycott a presidential election planned for November if he is not brought back to power.
Protesters converged on the capital, Tegucigalpa, after marching for several days from eastern Honduras, while other groups headed by foot to the northwestern city of San Pedro Sula, the country's financial center.
"Our goal is to re-establish institutional order by returning president Manuel Zelaya to power," protest leader Andres Tamayo, a Salvadoran priest and member of the Resistance Front that opposes the June 28 military-backed coup, told reporters. "If the coup leaders don't accept, there won't be any elections. We will boycott them."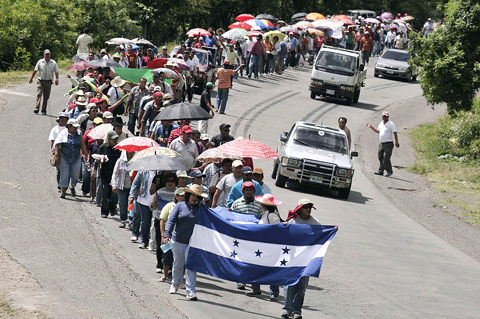 Followers of ousted Honduran president Manuel Zelaya stage a rally in Monte Redondo, Honduras, on Monday.
PHOTO: EPA
The move was likely to further prolong the crisis that has gripped the impoverished Central American country.
"Get out, putschists, get out, Micheletti," protestors shouted as they converged upon the center of Tegucigalpa, referring to Honduran interim President Roberto Micheletti, the former president of Congress who was catapulted to the head of the interim government after Zelaya was expelled from the country.
Zelaya, who was in Ecuador, meanwhile called on his opponents to "listen to the people" and denounced the interim government for the deaths of more than 10 young protesters in Honduras.
"They were murdered in the streets because they were marching peacefully and were slaughtered with bullets," he said during a mass in Quito celebrating the inauguration of Ecuadoran President Rafael Correa.
While Obama has condemned the coup, Cuban President Raul Castro said it could never have occurred without authorization from Washington.
"On this continent, no one has a coup without receiving authorization from the United States," Castro said, adding that he still had confidence in Obama, who he called a "well-intentioned man."
Comments will be moderated. Keep comments relevant to the article. Remarks containing abusive and obscene language, personal attacks of any kind or promotion will be removed and the user banned. Final decision will be at the discretion of the Taipei Times.