Maldives opposition says poll rigged
The Maldives' first ever multi-party presidential election yesterday was hit by opposition party allegations that the polls had been rigged.
The Maldivian Democratic Party (MDP), whose candidate Mohamed "Anni" Nasheed is widely viewed as the strongest challenger to incumbent President Maumoon Abdul Gayoom, said its members were being denied the right to vote.
"I'm getting complaints from all over the Maldives from our party members that their names are not on the electoral list," said MDP chairperson Mariya Didi, who was also unable to cast her ballot in central Male.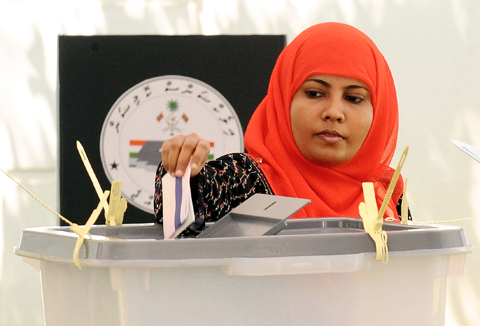 A woman casts her vote in the presidential election at a polling station in the Maldives High Commission in Colombo yesterday.
PHOTO: AFP
"We had high hopes for today. We hoped that once in our lifetime we could vote freely, but today we are being denied our right to vote," she said, adding her entire family also appeared to have been wiped off the electoral roll.
"We have heard that in one island, where there are 66 voters who are MDP members, none have been allowed to vote," she said, adding that indelible ink put on fingers to prevent double voting was not being used on some islands.
The polls on the Indian Ocean archipelago pit incumbent Gayoom, aged 71 and the islands' strongman for the past 30 years, against five rivals.
The election is being seen as a test for the Muslim nation's often tense transition to democracy, which Gayoom — who has served six terms under a one-candidate system — agreed to start two years ago after violent protests.
There was no immediate response to the complaints from the ruling party, whose senior members could be seen voting with no difficulties.
Election Commission spokesman Mohammed Ibrahim Tolal said he was unaware of any complaints.
In all, 208,000 people are eligible to vote. Results are expected today.
Comments will be moderated. Keep comments relevant to the article. Remarks containing abusive and obscene language, personal attacks of any kind or promotion will be removed and the user banned. Final decision will be at the discretion of the Taipei Times.