Pakistan political crisis escalates, leaving 18 dead
CLASH Pro-government and opposition activists traded assault rifle fire in violence that was sparked by the suspension of Chief Justice Iftikhar Mohammed Chaudhry
Gunbattles and attacks killed at least 18 people and wounded dozens yesterday as Pakistan's political crisis descended into violence between rival parties over President General Pervez Musharraf's suspension of the chief justice.
In one clash, pro-government and opposition activists traded assault rifle fire about 1km from Karachi's international airport. As volleys rang out, Kamran Ali, a newspaper vendor, said that three unidentified people traveling in a car were killed by the firing, and a woman passer-by was wounded.
Musharraf yesterday ruled out declaring a state of emergency, as the turmoil sparked by his March 9 suspension of Chief Justice Iftikhar Mohammed Chaudhry entered a new deadly phase. In comments reported by the state-run Associated Press of Pakistan news agency, the military leader urged the nation to stand united and remain peaceful.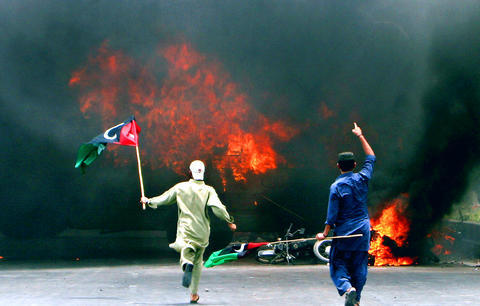 Opposition activists walk after setting fire to a vehicle during a gunbattle between two rival groups in Karachi, Pakistan, yesterday.
PHOTO: AP
Officials contacted at three hospital in Karachi reported at least 18 people had died in the violence and 55 were wounded. Police reported more than 70 wounded, many from gunfire.
In another part of the city, private TV network Aaj said its building had been fired on by supporters of a pro-government party, the Mutahida Qami Movement (MQM), who wanted them to stop airing live footage of the unrest in the city.
Arshad Zubairi, the network's chief executive, said cameramen and journalists on the roof of the building had to take cover and windows were shattered but no one was hurt. Aaj remained on air uninterrupted.
"We are under attack," senior Talat Hussain said on air as he sheltered behind a wall. "We have seen no security force. No one has come to help us."
Officials of the MQM were not immediately available for comment about the incident.
The fighting broke out as Chief Justice Iftikhar Mohammed Chaudhry arrived for the latest in a series of rallies by lawyers and opposition parties protesting his March 9 suspension.
Critics accuse Musharraf, who took power in a bloodless coup in 1999, of trying to sideline the independent-minded judge to head off legal challenges to Musharraf's plan to seek a new five-year presidential term later this year. The government maintains the move was not politically motivated and that Chaudhry had abused his office.
Two months of anti-Musharraf rallies organized across the country by opposition parties and lawyers have been gathering momentum, and yesterday, pro-government parties were responding with their own shows of strength.
Musharraf was due to address a huge gathering in Islamabad to galvanize his support base, but the Karachi bloodshed will only deepen the sense of crisis in the country.
Opposition activists accused MQM activists of attacking them, including in front of the airport.
An Associated Press reporter could see MQM supporters calling for ammunition and firing from buildings, reportedly at supporters of the Pakistan's People's Party and Jamaat-e-Islami. Opposition supporters were firing back. A senior MQM leader, Farooq Sattar, said that four of its supporters died in the clash. It was not clear if they included the three people killed in the car.
Roadblocks, including trucks with deflated tires apparently placed by the MQM, prevented most of Chaudhry's supporters from reaching the airport to greet him.
Comments will be moderated. Keep comments relevant to the article. Remarks containing abusive and obscene language, personal attacks of any kind or promotion will be removed and the user banned. Final decision will be at the discretion of the Taipei Times.