Taiwanese rescued by US chopper
A group of Taiwanese rescue workers were saved yesterday after getting stuck in soft mud while trying to extricate a body from a landslide that entombed a Philippine farming village.
The incident contributed to a decision to suspend search efforts at the scene of last Friday's disaster amid concerns that heavy rains could spark a new landslide and add to the death toll that stands at 122 and is expected to rise to more than 1,000.
Weary troops and volunteers trudged out or were airlifted by helicopter from the unstable 40-hectare mud field that covers Guinsaugon and its elementary school.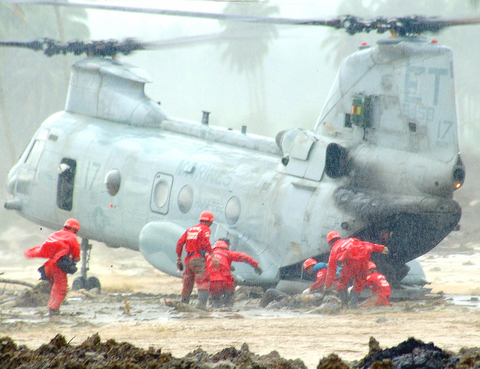 A US Marine helicopter helps rescue Taiwanese search and rescue team members (in red) stuck in mud in the Philippine village of Guinsaugon, yesterday.
PHOTO: AFP
The Taiwanese disaster experts have been trying to find survivors with heat-imaging gear. Instead, they had to literally be pulled out.
"The seven Taiwanese were pulling one body with a rope under heavy rain out of the mud," said US Marines spokesman Captain Burrel Parmer.
"They got stuck in the mud, then they radioed they needed help, they can't get out, they're sinking in the mud," he said.
Parmer said the Marines immediately dispatched CH-46 helicopters that landed near the Taiwanese.
"The choppers started sinking in the mud, so they had to work fast," Parmer said.
"The Taiwanese refused to leave without the body and were dragging it with them," he said.
Six of the Taiwanese and the body were loaded onto the helicopters, which returned later to pick up the last member of the rescue team with a rope.
Rain and low clouds then shut down the air operation, leaving little activity at the site.
With no survivors found since the early hours after a mountainside on Leyte island collapsed, there was increasing talk of calling off rescue efforts.
A group of 33 firefighters from nearby Cebu, who have been digging every day, said they likely would head home today.
Hillsides over the area where the school is believed to be buried could cave in at any time because of the wet conditions, Lieutenant Colonel Raul Farnacio said.
Comments will be moderated. Keep comments relevant to the article. Remarks containing abusive and obscene language, personal attacks of any kind or promotion will be removed and the user banned. Final decision will be at the discretion of the Taipei Times.