Lightning sparks ammo dump blasts
Huge blasts at a suburban Manila police ammunition dump injured at least 107 people, damaged several buildings and homes and set off security jitters in a capital long wary of possible terror attacks and a coup, officials said. Police ruled out sabotage or terrorism.
Late Monday's explosions, which investigators say were apparently touched off by lightning, initially raised concerns of foul play due to swirling coup rumors linked to the monthslong political crisis hounding President Gloria Macapagal Arroyo.
She has been accused of rigging last year's election but has denied the allegations.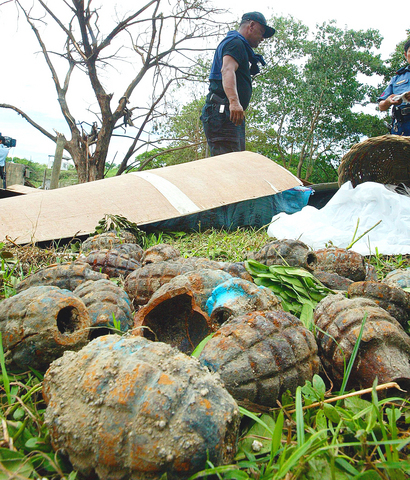 A scene of the crime officer walks past recovered test grenades found in the crater created by a series of explosions on Monday night inside Camp Bagong Diwa in Taguig City, southern Manila, yesterday. The explosions injured 107 people and triggered panic.
PHOTO: EPA
An ammunition bunker filled with World War II vintage bombs and homemade explosives seized from Muslim militants and fishermen was obliterated by the explosions, which also damaged nearby buildings and homes in and out of Camp Bagong Diwa, police said.
The blasts shattered glass windows and ripped off parts of the roof of a dormitory for drug addicts at a rehabilitation center, hurled about 30 parked vehicles away and damaged a gas station, witnesses said.
"Initially, I thought that the camp was under attack," said metropolitan Manila police chief Vidal Querol, who was at the camp when shock waves from the blasts shattered his windows. "We later found out that there was no hostile fire, no sabotage or terrorism."
The injured included 101 patients at the drug rehabilitation clinic, four elite police officers and two civilians, police said. One of the officers narrowly escaped being hit by a slab of concrete that flew several blocks from the blast site.
Residents living in and out of the camp recalled hearing small explosions followed by two large ones that rained debris on their roofs, shattered glass windows and knocked down wall pictures and flower vases, driving many of them out into a thunderstorm.
"I heard the rain on our roof but after the deafening blasts, I heard clumps of earth hitting our roof," said Sharon Pamplona, who herded her four children out of their home a few blocks from the ammunition dump. "It felt like the end of the world."
Jody Villarias, a resident living outside the camp, said he heard two small explosions "and a third that caused an earthquake that brought us out into the rain.
Police Superintendent Warlito Tubon, explosives and ordnance disposal chief, said the destroyed munitions bunker had contained 30 50kg bags of ammonium nitrate, 420 mines, some C-4 explosives plus anti-tank ammunition.
He ruled out terrorism or sabotage based on accounts of witnesses who said a series of small and large explosions followed a blackout during a thunderstorm. Police pointed to a blackened lightning rod they said showed that lightning struck the armory.
Police Superintendent Bonaparte Francisco said about 400 of the 2,200 patients at the facility fled in panic, many of them shirtless, but that most later returned. About 54 remained unaccounted for by yesterday.
SWAT teams immediately tightened security at the camp, where suspected rebels from the al-Qaeda linked Muslim extremist group Abu Sayyaf are detained in a maximum-security jail. Interior Secretary Angelo Reyes sought to reassure the public overnight that the incident was an accident.
"There is nothing to be worried about. It was an accident, that's our initial findings, so we can go back to sleep," he told reporters.
The blasts occurred just hours after Arroyo left for New York to attend UN meetings and the military was placed on full alert in the capital. Reyes said an investigation was underway.
Comments will be moderated. Keep comments relevant to the article. Remarks containing abusive and obscene language, personal attacks of any kind or promotion will be removed and the user banned. Final decision will be at the discretion of the Taipei Times.