Indonesia's pig-killing lambasted
EASY TARGET? Health experts are stumped by Jakarta's extermination campaign, saying there is no evidence the swine are infected with avian flu
When government workers in white anti-contamination suits descended on Ceng Kim's farm to slaughter his pigs, claiming they were infected with the bird flu virus that killed three people nearby, he hid inside his house.
He couldn't bear to watch, but the rest of Indonesia saw the dramatic images on television that night: Squealing pigs electrocuted one by one and tossed into a fire.
"My pigs didn't kill anyone," said Kim. "But if the government says they're sick, what can I do?"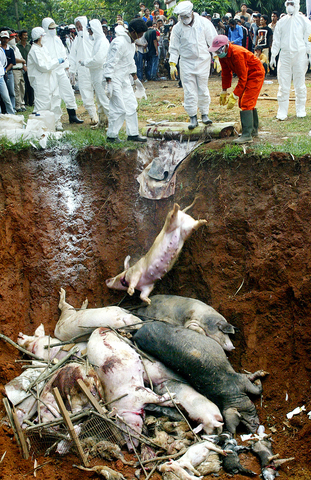 Indonesian agricultural ministry officials throw electrocuted pigs which they claim are infected by bird flu into a hole before burning them during a culling in Tangerang, on the outskirts of Jakarta, on Sunday.
PHOTO: AP
Pig farmers are not the only ones scratching their heads -- international experts are bewildered as well.
They say there is no evidence pigs have been infected with avian flu, despite the government's insistence that the animals are contributing to the recent outbreak in Indonesia, the world's most populous Islamic country.
Critics say the government is going after pigs because they are an easy target and may divert attention away from fears about the infection in poultry, a staple food for millions of people throughout the country.
Many Muslims consider pigs to be unclean, though pork is regularly eaten by the country's large ethnic Chinese minority, a group that frequently faces discrimination and abuse.
Indonesia is the only country to be culling swine in its fight against bird flu, which has swept through poultry populations in Asia since 2003, killing or forcing the slaughter of hundreds of millions of ducks and chickens. Sixty people have died, mostly Thailand and Vietnam, which announced its latest two deaths on Friday.
Indonesia's first deaths were earlier this month -- a 38-year-old auditor and his two young daughters who lived on the outskirts of the Indonesian capital, Jakarta.
The government initially said the victims had no known contact with birds, and that the closest source of infection appeared to be Ceng Kim's pigs, 15km away. Later, traces of the virus were found in chicken droppings in the family's own backyard.
Though an Indonesian scientist claimed in May he discovered the H5N1 strain of bird flu in pigs, the UN Food and Agricultural Organization says it has no evidence that swine have been infected -- in Indonesia or anywhere else.
The "focus should be on chickens and ducks," said FAO veterinarian Juan Lubroth.
Trisatya Putri Naipospos, Indonesia's top veterinarian, agreed and accused the government of playing "politics" with pig farmers, the majority of whom are ethnic Chinese.
At the same time, many Muslim Indonesians are happy to see ministers appearing on television saying pigs are dirty.
The Agriculture Ministry defended ongoing pig culls, saying they are part of a multi-pronged approach to eradicating bird flu and are in "no way influenced by politics, religion or race." More than 9 million chickens and ducks also have been killed since 2003, it noted.
But Indonesia's larger strategy is not always clear, even to itself.
Days after Agriculture Minister Anton Apriyantono vowed to carry out mass culls in bird flu-affected areas, he changed his mind, saying only sick animals would be killed.
He blamed a lack of money, saying the government could not afford to compensate farmers for their loss. It's the same argument made 18 months ago when bird flu first surfaced, though no request has been made to Parliament for emergency funds.
Comments will be moderated. Keep comments relevant to the article. Remarks containing abusive and obscene language, personal attacks of any kind or promotion will be removed and the user banned. Final decision will be at the discretion of the Taipei Times.