UN says Afghans flooding voter registration centers
PRESIDENTIAL VOTE In the Panjshir Valley, support for the chief rival of President Hamid Karzai is strong, and the area now has the country's highest registration rate
Sitting in a tiny chamber in the shadow of grey Hindu Kush mountains, Yasamin, a female electoral worker, struggles to keep up with the number of voters coming to register for Afghanistan's first presidential elections. \nThe Panjshir valley, a stronghold of resistance against the fundamentalist Taliban regime, has produced one of the strongest registration turnouts in the country and is a bastion of support for President Hamid Karzai's chief rival in the presidential race and former anti-Taliban commander, Yunus Qanooni. \n"People are very interested to register themselves. People are coming from very remote villages, sometimes even walking for four hours to get to the registration," said the 21-year-old election worker who earns US$12 a day. \nThe UN estimated that as of July 29, around 90 percent of the 9.8 million estimated eligible voters had registered. \nAfghanistan's population figures -- and numbers of registered voters -- are notoriously hazy and based on projections from the 1970s because there has never been a reliable census in the country. \nBut even if figures are wide by as much as a million voters -- as UN officials admit is possible -- it is clear from the sharp climb in registrations in recent weeks that the vast majority of Afghans are enthusiastic about voting. \nIn the Panjshir 110,414 eligible voters had signed on to electoral rolls by July 28 -- more than double the 49,573 eligible voters the UN had estimated lived in the province. \nThe valley was the stronghold of the late resistance leader Ahmad Shah Masood and most residents now back Masood's former stalwart Qanooni. \n"I'm going to vote for Qanooni or anyone Qanooni recommends me to vote for," said Abdul Aziz, a butcher from the Panjshir's main city of Bazarak. \nQanooni rose to prominence in the Northern Alliance which banded together with US-led forces to oust the Taliban in 2001 after Masood's assassination by al-Qaeda. \nThe ethnic Tajik stepped down as Karzai's education minister in July to challenge him in the presidential race, claiming the backing of powerful warlord Marshal Mohammed Qasim Fahim and other senior government leaders. \nThousands of his fellow ethnic Tajiks -- who make up between 12 and 25 percent of the population -- are putting their weight behind him. \n"We know Qanooni best so we will vote for him -- he is our leader overall," said Sayed Jan, a white-bearded farmer sipping green tea in a roadside tea shop in the Panjshir. \nIn the last week, whole villages have been turning up in trucks and buses to register for voting cards, according to Panjshiri electoral workers. \n"I think decisions in the Panjshir are collectively taken by the community -- if the community wants to move in a certain direction people move in that direction," Charlie O'Malley, a UN election worker said. \nQanooni, along with the head of Afghanistan's national army, Marshal Fahim, and Karzai's foreign minister, Abdullah Abdullah, formed the core of the Northern Alliance, and Qanooni claims to have backing of other former anti-Soviet mujahedin backed by private armies. \n"Fahim, Qanooni and Abdullah, they are our leaders, whoever they decide we will support in the elections, if it's Qanooni or Karzai or anyone else," said schoolteacher Gul Marjan in the rocky village of Jangalak. \nThe Panjshiri community's enthusiastic turnout is in contrast to many provinces in the Taliban strongholds of south and southeastern Afghanistan, which have been hit by attacks on election workers. \nWe had "no trouble at all. They have been very cooperative," O'Malley said of his nearly five-month experience registering people in the valley. \nFive election workers have been murdered in other parts of Afghanistan, the latest last week in a bomb blast at a voter registration center in the southeastern Afghan province of Ghazni. \nVoter turnout has been noticeably lower in the south, with most southern provinces showing turnouts of around 60 percent of estimated eligible voters and Zabul province boasting only 15 percent of eligible voters on its electoral rolls by July 22, according to UN data. \nIn the conservative, ethnically Pashtun south, Karzai's home region, voter numbers have also been hit by the reluctance of southern men to allow their women to register. \nBy contrast, in the northern provinces women have turned out in their tens of thousands to register. \nNearly 50 percent of registered voters in the Panjshir valley were female, said an official from the UN-Afghan run Joint Electoral Management Body. \n"Like everybody else I came to get voter registration cards," said Najiba -- who only uses only one name -- a woman wearing the traditional all-enveloping burqa. \nBut her fellow villager Kamela was more explicit about her reason for coming. "My husband told me to register -- I'm going to vote for anyone he asks me to," she said.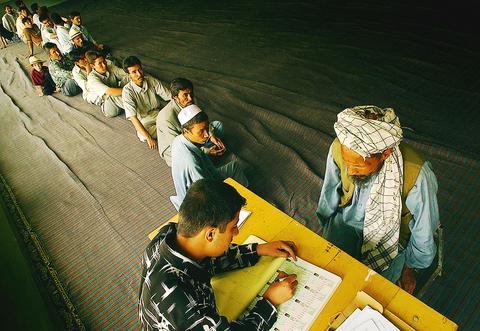 Afghan men wait for their turn to sign up for the country's first free elections at a mosque in Kabul, Afghanistan, on Sunday. About 90 percent of the Afghan electorate, 41 percent of whom are women, have signed up to vote in October's landmark presidential elections, the UN said Sunday, as it began winding down a registration effort marred by bloody attacks on election staff and would-be voters.
PHOTO: AP
Comments will be moderated. Keep comments relevant to the article. Remarks containing abusive and obscene language, personal attacks of any kind or promotion will be removed and the user banned. Final decision will be at the discretion of the Taipei Times.