Thirteen die in attacks in northern Iraq
Three US soldiers and 10 Iraqis were killed in three attacks in northern Iraq yesterday, most of them in a car bombing in Mosul which left part of a police station a smoldering ruin, as the country braced for more violence on the eve of a major Muslim holiday.
The American soldiers were travelling in a convoy that was attacked by a homemade bomb some 45km southwest of the oil center of Kirkuk at 10:15am, a US military spokesman said.
The deaths pushed to 249 the number of US combat fatalities in Iraq since US President George W. Bush declared an end to major hostilities on May 1.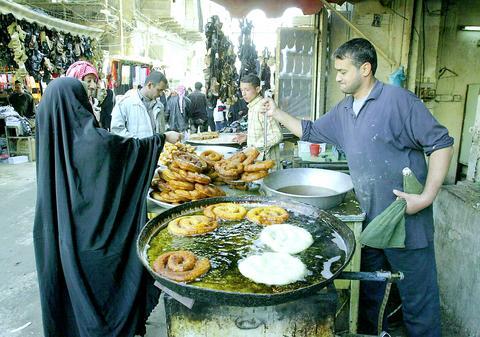 An Iraqi street vendor makes sweets in the al-Khadhem district in Baghdad on Friday. Muslims in Iraq and all over the world buy sweets for the feast of Eid al-Adha. At the same time many Muslims go on pilgrimage to holy sites in Mecca, Saudi Arabia.
PHOTO: EPA
In Mosul, a powerful suicide car bomb tore the front off a police station killing nine people and wounded 45, hospital officials and police said.
"Nine people were killed, including two policemen and seven civilians, and 45 wounded," said the head of the emergency room at the Mosul hospital, Najem Abdullah Shuaib.
He said four of the wounded, including some policemen, were in a serious condition.
Witness Mohammad Abdel Karim, 39, who works in the shop opposite the police station said that "an Opel sped up, got past the checkpoint and the driver blew up his car. There was an enormous explosion".
A chunk of the front of the police station was engulfed in flames and two rooms on the ground floor totally destroyed. Cement blocks placed to protect the police station crashed onto a car.
An Iraqi Turkmen party official was also shot dead and another wounded in an attack near Kirkuk, a police official said.
Mahdi Hussein Turkmani was killed and Hussein Abbas wounded by gunmen in the mostly Turkmen town of Taza, about 15km south of Kirkuk, police Colonel Turhan Yussef said.
The two men were identified as senior members of the Iraqi Turkmen Front, a group opposed to Kurds' demand of a federated state in northern Iraq.
Yesterday's deadly violence rocked Iraq after the Dutch embassy in Baghdad was struck by a grenade attack Friday night.
Dutch officials said flames engulfed the building, part of which was badly damaged by the attack, which occurred when it was unoccupied.
Dutch foreign ministry spokeswoman Martine de Haan said the attack was a deliberate strike against her country.
"The Netherlands was clearly targeted in this attack," she said in The Hague, which maintains some 1,200 troops in southern Iraq as part of the US-led coalition.
Senior coalition members in Iraq have warned the country could face an increase in guerrilla violence in coming days as millions of Muslims celebrate the Eid al-Adha feast of the sacrifice.
US Brigadier General Mark Kimmitt, deputy director of coalition operations in Iraq, said preparations were being made to tackle any surge in unrest coinciding with Eid al-Adha, which begins either today or tomorrow across the Middle East.
Eid al-Adha, honors the prophet Abraham for his readiness to sacrifice his son Ishmael to God.
Police in Kirkuk said yesterday they were stepping up security after threats of a car bomb attack timed to coincide with the holiday.
Comments will be moderated. Keep comments relevant to the article. Remarks containing abusive and obscene language, personal attacks of any kind or promotion will be removed and the user banned. Final decision will be at the discretion of the Taipei Times.