ELECTIONS: Taipei hopefuls announce last campaign events
With only a week until election day, Taipei mayoral candidates Pasuya Yao (姚文智) of the Democratic Progressive Party (DPP), Ting Shou-chung (丁守中) of the Chinese Nationalist Party (KMT) and incumbent Ko Wen-je (柯文哲) were yesterday gearing up for the last mile.
Surrounded by younger supporters, Yao announced that his supporters would tomorrow parade around the Taipei Dome before converging on Taipei City Hall Plaza.
At a news conferences held across from the unfinished project, Yao said that Ko is a "liar" who has colluded with construction companies while neglecting the rights and interests of Taipei residents.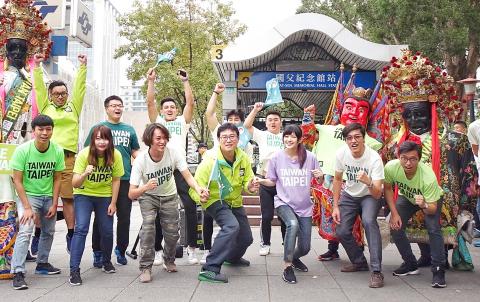 Democratic Progressive Party Taipei mayoral candidate Pasuya Yao, front row, fourth left, and campaign workers yesterday pose for photographs ahead of an event to mobilize young voters near the Taipei Dome.
Photo: Fang Pin-chao, Taipei Times
That is the main reason the dome has remained unfinished, Yao said.
He said that he has more than 400 different policy proposals for different districts and he hoped to use the days until the nine-in-one elections on Saturday next week to meet more people and present his vision for the city's development.
Meanwhile, Ting's camp held a roadside canvassing event, also in front of the Taipei Dome, with KMT Vice Chairman Hau Lung-bin (郝龍斌).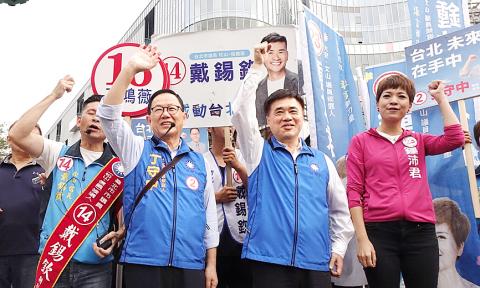 Chinese Nationalist Party (KMT) Taipei mayoral candidate Ting Shou-chung, second left, waves at a campaign event in Taipei yesterday.
Photo: Fang Pin-chao, Taipei Times
Ting campaign spokesperson Chan Wei-yuan (詹為元) said that such events would be held throughout the week, starting on Guangfu S Road and Guangfu N Road on Monday and moving to Nanjing E Road on Tuesday.
From Wednesday, Ting would ride around the city in a jeep making visits, Chan said.
A rally is planned tomorrow evening at Rongxing Garden Park (榮星花園) in Zhongshan District (中山), Chan said.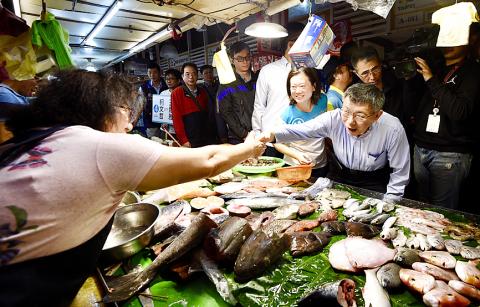 Taipei Mayor Ko Wen-je yesterday shakes hands with a vendor at Chengkung Market as he campaigns for re-election.
Photo: Peter Lo, Taipei Times
Meanwhile, Ko's campaign said it would stage a seven-hour rally tomorrow at the North Gate (北門) near Taipei Railway Station, the restoration of which Ko considers one of his first accomplishments as Taipei mayor.
Ko's administration in 2015 removed within seven days an elevated off-ramp that partially obstructed the view of the North Gate, a feat that many Taipei residents considered to be highly efficient.
Additional reporting by Huang Chien-hao
Comments will be moderated. Keep comments relevant to the article. Remarks containing abusive and obscene language, personal attacks of any kind or promotion will be removed and the user banned. Final decision will be at the discretion of the Taipei Times.