Climate change experts share third Tang Prize
LONG-TERM POLICY: Taiwan should consider delaying its transition to a nuclear-free country to allow time for the development of green energy, an academician said
Two leading experts on climate change studies, James Edward Hansen and Veerabhadran Ramanathan, have won the third Tang Prize in Sustainable Development, the Tang Prize Foundation said yesterday.
Academia Sinica academician Liu Chao-han (劉兆漢) made the announcement at a news conference in Taipei, which was hosted by foundation chief executive Chern Jenn-chuan (陳振川).
With their seminal studies on climate science, Hansen and Ramanathan have had great effects on global academia as well as human society, Liu said.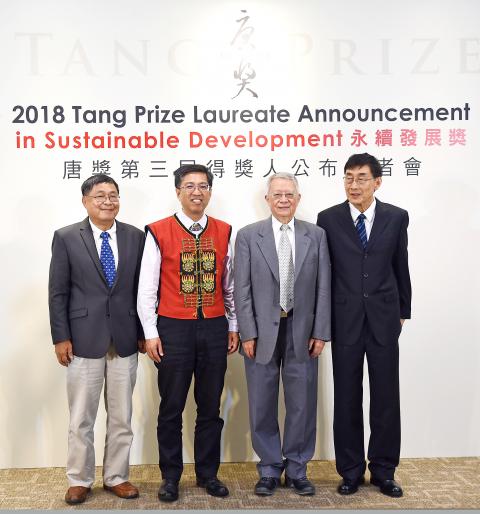 From left, National Central University professor Wang Tsuo-tai, Tang Prize Foundation chief executive Chern Jenn-Chuan and Academia Sinica academicians Liu Chao-han and Shaw Liu yesterday pose at a news conference in Taipei for the Tang Prize Laureate Announcement in Sustainable Development.
Photo: Chien Jung-fong, Taipei Times
Hansen developed one of the world's first two global three-dimensional climate models and was the first to compile temperature records from around the world, Academia Sinica academician Shaw Liu (劉紹臣) said when explaining Hansen's contributions to climate change science.
Born in Iowa in the US in 1941, Hansen directs the Program on Climate Science, Awareness and Solutions at the Earth Institute of Columbia University and headed the Goddard Institute for Space Studies at NASA from 1981 to 2013.
Despite relentless pressure from government officials and meteorologists who do not believe in the existence of climate change, Hansen continues to sound the alert on climate change and push for policies for its mitigation, Shaw Liu said.
Ramanathan drew the public's attention to the global warming effects of pollutants other than carbon dioxide, such as chlorofluorocarbons and atmospheric blown clouds, he said.
Born in Chennai (formerly Madras), India, in 1944, Ramanathan is director of the Center for Clouds, Chemistry and Climate at the Scripps Institution of Oceanography at the University of California, San Diego.
Ramanathan has promoted many projects to reduce black carbon, ozone, methane and soot in rural India, and inspired a 50-nation campaign to reduce the use of non-carbon dioxide pollutants, Shaw Liu said.
Asked what Taiwan could do to mitigate the effects of climate change, Liu Chao-han and Shaw Liu said the nation lacks a systematic and long-term policy to combat climate change.
The nation should work harder to reduce carbon emissions and fossil-fuel burning, and consider delaying its timetable for phasing out nuclear energy — scheduled for 2025 — to allow more time for green energy development, Liu Chao-han said.
Shaw Liu said the government should collect a carbon tax, adding that it would benefit society.
An award ceremony is to be held on Sept. 21 at the National Sun Yat-sen Memorial Hall in Taipei and the laureates are to give a series of lectures at universities across Taiwan from Sept. 25 to Sept. 27.
Each winner would receive a NT$40 million (US$1.3 million) prize and a research subsidy of NT$10 million, the foundation said.
The foundation, set up by Ruentex Group chairman Samuel Yin (尹衍樑) in 2012, presents awards for sustainable development, biopharmaceutical science, Sinology and rule of law every two years.
Comments will be moderated. Keep comments relevant to the article. Remarks containing abusive and obscene language, personal attacks of any kind or promotion will be removed and the user banned. Final decision will be at the discretion of the Taipei Times.