INTERVIEW: Hong Kong's values under threat: Ray Wong
CHALK AND CHEESE: The Hong Kong Indigenous spokesman said that growing up in the territory before the handover made him feel 'greatly different from Chinese'
Two decades after Hong Kong's handover to China, Hong Kongers have come to realize that despite sharing the same roots, Hong Kongers "are not Chinese," said Ray Wong (黃台仰), a spokesperson for the pro-independence group Hong Kong Indigenous.
Wong made the remarks in an interview with the Liberty Times (sister newspaper of the Taipei Times).
There is "no other way" to safeguard Hong Kong values than to become independent, he said.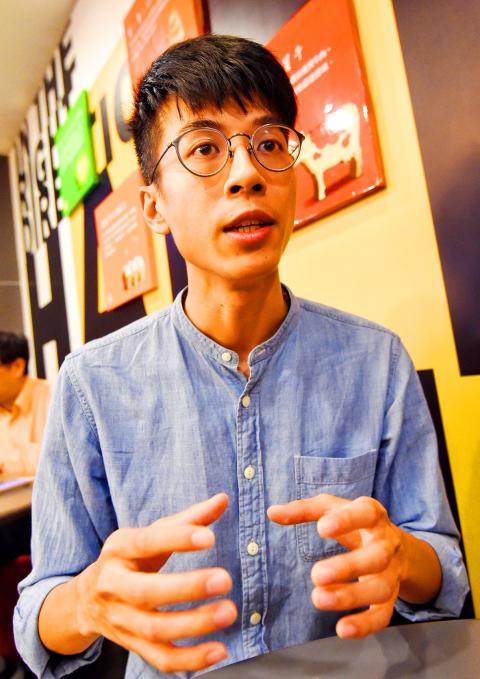 Hong Kong activist Ray Wong gestures during an interview on June 3.
Photo: Liu Hsin-de, Taipei Times
The erosion of the values Hong Kong holds dear by the spread of "Chinese-centric" ideals via the education system and the gradual loss of the ability to speak Cantonese is proof that the "one country, two systems" model has failed, he said.
The localism camp that came to the fore after 2014's Umbrella movement emphasizes nationalistic ideals and stresses that Hong Kong is different from China, because they differ historically and culturally and have fundamentally different aspirations.
In a poll published last year by the Chinese University of Hong Kong, 17.4 percent of Hong Kongers said the territory should declare independence in 2047 following the termination of "one country, two systems."
In the 15-to-24 age group, 39.2 percent supported independence.
The number of independence supporters exceeds academics' expectations, especially among young people who have received higher education, Wong said, adding that various polls have shown that Hong Kongers have declining faith in "one country, two systems."
A poll conducted in 1997 — the year of the handover — by Hong Kong University showed that 63.6 percent of Hong Kongers were confident in the proposed "one country, two systems" method, while 18.1 percent were not, he said.
However, a poll last month showed that the number of supporters has dropped to 49.1 percent, while the rate of disillusionment grew to 43.2 percent, he added.
Wong, born in Hong Kong in 1993, is an icon in the localism camp.
He said the Hong Kong in which he grew up, compared with Hong Kong before it was returned to China, made him feel "greatly different from Chinese."
Many see the localism camp as "radical pro-democrats," but Wong said that the two camps differ in protest methods and identity.
The pro-democracy camp had witnessed Hong Kong under both British colonial rule and the Chinese economy's take-off, and therefore harbors "romantic illusions" of China, he said.
The pro-democracy camp believes that the territory should be responsible for spreading democracy throughout China, which is vastly different from the localism camp's ideology that China and Hong Kong are fundamentally different.
Wong during the interview repeatedly mentioned how there is a tide of Chinese moving into Hong Kong who have not only brought great change, but also "do not learn Cantonese or follow our customs."
Hong Kongers have no say about the 150 Chinese who come to live in Hong Kong every day, making living space even more cramped, Wong said, adding that the surge in Chinese investment after the handover has caused housing prices to skyrocket, further limiting the places young people can live.
"We do not seek to drive out all Chinese, we just do not wish to be under an excessive amount of Chinese control," he said.
Politically, Hong Kongers are under the constraint of "one country, two systems" and cannot hold true general elections. Economically, it has entered a stage of decline, which makes it even more dependent on a rising China. Socially, China is "diluting" Hong Kong culture with its immigrants.
Just 20 years after its return, Hong Kong is slowly being turned toward communism, he said.
Localists' choice to promote independence through protest is essentially a forced decision, for as long as Hong Kong is still under the influence of the Chinese Communist Party, "the conclusion that Hong Kong must be independent will not change," Wong said.
He stressed the importance of education, adding that the reason young Taiwanese are so enthusiastic about politics and for the nation's prevalence of civic activities is because education conveys a civic society's values.
Wong said he hopes he can induce the thought of rebellion and protest in the minds of young Hong Kongers through education.
While Hong Kongers themselves are pessimistic about the localist movement, Wong was optimistic, saying that despite only existing for a few years, the movement has already garnered support from 17 percent of Hong Kongers.
"For us, it is growing fast," he said.
For young people who are unable to leave, the solution is to find ways to make Hong Kong better, Wong said, adding that Hong Kongers must become more active and attack the Chinese Communist Party with claims of independence, thus hastening its collapse and dissolution.
Additional reporting by Lu Yi-hsuan
Comments will be moderated. Keep comments relevant to the article. Remarks containing abusive and obscene language, personal attacks of any kind or promotion will be removed and the user banned. Final decision will be at the discretion of the Taipei Times.