Wang Dan, KMT member trade barbs over remark
Exiled Chinese democracy activist Wang Dan (王丹) and Chinese Nationalist Party (KMT) Culture and Communication Committee deputy director Hu Wen-chi (胡文琦) yesterday engaged in a war of words after Hu chided Wang for saying "there will not be Taiwanese independence without bloodshed."
Wang, a student leader in the pro-democracy protests in Beijing in the spring of 1989, in a Facebook post marking the 28th anniversary of the Tiananmen Square Massacre on Saturday called on Taiwanese independence advocates to stop advocating independence if they are not prepared to shed blood, otherwise their words would only amount to "verbal masturbation."
Hu yesterday commended Wang for "speaking the truth," but criticized him for the timing of the remark, as Wang, who has spent eight years in Taiwan, is scheduled to leave for the US next month.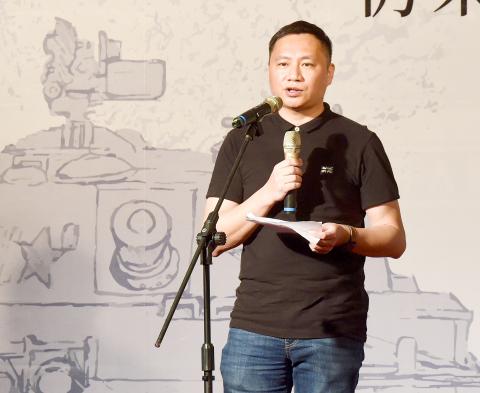 Exiled Chinese dissident Wang Dan on Sunday speaks at an event near Liberty Square in Taipei to mark the 28th anniversary of the Tiananmen Square Massacre.
Photo: Huang Yao-cheng, Taipei Times
Wang has "milked" his "charmed life" in Taiwan "for all it was worth" and only spoke the truth before "abandoning" Taiwan, Hu said.
Wang said on Facebook that the KMT had deliberately misinterpreted his words.
The "bloodshed" remark was meant to encourage younger generations to fight for independence, but also act as a reminder that they should be prepared to pay a price, Wang said.
He dismissed Hu's remarks about him living a high life in Taiwan only to abandon it.
Wang compared Hu's words to propaganda by China's Internet trolls, calling them "vulgar."
He urged the KMT to "mind its own business," saying that countless Republic of China soldiers were killed by the Chinese Communist Party during the Chinese Civil War, but instead of avenging them, the KMT has played second fiddle to Beijing.
The KMT lost its reign over China and repeated its mistake after it retreated to Taiwan, he said.
"If I were the KMT, I would have dug a hole in the ground and jumped in. How come you still have the audacity to accuse others?" Wang said. "Spokesman Hu, how shameless you are."
Hu yesterday said he is not ashamed of "stating the facts."
Citing a list pan-green camp politicians that have also criticized Wang's "bloodshed" remark, he said the antipathy toward the remark had crossed party lines.
The best "revenge" the KMT can have is to promote the teachings of the democracy pioneers who died during the war and pass on Taiwan's democratic values to all Chinese, Hu said.
Wang's remark that the KMT should take revenge on China shows that he is not well-versed in democracy and that his thoughts have progressed little since 1989, Hu said.
Comments will be moderated. Keep comments relevant to the article. Remarks containing abusive and obscene language, personal attacks of any kind or promotion will be removed and the user banned. Final decision will be at the discretion of the Taipei Times.