Rap duo lead singer says sorry for using cannabis
NEWS CONFERENCE: The members of Under Lover faced reporters yesterday, one day after police found the lead singer and a friend smoking cannabis
The Taiwanese rap duo Under Lover yesterday apologized to fans for setting a bad example after police raided a Taipei residence on Thursday where the group's lead singer, Hu Jui-kai (胡睿楷), and a friend, Shao Hai-wei (邵海瑋), were allegedly caught smoking cannabis.
"To all my friends and fans, I have let you down and caused you to worry. You have given us much support in the past seven years since we launched the group, but I have set a very bad example for the public. What I did was wrong and I let my family down," Hu told a Taipei news conference, accompanied his Under Lover partner Lai Yi-lin (賴以琳).
Hu vowed to never touch illicit drugs again and bowed more than 20 times to apologize.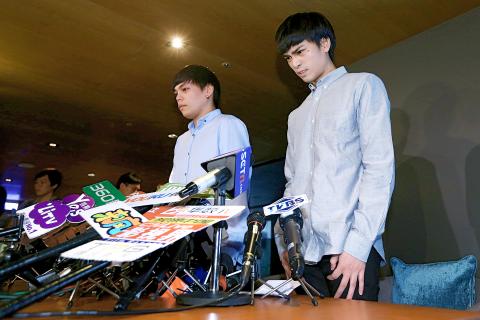 Lai Yi-lin, left, and Hu Jui-kai of the rap duo Under Lover take part in a news conference in Taipei yesterday, where Hu apologized for using marijuana.
Photo: CNA
Hu and Lai, both 25, are Amis Aborigines from Hualien County. They gained prominence after a single release in 2012 with their rap, Taiwanese pop and R&B love songs. Last year's 99 Roses (癡情玫瑰花) was a major hit.
Police said they found four people at the residence during Thursday's raid: Hu, Hu's girlfriend, model Sunny Lin (林采緹), Shao and Lai.
Lin has appeared on the cover of FHM magazine and is known for her "cosplay" character, the Snake Princess.
Hu and Shao were allegedly smoking cannabis in the living room, where Lin was watching TV, while Lai was asleep in a bedroom, police said.
They said they had gone to the apartment in response to a complaint that someone in the building had been smoking cannabis.
Hu and Shao admitted to smoking cannabis, but Lai and Lin said they did not, police said.
They said 1.24g of cannabis, several clips used to hold joints and a mortar and pestle used to grind cannabis were found during the raid.
Hu told police that he was under a lot of stress and had been having trouble sleeping, so Shao bought some cannabis online for NT$4,000 and brought it to the apartment.
All four were required to take urine tests and police said the test results would be released next week.
After questioning at the Taipei District Prosecutors' Office, Hu and Shao were charged with the possession of illegal drugs and released on Thursday night on bail of NT$10,000 and NT$70,000 respectively.
Comments will be moderated. Keep comments relevant to the article. Remarks containing abusive and obscene language, personal attacks of any kind or promotion will be removed and the user banned. Final decision will be at the discretion of the Taipei Times.