First P-3C arrives at Pingtung base
Taiwan yesterday took delivery of the first of 12 P-3C marine patrol aircraft from the US when the plane arrived at the Pingtung Air Force Base from Guam.
The aircraft was originally scheduled to arrive at the Pingtung County base on Monday or Tuesday, but the arrival was pushed back because of a tropical storm in the Western Pacific Ocean.
Major General Yuan Chi-kang (袁啟綱), head of the air force's 439th Combined Wing, presided over the delivery ceremony. Water was sprayed over the aircraft as it taxied down the tarmac.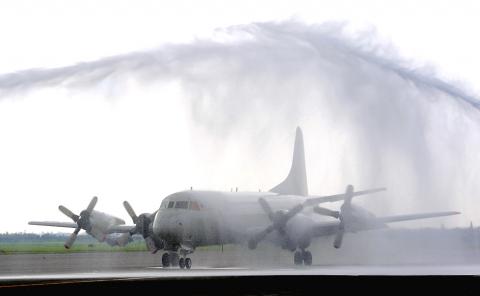 A 12 P-3C marine patrol aircraft purchased from the US arrives at the Pingtung Air Force Base yesterday from Guam.
Photo: Chang Chung-yi, Taipei Times
The P-3C was flown by US personnel for liability reasons, with Taiwanese personnel aboard, air force sources said.
Capable of staying in the air for 12 hours with a range of 2,800 nautical miles (5,185km), the P-3C will help upgrade Taiwan's marine patrols, the air force said.
The US government approved the sale of the 12 P-3Cs with T-56 turboprop engines and related equipment and services, a package valued at US$1.96 billion, in 2007. The last of the P-3Cs is scheduled to be delivered by the end of 2015.
Comments will be moderated. Keep comments relevant to the article. Remarks containing abusive and obscene language, personal attacks of any kind or promotion will be removed and the user banned. Final decision will be at the discretion of the Taipei Times.