Groups protest Soil and Water Act amendment
SLIPPERY SLOPE If the amendment is passed, about 1.72 million hectares of reservoir catchment area would be opened for development, the groups said
Several environmental organizations yesterday filed a petition with the Control Yuan, asking it to investigate the Soil and Water Conservation Bureau's proposal to amend the Soil and Water Conservation Act (水土保持法), which would loosen the restrictions on development in reservoirs' catchment areas.
Before submitting their appeal, the representatives from 40 civic groups held up photos of mudslide disasters and rivers filled with mud, and shouted slogans.
The act was passed in 1994, stipulating that all development activities are prohibited in designated special soil and water conservation areas within reservoir catchment areas.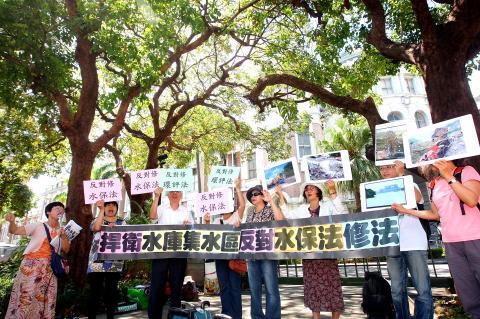 Members of the Taiwan Water Resources Protection Union and other environmental protection groups protest outside the Control Yuan in Taipei yesterday. The groups said that amendments to the Soil and Water Conservation Act could threaten the safety of reservoir catchment areas.
Photo: CNA
The proposed amendment would reduce the development prohibited areas to areas that "need special conservation," restricting the prohibited development activities from all types to only four, and granting local governments the authority to alter designated special soil and water conservation areas.
Groups fear the proposed amendment would put nearly all reservoir catchment areas at risk of pollution.
According to the Soil and Water Conservation Bureau's statistics, there are more than 100 reservoirs in the country and the combined size of reservoir catchment areas is about 2.05 million hectares, accounting for about 78 percent of the nation's mountainous areas.
If the amendment is passed, about 1.72 million hectares of reservoir catchment area would no longer be under the strict protection of being designated as soil and water conservation areas, the groups said.
Taiwan Water Conservation Alliance spokesperson Chen Jiau-hua (陳椒華) said the proposed amendment will likely turn most of the reservoir catchment areas into ordinary hillside land, and development activities in these areas may threaten water quality and land safety.
Hsu Chan-shuan (徐嬋娟), who leads the Flood Management Watch, said that following a typhoon in 2006 that brought large amounts of mud into the Shihmen Reservoir (石門水庫) and caused residents in Taoyuan to be left without clean water for a number of days, lawmakers at the time swiftly passed budgets of NT$25 billion (US$832 million) for the Shihmen Reservoir and NT$116 billion for other easily flooded areas to improve water and soil conservation.
"However, if this amendment is passed these reservoirs will see further development activities and the government will have to spend even more money to make up for the disasters caused by them," she said.
"The government should amend laws to protect the public, but the proposed amendment is in fact loosening laws," Green Party Taiwan member Wang Chung-ming (王鐘銘) said. "Basic needs, such as water and food, should not be sacrificed for economic benefits from development activities… and the government should not have to spend more money to make up for the destruction caused by disasters."
Opening up areas for development means more trees will be cut down, resulting in landslides after heavy rain, Taiwan Tree Protection Alliance convener Chang An-chi (張安琪) said.
"The government needs to ensure people's right to life. We want to drink clean water, not waste water," she said, adding that companies that benefit from the development activities are unlikely to maintain a healthy balance between protecting the environment and maximizing their economic benefits, "while the public will have to endure the consequences of polluted water and a damaged environment."
Comments will be moderated. Keep comments relevant to the article. Remarks containing abusive and obscene language, personal attacks of any kind or promotion will be removed and the user banned. Final decision will be at the discretion of the Taipei Times.