Exhibition shows man's vulnerability
EXTREME ART: A young South Korean photographer has spent months living with nomads in various deserts and is bringing the resulting exhibition to Kaohsiung
Have you ever wondered how a human being can survive alone in the desert?
Exhibiting photographs showing a naked woman alone with camels in a desert, Miru Kim, a young South Korean photographer, tries to portray the vulnerable nature of human beings. She achieves this through composing self-portraits with the camels — animals that humans deeply rely on in that cruel environment.
Having garnered critical acclaim for two series of photographs — Naked City Spleen and The Pig That Therefore I Am — that were exhibited in galleries around the world, Kim is to share parts of her latest unfinished series of photographs — The Camel's Way — at Kaohsiung's Pier 2 Arts Center next month.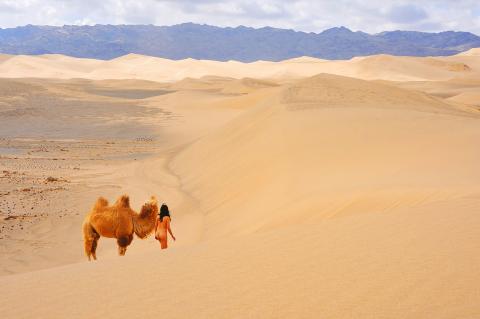 A photograph taken by Miru Kim, that shows her in the nude with a camel in the deserts of Mongolia in April last year, is to form part of an exhibition at Kaohsiung's Pier 2 Arts Center starting next month.
Photo courtesy of Miru Kim
Related to her previous series — Naked City Spleen, which consisted of nude photographs of the artist in abandoned and underground industrial surroundings, such as deserted factory plants and railways in big cities — her new series takes the focus into real deserts around the world.
"The most difficult part was to get to know the [local] people and make them feel comfortable with what I'm doing," Kim said.
She added that in addition to the difficulties of working in the extreme weather in deserts, the cultures and religions found in most of these areas do not allow for the exhibition of female nudity.
"I dressed like the locals, ate their food and helped them with daily chores," she said of her experience of living with nomads for weeks on end in Jordan, Mongolia, Egypt and other desert locations.
This allowed her to really feel and observe the lives of humans in these areas with all her senses, even though at times she could not communicate with the local people in any language, Kim said.
Having initiated the idea of bringing the exhibition to Taiwan, Korean Studies Academy chief executive officer Rick Chu (朱立熙) said while many people in Taiwan have developed a liking for South Korean pop music and TV dramas, he hopes the exhibition can show Taiwanese other dimensions of Korean art.
The exhibition is to run from Jan. 19 to March 3 and admission is free.
Comments will be moderated. Keep comments relevant to the article. Remarks containing abusive and obscene language, personal attacks of any kind or promotion will be removed and the user banned. Final decision will be at the discretion of the Taipei Times.