FEATURE: Some Taoist temples prove all-embracing
SOMETHING FOR EVERYONE Pingtung County's Tiantai Baogong has a statue of Jesus Christ and the founders of other major world religions, along with Taioist deities
Walking into the three-story Glorious Pantheons (光正萬教宮) in Chiayi City, the temple looks similar to most other Taoist temples in the nation, with elaborately decorated pillars, a traditional roof and numerous statues of deities on the altars. However, upon taking a closer look at the altar, one difference becomes clear — there are two statues of Jesus, one with a cross and one without.
The temple was built in 1976 by a Taoist master, Huang Chin-ching (黃進卿), who believed that teachings of all religions are positive and righteous, hence one should think out of the box and learn the wisdom of all religions.
Huang's idea became so popular that he had to build a larger temple in Jhongpu Township (中埔), Chiayi County, which was completed in 1998, the year before he died.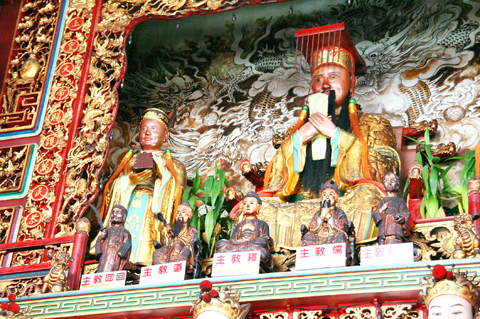 Statues of the "founders of five religions" stand in front of a large statue of the Jade Emperor, the Taoist ruler of the Heaven, at Tiantai Baogong in Chaojhou Township, Pingtung County — from left to right: Mohammed, Laozi, Buddha, Confucius and Jesus — in this undated photograph.
PHOTO: LOA IOK-SIN, TAIPEI TIMES
"Most followers of different religions — Taoists, Muslims, or Christians — believe only in the teachings of their own religions. However, they may miss the good things in other religions or become so narrow-minded that they are hostile toward other religions," a Glorious Pantheons staffer Chen Yun-ying (陳雲英) told the Taipei Times.
"Our objective is to break the division between religions and to promote religious tolerance," Chen said.
"We're a Taoist temple, but we welcome people of any religion to come here," she said.
The Glorious Pantheons, however, is not the only Taoist temple that honors Jesus.
At Tiantai Baogong (天台寶宮), a Taoist temple in Chaojhou Township (潮州), Pingtung County, a large statue of Jesus stands in the main hall, titled "Founder of Christianity" — right next to a statue of the Prophet Mohammed, titled "Founder of Islam."
Mohammed is depicted as holding a saif — an Arab sword — in one hand and a Koran in the other.
In the same hall are statues of Laozi (老子), the "Founder of Taoism," Siddhartha Gautama as "Founder of Buddhism" and Confucius as "Founder of Confucianism."
Chairman of Tiantai Baogong's Board of Administrators, Wu Hsu-ho (巫許河), said he doesn't know why the founder of the temple decided to worship the founders of different religions at the temple, but he did not think it was inappropriate.
"All five major religions represented here — Buddhism, Taoism, Confucianism, Christianity and Islam — serve similar purposes," Wu said.
"They all teach people to be good, they all try to show the righteous way to do things for this world, so they're not that much different if you look at the core of each religion," Wu said.
However, some clergy and academics said they weren't sure about such inclusivity.
"If you really look at the core of each religion, you wouldn't think such a practice was appropriate," said Sakinu Tepiq, a pastor at a Presbyterian church in Taitung County.
"For example, Christianity is against idolatry, so how is it appropriate to carve a statue of Jesus and worship it along with statues of other deities from other religions?" Sakinu said, adding that worshipping a statue of Jesus could be seen as downgrading Christianity.
People of different religions should engage in dialogue instead of conflict, but "what causes religious conflicts are humans, not Jesus Christ or Buddha, so simply putting their statues together wouldn't help to create harmony among religions," he said.
Tung Fang-yuan (董芳苑), a professor at Chang Jung Christian University's Graduate Institute of Taiwan Studies who specializes in religious studies, agreed.
"I wonder if the templegoers actually understand and agree with the humanitarian spirit and actions of Jesus Christ? It would be a humiliation to Christ if the Jesus statue was simply placed there as just another deity that templegoers worship in exchange for peace and good luck," Tung said.
"Only by truly understanding the meaning of other religions can a meaningful dialogue between believers of different religions be possible," Tung said.
Cheng Chih-ming (鄭志明), a religious studies professor at Fu Jen Catholic University, however, thinks that when Jesus is worshipped at a temple, he no longer represents Christianity, but is simply another deity in Taiwanese folk religion.
"Christianity and Taiwanese folk religion are two unrelated religions, and no one should try to stop others from worshipping anyone in particular," he said in a telephone interview. "Worshipping a figure from another religion shows the tolerance of Taiwanese folk religion."
Although both Glorious Pantheons and Tiantai Baogong claim to be Taoist temples, Tien Wei-li (田偉力), executive director of the Taoist Society of the Republic of China, said that the worship of Jesus and the Prophet Mohammed was not a Taoist practice.
"Taoists worship natural forces or phenomena, as well as people who lived strictly according to a set of guidelines or did good things when they were alive, or showed miracles afterwards," Tien said. "In addition to Jesus and Mohammed, I've also seen worship of Chiang Kai-shek (蔣介石) and Chiang Ching-kuo (蔣經國) — but we would not consider them 'deities' in Taoism because they do not meet the criteria."
The chief executive director of the Wenhua Mosque in Taipei, Musa Ma (馬子誠), said Muslims do not worship Mohammed, because they do not worship anyone but Allah.
"The Prophet Mohammed is respected as a prophet, but he is not God," Ma said. "Not to mention that we are against idolatry."
However, Ma said that he fully respects the freedom of the temples to worship whomever they want.
"Some radical Muslims may protest, but as for Muslims in Taiwan, we would respect other people's religious freedom — as long as they do not humiliate the Prophet Mohammed," Ma said.
Comments will be moderated. Keep comments relevant to the article. Remarks containing abusive and obscene language, personal attacks of any kind or promotion will be removed and the user banned. Final decision will be at the discretion of the Taipei Times.