Chinese credentials being discussed: MOE
Minister of Education Cheng Jei-cheng (鄭瑞城) said at the legislature yesterday that the schedule for the government's proposal to recognize Chinese educational credentials was still under discussion after many legislators questioned him about the issue.
As for the issue of allowing Chinese students to enroll in Taiwanese universities, Cheng said there would be a cap on the number of Chinese students allowed to enroll in domestic universities and that individual universities would also have a cap.
He said those universities interested in recruiting Chinese students should establish a committee to handle the matter while the ministry would establish the necessary regulations.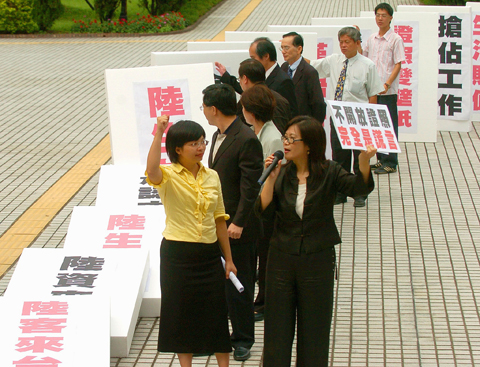 Democratic Progressive Party legislators topple a line of oversized dominoes in front of the Legislative Yuan yesterday, symbolizing the possible negative effects of recognizing Chinese educational credentials and allowing Chinese students to enroll in Taiwanese universities.
PHOTO: WANG MIN-WEI, TAIPEI TIMES
TIMING
Democratic Progressive Party Legislator Chen Ting-fei (陳亭妃) said that Cheng had mentioned that it would take about two to three years before Chinese diplomas could be recognized by the government.
Chen said he wondered why President Ma Ying-jeou (馬英九) said the proposal would be carried out next year.
In response, Cheng said that the ministry was still deliberating over the time schedule for the proposal but that it might be completed earlier than expected.
However, he said that the bonus point scheme would not apply to Chinese students who wished to come to Taiwan to study and that the ministry would not offer scholarships to them.
Meanwhile, Cheng said that if everything went as planned, it was expected that national and private universities would be allowed to open extension education programs in China in the next academic year to recruit Chinese students as well as the children of Taiwanese businesspeople based in China.
VERIFICATION
In response to questions by Chinese Nationalist Party (KMT) Legislator Diane Lee (李慶安) about how to verify Chinese educational credentials proposed, Cheng said that given the fact that there are numerous high schools in China, it would be hard for the government to verify them all.
Thus a student's academic performance, including national exams, would be used as the main criteria, Cheng said.
KMT Legislator Hung Hsiu-chu (洪秀柱) said that some had suggested that Taiwanese businesspeople offer scholarships to encourage Chinese students to study in Taiwan as part of their core staffer recruitment program.
Hung said that the government should consider this proposal because Chinese students would become accustomed to Taiwanese ways of thinking and better understand Taiwanese culture after studying here.
Comments will be moderated. Keep comments relevant to the article. Remarks containing abusive and obscene language, personal attacks of any kind or promotion will be removed and the user banned. Final decision will be at the discretion of the Taipei Times.