Hackers hit THSRC system as online ticket buying opens
Travelers planning to go home during the Lunar New Year holidays had trouble booking a high speed rail ticket online yesterday morning, as hackers tried to prevent buyers from logging onto the system.
The online ticketing system of the Taiwan High Speed Rail Co(THSRC) was activated at 12am yesterday for those scheduled to travel between Feb. 1 and Feb. 12.
The Lunar New Year holidays begin on Feb. 6, or Lunar New Year's Eve, and ends on Feb. 11.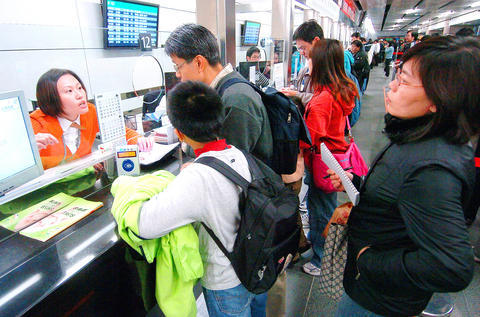 Passengers line up to buy tickets yesterday at the Taiwan High Speed Rail Co station on the first day it started selling advance tickets for the Lunar New Year holidays.
PHOTO: LO PEI-DER, TAIPEI TIMES
However, interested buyers said they could not access the rail company's Web site.
THSRC spokesperson Ted Chia (賈先德) said yesterday that the firm's technical specialists later identified the problem as hackers attempting to block other requests, as some of the requests were sent simultaneously from the same Internet Protocol (IP) addresses.
"By sending multiple requests at a time, they [hackers] succeeded in barring others from making reservations online," he said. "But by blocking these IP addresses, our system was able to resume operation at 2am."
Chia said that as of 6am yesterday, a total of 60,977 tickets had been sold online. Passengers can pick up the tickets on the day they are scheduled to leave.
Some frustrated buyers who could not log onto the system during the night were forced to go to the high speed rail station early yesterday morning to buy pre-sale tickets.
A passenger told a television news reporter that he had been trying to log onto the system since 11:50pm on Friday.
"I kept trying until 2am, but it [the system] kept saying the server was busy," he said.
As of 5pm, a total of 140,671 tickets had been sold, including 122,091 sold online. Many trains still have empty seats.
Chia said that many passengers logged onto the system early because they wanted to purchase tickets for some of the more popular time slots, such as the evening of Feb. 5.
He suggested that passengers try different ticket-booking techniques. For example, if they could not buy tickets all the way from Taipei to Kaohsiung, they could try purchasing a ticket from Taipei to Chiayi first and another ticket from Chiayi to Kaohsiung, he said.
Chia also said the company plans to launch a voice-booking system this year, but declined to specify when it would start.
Meanwhile, the Taiwan Railway Administration had announced earlier that the public can start booking tickets for Lunar New Year holidays on Jan. 19.
Comments will be moderated. Keep comments relevant to the article. Remarks containing abusive and obscene language, personal attacks of any kind or promotion will be removed and the user banned. Final decision will be at the discretion of the Taipei Times.