Election a choice between Taiwan and China: Hsieh
Democratic Progressive Party presidential candidate Frank Hsieh (謝長廷) said in a speech in Tokyo yesterday that the presidential election next year would be an expression of Taiwanese will -- a choice between recognizing Taiwan and recognizing China.
As well as emphasizing that Taiwan is not ruled by China or the Chinese Nationalist Party (KMT), Hsieh warned that if Taiwan's status was not safeguarded, then Japan would be threatened next.
Hsieh said that Taiwan's election is akin to democratic civil war. However, despite the appearance of chaos, Hsieh promised to reinstate order if elected. He warned that victory for the KMT would be a decline from chaos to danger.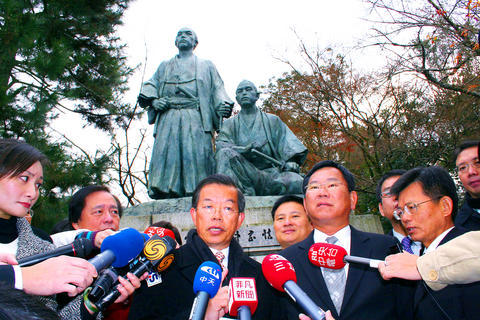 Democratic Progressive Party presidential candidate Frank Hsieh, center, talks about Sakamoto Ryoma, a crucial leader during the Meiji Restoration, and his political philosophy at the Maruyama Park in Kyoto, Japan, yesterday.
PHOTO: CNA
If elected, Hsieh promised to hold innovation, tolerance and diversity as his principle values.
Although Taiwanese previously believed they needed China, 70 percent now identify themselves as being Taiwanese and the nation should have confidence in its democracy and liberty, Hsieh said.
Although having international allies was important, he said, the mutual recognition of states, and the identification of the people with their land was even more so -- an area in which Hsieh believes Taiwan has progressed in recent years.
One of the qualifications for the presidency was the ability to convey the changes in the nation to the international community, Hsieh said. He criticized KMT presidential candidate Ma Ying-jeou (馬英九) for his lack of critical response toward China's military threat, as the oppression causes the nation to be perceived as an unstable element in Asian politics.
Hsieh said that if Taiwan gained UN membership, China would no longer be able to insist on its status as a renegade province.
Hsieh further panned Ma for his non-unification, non-independence and non-violence speech during his visit to Japan, as Taiwan had never been militarily aggressive and is already a sovereign state, he said.
Hsieh said that Ma's policies on these issues made him unfit to be the next president of Taiwan.
Comments will be moderated. Keep comments relevant to the article. Remarks containing abusive and obscene language, personal attacks of any kind or promotion will be removed and the user banned. Final decision will be at the discretion of the Taipei Times.