Ma pans Chen for leading the nation to a `dead end'
PORT CALL Visiting Taipei Port, Ma slammed the DPP for delays in construction, adding that the nation's ports would lose their competitiveness if volume did not rise
Chinese Nationalist Party (KMT) presidential candidate Ma Ying-jeou (馬英九) slammed President Chen Shui-bian's (陳水扁) criticism of the KMT's so-called "1992 consensus" policy yesterday, saying that negotiating with China on a consensus would facilitate the development of the country.
"We had as many as 30 allies when the KMT was in power ... It was clear that we made some progress diplomatically when we had a consensus with China ... Chen's foreign policy has lead Taiwan to a dead end," Ma said during a visit to Taipei Port in Bali Township (八里).
Chen warned on Saturday that Ma's proposal to rely on the "1992 consensus" as the basis to negotiate with Beijing would only lead to a dead end, as it was a "policy of surrender."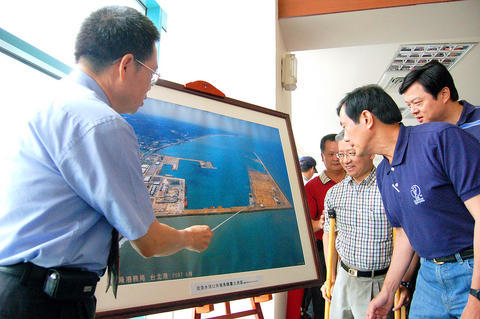 Chinese Nationalist Party (KMT) presidential candidate Ma Ying-jeou, right, and Taipei County Commissioner Chou Hsi-wei, behind Ma, look at a photo of the container yard at Taipei Port in Bali Township during a visit to the port yesterday while Lee Yun-wan, director of the port's engineering office, gives a tour of the facility.
PHOTO: HUANG CHI-HAO, TAIPEI TIMES
The so-called "1992 consensus" refers to the idea of "one China" on each side of the Taiwan Strait, with both sides having their own interpretation.
The KMT maintains that the "1992 consensus" was agreed upon by the Chinese Communist Party and the then KMT government at a 1992 meeting in Hong Kong.
The Democratic Progressive Party (DPP), however, has adamantly denied the existence of a "1992 consensus," while insisting that Taiwan must negotiate with China to expand Taiwan's diplomatic relations.
Ma also vowed to establish direct transportation links across the Taiwan Strait to raise the competitiveness of the Taipei and Kaohsiung ports.
While visiting Taipei Port, where the construction of all seven terminals is scheduled to be completed by 2014, Ma condemned the DPP government for delaying construction there since the groundbreaking in 1993.
Once fully operational, the port, intended as a multi-purpose international port complementing that in Kaohsiung, is expected to handle 2.8 million 20-feet equivalent units (TEU), Lee Yun-wan (李雲萬), director of the engineering office at the port.
Instead of stimulating the country's economy, Ma said the competitiveness of Taipei Port and Kaohsiung Port would only decline if the government failed to increase the volume of containers.
"Without a direct transportation link between Taiwan and China, the competitiveness of these two ports will be in danger against ports in Singapore, Hong Kong and Korea," Ma said.
Lee declined to say whether the port supported a "direct link" policy, but said it would be difficult to reach the goal of 2.8 million TEU.
Comments will be moderated. Keep comments relevant to the article. Remarks containing abusive and obscene language, personal attacks of any kind or promotion will be removed and the user banned. Final decision will be at the discretion of the Taipei Times.