AIT begins fingerprinting for visas
SECURITY MEASURE In line with post-Sept. 11 US law, the AIT will join other US visa-issuing offices in requiring an electronic fingerprint from travelers and immigrants
The American Institute in Taiwan (AIT) announced yesterday it will begin to electronically fingerprint all US visa applicants next week. Fingerprinting for immigrant visas will begin on Monday, and the procedure will start including non-immigrant visa applicants on Wednesday. \nUnder the new system, a visa applicant will have both of his or her index fingers scanned in an inkless, electronic process at the beginning of the visa interview. Collecting the fingerprints adds no more than one minute to the application process and in most cases will take only seconds, AIT said. \n"The US continues to welcome visitors, students and business people to the US," Charles Bennett, chief of the AIT Consular Section, said at a press conference introducing the new visa system. "However, we also realize that we must always look to make travel documents as secure as possible to ensure the safety of the US and visitors to the US." \nUS law (Section 303 of the Enhanced Border Security and Visa Entry Reform Act of 2002, or the Border Security Act) requires all US visa issuing offices, including AIT, to collect biometric identifiers from all visa applicants, Bennett said. \nAs of Oct. 26, any foreign national applying for a US visa who is between the ages of 14 and 80 will be required to have fingerprints taken as part of the visa application process. \nAIT noted it is one of the last US visa-issuing offices in the world to implement these procedures. The US began electronic fingerprinting of visa applicants in September last year at the US embassies in Brussels, Guatemala City and San Salvador, and at the US Consulate General in Frankfurt. \nThe requirement for all visa applicants to have an electronic fingerprint taken will complement the US-VISIT program, which requires all visa holders have a fingerprint scan and digital photo taken when they enter the US. \n"Fingerprints collected during the visa application process can thus be compared to fingerprints collected at the port of entry, to ensure the person to whom a visa was issued is the same person who is seeking entry into the US," Bennett said. \nHe said visas that are issued before Wednesday and still valid can be used without the need for fingerprinting. \nThere are procedures to handle cases where an applicant may not be able to provide fingerprints -- for example, if they are missing fingers or their fingerprints cannot be read properly. \nAIT said if an applicant is missing fingers, it will start with the index fingers and then use the other fingers -- but that those with temporary problems may face delays. \n"We are required to use the index fingers for prints first," AIT explained. "If an applicant has a condition on the index finger that would affect our ability to capture a print [for example, a blister or cut] the applicant will be asked to return once their index finger has healed." \nBennett said that the AIT can waive the fingerprint requirement for those urgent cases that involve medical emergencies. \nWhen asked about concerns over the confidentiality of visa records, including fingerprints, Bennett said that only authorized officials will have access to the information, and only for official business on a need-to-know basis. \n"Visa records are, by law, confidential," he said. "Requests for access to visa records by US law enforcement agencies are controlled by statutory, regulatory and other legal restrictions." \nBennett added that Taiwan officials assigned to Taipei Economic and Cultural Representative Office locations in the US are exempt from fingerprinting, as are certain senior Taiwan officials traveling to the US. \nHe characterized the fingerprinting of David Lee (李大維), Taiwan's new representative to Washington, upon his arrival in the US in July "a mistake" and said US authorities have apologized to him. \nAt AIT, all other visa application procedures, including fees, will remain the same as before. The appearance of the US visa the applicant receives in his or her passport will be identical. "The applicant's fingerprints will not appear on the visa itself," Bennett said.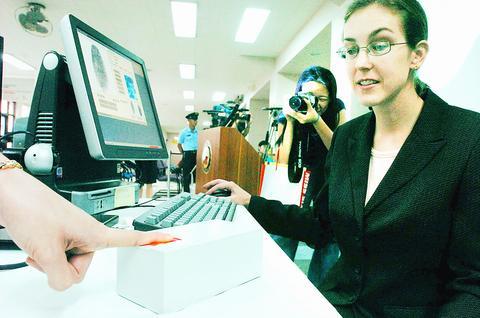 A staff member at the American Institute in Taiwan demonstrates how fingerprints of immigrant visa applicants are collected yesterday. The ``biometric collection program'' begins on Monday, and will expand to non-immigrant visa applicants on Wednesday.
PHOTO: CHIANG YING-YING, TAIPEI TIMES
Comments will be moderated. Keep comments relevant to the article. Remarks containing abusive and obscene language, personal attacks of any kind or promotion will be removed and the user banned. Final decision will be at the discretion of the Taipei Times.