Lee gets mixed welcome on arrival in US
Taiwan's new de-facto ambassador to the US, David Lee (李大維), arrived in Washington on Friday to take up his new post, carrying with him a message of friendship from President Chen Shui-bian (陳水扁) to the American government and people.
Lee was greeted at the airport by acting American Institute in Taiwan chairman William Brown and a State Department security official as well as Li Chen-hsiung (李辰雄), deputy representative of the Taipei Economic and Cultural Representative Office (TECRO), which Lee.
In addition, around 80 pan-blue and pan-green partisans were on hand at Dulles International Airport to meet Lee on his arrival. Lee's supporters and detractors were about equally divided.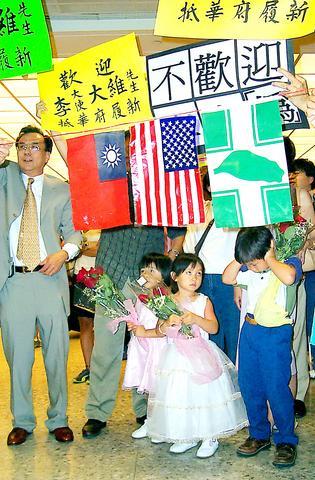 Children wait at Washington's Dulles International Airport yesterday to present flowers to David Lee, the nation's new representative to the US, while two groups of Taiwanese expatriates show their respective support for and protest against the envoy.
PHOTO: NADIA TSAO, TAIPEI TIMES
Although Lee was whisked out of the airport and prevented by police from speaking to Taiwan reporters, he later held a brief press conference at the TECRO headquarters.
Lee said he brought a message from Chen, who Lee said "wants to convey to American officials and the American people that Taiwan will remain as a loyal friend of the United States."
"He asked me to try my very best to consolidate the friendship between the two countries," Lee said.
Speaking about overall US-Taiwan relations, Lee said, "It is very important to enhance the cooperative relations with the US in trying to minimize the possible misunderstandings between us, and I know that we need to work together to cooperate with the US administration to help safeguard peace in the Taiwan Strait.
"I also want to work together with the Americans to try to promote the prosperity of our two countries. Through cooperation we may further consolidate the democratic progress of Taiwan and may try to encourage democratic progress on the mainland," he said.
Lee replaces Chen Chien-jen (程建人), who left Washington earlier in the week after four years marked by one of the stormiest periods in US-Taiwan relations in decades.
Like Chen, Lee, 55, is a stalwart Chinese Nationalist Party (KMT) member, but was chosen because of his wide-ranging diplomatic experience and expertise. His most recent post was as representative to the EU in Brussels.
Despite his party affiliation, Lee has repeatedly stated that "a diplomat should loyally serve his country and the people regardless of his political orientation."
One of his first official tasks will be to travel to Boston to observe the Democratic National Convention on Wednesday and meet with Taiwanese Americans taking part in convention-related events.
He is then expected to make the rounds to meet with US administration officials, members of Congress and other key contacts in Washington.
Lee was selected to replace Chen more than two months ago, but the Bush administration gave formal consent to the appointment only on July 2.
He was sworn in by Minister of Foreign Affairs Mark Chen (陳唐山) on July 9.
Lee is familiar with Washington, having started his career as a staff consultant to TECRO and having obtained his master's and doctoral degrees at the nearby University of Virginia.
He was also head of the Taipei Economic and Cultural Office in Boston from 1993 to 1996.
During his TECRO stint in the capital, Lee reminded reporters, he met his wife and the two were married in Washington.
Comments will be moderated. Keep comments relevant to the article. Remarks containing abusive and obscene language, personal attacks of any kind or promotion will be removed and the user banned. Final decision will be at the discretion of the Taipei Times.