Cavs struggle to make it to the playoffs
NATIONAL BASKETBALL ASSOCIATION On March 1, Dan Gilbert bought the team from Gordon Gund for US$375 million. Three weeks later, he fired coach Paul Silas
Magic Johnson called LeBron James the best 20-year-old basketball player ever. James' Cleveland teammates discuss his legend on the team bus.
The NBA, having showcased the Cavaliers on national television four times this past week, is hoping that James will make his playoff debut later this month. The trouble is, the coronation of King James is in jeopardy. The Cavaliers have lost four of their past five games and hold a one-game lead over Philadelphia -- where they play Friday night -- for seventh place in the Eastern Conference standings.
Meanwhile, a storm raging off Lake Erie, instigated by a midseason ownership change, is swirling around James and the franchise. On March 1, Dan Gilbert, a 42-year-old Detroit mortgage magnate, bought the team from Gordon Gund for US$375 million. Three weeks later, with the Cavaliers 34-30 and in fifth place, he fired coach Paul Silas with 18 games left in the regular season. Since Gilbert named Brendan Malone as the interim coach, the Cavaliers have lost six of their past 10 games -- by an average of 22 points.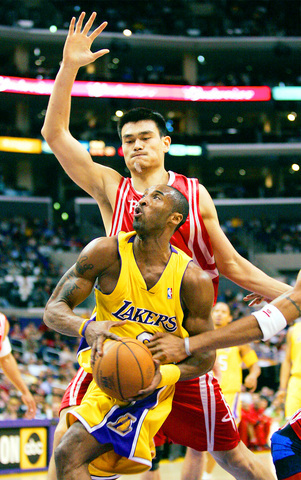 Kobe Bryant, front, of the LA Lakers, prepares to shoot against Yao Ming of the Rockets during the first half of their game in Los Angeles on Thursday. Bryant had his fifth triple-double of the season with 19 points, 10 rebounds and 10 assists as the Rockets won.
PHOTO: AP
"It's been frustrating," James said in an interview earlier this week in Cleveland. "But I can't, in no shape or form, lose my edge. I have to always be on top of my game, on and off the court."
James, the second-year swingman, has carried his teammates on his 6-foot-7 chiseled frame, playing 90 percent of the past 10 games. Through Wednesday, he was second in the NBA in minutes played (averaging 41.9) and was fourth in scoring at 26.4 points.
"I've got to stay positive," James told reporters with uncharacteristic bluntness after Wednesday's 98-77 loss to Indiana, "but we are headed in the wrong direction right now."
Gilbert is clearly in command, even as he conducts public fact-finding missions -- talking to NBA scouts at games, contacting general managers and player and coaches agents, and e-mailing the Dallas Mavericks owner Mark Cuban for advice. After saying in an interview on Tuesday that the Cavaliers' general manager, Jim Paxson, would be evaluated after the season, a report surfaced that night that Gilbert intended to fire Paxson within two days. Gilbert did not deny the report, and according to several Cavaliers and league officials, he has solicited calls from a leading candidate, Greg Anthony, an ESPN analyst and former guard.
Such instability is not lost on the players.
"We lost our coach, we get new players, we get new ownership, and now Pax might be getting fired," James said after the Indiana loss. "We just stopped playing our No. 1 point guard for no reason, and as a team we didn't know why. The chemistry has all been shifted."
Cavaliers players seemed miffed this week when Malone benched Jeff McInnis -- just as Silas did in his final game -- without explanation. Robert Traylor wore McInnis' armband in protest against Dallas, and was ejected from the game when he tossed the armband in frustration with a referee's call.
"We're all in limbo," said McInnis, who will be a free agent this summer.
Silas' firing still appears to have left players unsettled.
"I loved Paul Silas a lot -- he gave me a chance to showcase my talent early," James said. "Coach was always upbeat, even after a loss."
In two seasons, if James does not like the direction the Cavaliers are taking, he could force a sign-and-trade as a restricted free agent. His shoe contract with Nike would pay him more in bonuses if he were to play in New York, Boston or Los Angeles.
"I feel that they're going to put the right group of guys around me," he said. "Not saying I don't have them now. But I think we're going to improve and they're going to make me happy. In the long run, it's going to make us an NBA championship team."
The Cavaliers will have a cap room on their payroll with only US$26 million committed for next season, giving them room to sign one big-name free agent in addition to re-signing their All-Star center Zydrunas Ilgauskas. They also need a coach, and Gilbert wants someone "defensive minded."
"I hope we spend time in the playoffs this year and go as far as we can," Gilbert said. "I hope by next year we are one of the top two or three teams in the East. It's not going to take as long as people think."
Asked if this was a bit ambitious, Gilbert smiled and said, "probably, but LeBron is a bit rare."
What makes James so rare is his ability to anticipate the game. "He has a great sense of the moment and of the situations for what we need," Paxson said.
The Cavaliers' crowd whipped into MVP chants last Sunday when James made the biggest free throws against Dallas and assisted on the biggest baskets to turn a close game into a rout. But the euphoria turned to frustration Tuesday night against the Nets. When Nets forwards hit open 3-pointers over Ilgauskas, James yelled to Malone to fix it. Later, Eric Snow implied that James had not rotated quickly enough on defense.
James is still developing -- a point that the US Olympic team coach, Larry Brown, made last summer in Athens -- and he routinely guards an opponent's weakest perimeter player. If his legs are tired, James will not allow himself to use that as an excuse.
Scott Williams, the veteran center who won three titles with the Bulls, believes that James, embodying the qualities of his former teammate, Michael Jordan, will elevate his team when it counts.
"You expect him to hit the big shot, expect him to have the huge fourth-quarter comeback and carry the team on his back," Williams said, "and you expect him to try to save what is basically right now a floundering team moving towards the end of the season, put us on his back and carry us across the finish line."
It has been seven years since the Cavaliers made the playoffs. James was not yet four and a half years old when Jordan hit "The Shot" over the Cavaliers' Craig Ehlo in the 1989 Eastern Conference first-round playoff series at the Richfield Coliseum, just up the road from where he grew up in Akron. That was the shot that killed the Cavaliers and catapulted Jordan and the Bulls to their dynasty.
James's teammates, sensing history, want him to get to the postseason. "For me, that's why it's so big to make the playoffs, because he needs that experience," Snow said.
James senses it, too. "In order to be successful, you have to be patient, you have to go through some tough times," James said. "You have to lose a playoff series to win one, that's how I feel. You got to take your bumps and bruises before you win one."
James and the Cavaliers are taking their bumps and bruises just to get there.
Jason Kidd had 28 points, 12 assists and 10 rebounds for his 66th career triple-double, and the New Jersey Nets kept their slim playoff hopes alive by beating the Knicks 110-98 Thursday night in a physical game that sent New York to its season-high eighth straight loss.
The win was the eighth in 11 games for the Nets (37-39), and it moved them within a game of idle Philadelphia (37-37) in the race for the final playoff berth in the Eastern Conference.
New Jersey has six games remaining, two less than the 76ers.
The loss pushed the Knicks (29-45) to the brink of being eliminated from playoff contention. A win by Philadelphia win or a loss by the Knicks will end the misery for the team.
Vince Carter added 32 points for the Nets, whose 27-point third-quarter lead dwindled to 95-89 midway through the fourth quarter.
"We talk about playoffs but we have to play like it," Carter said. "It's got to come from your Captain. J [Jason] really started it for us."
Stephon Marbury led New York, scoring 21 of his 30 points in the second half. Jamal Crawford added 26.
Mavericks 104, Spurs 68
In Dallas, Keith Van Horn scored 10 of his 17 points during the game-breaking third quarter and the Mavericks avoided a season sweep by the Tim Duncan-less Spurs, San Antonio's most lopsided loss since falling to Seattle by 38 in the 2001 finale.
It also was the Mavs' biggest victory margin over the Spurs, topping a 32-point win in January 1989.
San Antonio, which has lost six straight road games since their two-time MVP was injured, never had a chance in this one. The Spurs never led and only had it tied at 2. They scored just 27 points over the middle two quarters, shooting just 2-for-17 in the third period. They finished 0-for-12 on 3-pointers, the first time all season they failed to hit one.
Brent Barry led San Antonio with 12 points.
Rockets 114, Lakers 100
Tracy McGrady had 27 points and seven assists, and Houston beat slumping Los Angeles with Phil Jackson in attendance.
The Rockets snapped a three-game losing streak and handed Los Angeles its fifth straight loss, and 13th in 14 games. The Lakers (33-42) are assured of their first losing record since they went 33-49 in the 1993-1994 season. This year and that season are the only times they've failed to qualify for the playoffs since 1976.
Jackson watched the game from owner Jerry Buss' luxury suite. Jackson hadn't seen the Lakers play in person since last June, when he coached them in the NBA Finals. Shortly thereafter, the decision was made that he wouldn't return this season.
Caron Butler had 24 points and 12 rebounds, and Kobe Bryant returned after sitting out one game with a bruised right shin, had his fifth triple-double of the season with 19 points, 10 rebounds and 10 assists.
Comments will be moderated. Keep comments relevant to the article. Remarks containing abusive and obscene language, personal attacks of any kind or promotion will be removed and the user banned. Final decision will be at the discretion of the Taipei Times.