Secret sauce: The surprising origins of Taiwan's Mid-Autumn Festival barbecue craze 神秘的烤肉醬—令人驚訝的台灣中秋節「烤肉瘋」由來
The sight of gaggles of friends, family and colleagues clustered around disposable barbecues by the road side, sweating over glowing coals as the aroma of singed meat permeates the sultry evening air, is a familiar scene to anyone who has experienced the Mid-Autumn Festival in Taiwan. However, the custom of cooking alfresco under the light of the full moon isn't as old as one might suppose; rather it is a prime example of the power of advertising.
The practice of barbecuing during Mid-Autumn Festival actually dates back no more than three decades, when two of Taiwan's largest soy sauce manufacturers, Wan Ja Shan Food and Kimlan Food, jousted with each other in an advertising war to sell their respective barbecue sauce brands.
In 1986, Wajashan Food released a television commercial for its Wan Ja Shan Barbecue Sauce in the run-up to the Mid-Autumn Festival. It included the slogan: "When one household grills on the barbecue, ten thousand families smell the aroma." The commercial featured sizzling-hot celebrity of the moment, Chang Yung-yung, as the condiment's brand ambassador, helping ignite the craze for Mid-Autumn Festival barbecuing.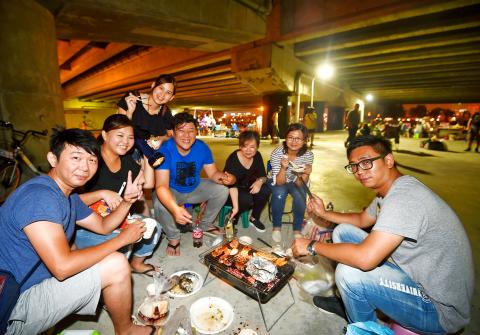 Taipei residents enjoy a street-side barbecue during last year's Mid-Autumn Festival. 去年中秋節,台北市民在路邊烤肉。
Photo: Fang Pin-chao, Taipei Times
照片:自由時報方賓照
Three years later Kimlan Food released its own television commercial as part of a saturation advertising campaign for its rival Bar-B-Q Sauce. The advertisement featured footage of food being liberally doused with barbecue sauce to an infectiously catchy jingle. Not to be outdone, Wajashan Food launched a counter-offensive, releasing an updated version of its original hit television commercial.
Around the same time, new supermarkets and wholesalers such as Wellcome, Carrefour and the now obsolete Makro began to offer discounts on barbecue food ingredients and accoutrements in the lead-up to the festival. The combined effect of these commercial campaigns gradually led to barbecuing being associated with the Mid-Autumn Festival in the minds of the Taiwanese public. Char-grilling everything under the sun — from Chinese sausages, pig's blood cake and Taiwanese-style tempura — is now so popular that it has become the number one activity associated with the festival in Taiwan.
By contrast — similar to Taiwan prior to the mid-1980s — in China the Mid-Autumn Festival is still largely celebrated in accordance with its harvest festival origins. Families come together to celebrate the legend of Chang E, the Chinese goddess of the moon, by watching the full moon appear in the nighttime sky and feasting on moon cakes: small round sweet pastries traditionally filled with red bean or lotus seed paste and salted egg yolk.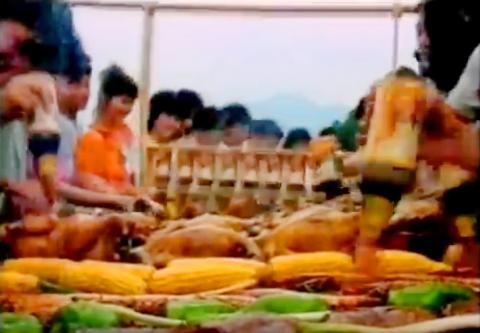 A still from Kimlan Food's 1989 Bar-B-Q Sauce television commercial. 一九八九年,金蘭食品生產之金蘭烤肉醬電視廣告畫面。
Photo: Screen grab from Youtube
照片:截圖自Youtube
In Taiwan, while the "grill-industry" now rules the roost during Mid-Autumn Festival, sales of moon cakes and seasonal pomelos (the fruit is eaten while the carefully-preserved emerald green peel is worn as a novelty hat) are still big business over the holiday period. Whether one views the modern barbecue craze as a positive evolution of the festival into a unique Taiwanese celebration, or an ancient festival hijacked by corporations and clever marketing, is a matter for debate. One thing is certain though, it is a salutary lesson in the power of advertising to, for better or worse, influence not just consumer behavior, but even alter the mores and traditions of an entire society.
(Edward Jones, Taipei Times)
在台灣體驗過中秋節的人,一定會對以下的景象感到熟悉:朋友、家人以及同事間的談笑聲,眾人圍著路邊架起的拋棄式烤肉架,在燒紅的炭火旁揮汗如雨,微微烤焦的肉香味瀰漫在悶熱的夜晚空氣中。不過,在滿月光芒下露天烹煮食物的這個習俗,其實沒有我們以為的那麼古老,倒不如說,這是廣告力量的最佳範例。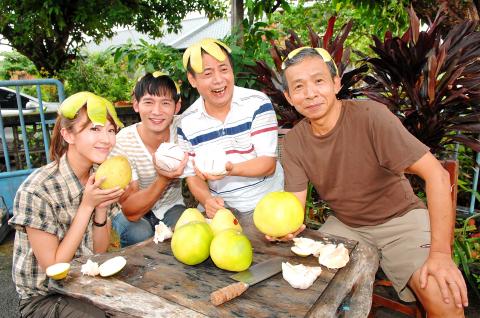 The cast of Taiwanese television drama The Year of Happiness and Love celebrate the end of filming by wearing pomelo hats in Taipei in an undated photo. 台灣電視劇《那一年的幸福時光》的演員戴柚子帽慶功,拍攝日期不詳。
Photo: Lin Shu-chuan, Taipei Times
照片:自由時報
在中秋節期間烤肉的習慣,認真追溯起來,其實並不會超過三十年。當時,台灣最大的兩家醬油製造業者──萬家香食品和金蘭食品──為了促銷各自的烤肉醬品牌,在一場廣告大戰中互別苗頭。
一九八六年,萬家香食品趕在中秋節前,為自家的萬家香烤肉醬推出一支電視廣告,並加入「一家烤肉、萬家香」的標語。這支廣告由當時的電視劇當紅炸子雞張詠詠參與,並擔任該調味醬的品牌大使,就此點燃了中秋節烤肉的熊熊火苗。
三年後,金蘭食品則推出另一支電視廣告,用轟炸式廣告宣傳的手法,促銷自家公司的競爭商品金蘭烤肉醬。這支廣告影片奔放地在食材上刷上厚厚的烤肉醬,再搭配一段極具傳染力又讓人朗朗上口的廣告歌曲。輸人不輸陣,萬家香發動反擊,將最初那支廣受歡迎的電視廣告更新後再度播出。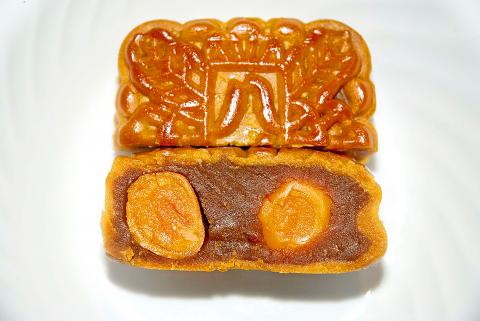 A Cantonese-style square mooncake with a double duck egg yolk and lotus seed filling. 雙黃蓮蓉廣式月餅。
Photo: Wikimedia Commons
照片:維基共享資源
大概在同一時間,當時新興起的超級市場與量販業者──包括頂好、家樂福,以及現已消失在市場上的萬客隆──都開始在中秋節前幾天對烤肉食材和相關用品推出促銷折扣。這些商業促銷活動的加乘效應遂逐漸讓烤肉在台灣人的心目中和中秋節產生聯想。從香腸到豬血糕、台式甜不辣,把天底下所有能吃的東西都拿來炭烤,廣受歡迎的程度大到烤肉在台灣已經成為每次提到中秋節時,第一個被聯想到的活動。
相較之下,中國和一九八○年代中期以前的台灣較為相似,慶祝中秋節的方式仍然主要和該節日慶祝豐收的起源有關,例如祭拜中國的月亮女神嫦娥、與全家人團聚,欣賞夜空中的滿月、以及大快朵頤吃月餅──這類小而圓的甜酥皮點心,傳統上都會填充紅豆沙或蓮蓉餡,再包進一顆蛋黃。
在台灣,雖然「烤肉產業」今日在中秋節慶祝活動中佔據主導地位,月餅和當季盛產的柚子(果肉吃下肚,而小心翼翼完整剝下的翡翠綠果皮可以逗趣地戴在頭上)在假期間仍然是很大的商機。無論將現代的烤肉瘋看成該節日正向地演化成為一種獨特的台灣慶祝活動,還是認為這個古老節日遭到大公司和機巧的行銷手法把持,兩者都是可以爭論的話題。不過,有一件事倒是無庸置疑,那就是中秋節烤肉呈現出一個頗有助益的課題,值得探討廣告的力量是如何──正面或負面地──不僅影響了消費者行為,甚至還改變整個社會的習俗與傳統。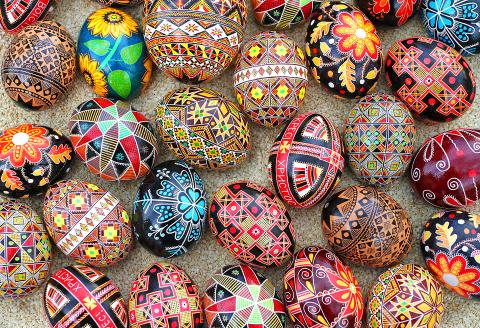 Traditional decorated Ukrainian Easter eggs, given as gifts during the holiday period. 傳統烏克蘭復活節彩蛋,在節日期間當作交換禮物。
Photo: Wikimedia Commons
照片:維基共享資源
(台北時報章厚明譯)
Follow up讀後練習
The commercialization of annual festivals in Western countries
A similar phenomenon to the commercial influence over how the Mid-Autumn Festival is celebrated in Taiwan has occurred in many Western and European countries. The main Christian festivals of Christmas and Easter, for example, have become increasingly commercialized in recent years. During Easter, hand-painted eggs, symbolic of new life, rebirth and the resurrection of Christ, have given way to mountains of mass-produced chocolate eggs, skillfully marketed by the big confectionary manufacturers. The baking at home of a simnel cake, topped with 11 marzipan balls to represent the 12 apostles, minus Judas, is another Easter tradition in the UK and Ireland, now seldom observed.
Christmas has also gradually drifted away from its Christian roots — although it was originally the pagan winter solstice festival of Yuletide before being co-pted by Christianity for itself — toward a retail bonanza of ever-greater food and drink consumption and present buying. As a result, the festive shopping season has become a time of bumper profits for the retail industry, especially in the US, UK and other Anglosphere countries, with many retailers heavily discounting products to entice shoppers through their doors.
(Edward Jones, Taipei Times)
Publication Notes
TODAY'S WORDS
今日單字
1. advertising war phr.
廣告大戰 (guang3 gao4 da4 zhan4)
2. brand n. 品牌 (pin3 pai2)
3. slogan n. 標語 (biao1 yu3)
4. saturation advertising phr.
轟炸式廣告宣傳 (hong1 zha4 shi4 guang3 gao4 xuan1 chuan2)
5. commercialized adj.
商業化 (shang1 ye4 hua4)
6. mass-produced adj.
大量生產的
(da4 liang4 sheng1 chan3 de5)
7. retail industry phr.
零售業 (ling2 shou4 ye4)
Comments will be moderated. Keep comments relevant to the article. Remarks containing abusive and obscene language, personal attacks of any kind or promotion will be removed and the user banned. Final decision will be at the discretion of the Taipei Times.