Southeast Asian tourists expected to surpass Chinese visitors this year 東南亞觀光客 今年可望超越中客
Since taking office, and as part of its New Southbound Policy, the administration of President Tsai Ing-wen has been loudly banging the drum to attract tourists from other countries, to counteract the loss of tourism revenue caused by an exodus of Chinese tourists. The latest statistics show that the strategy is bearing fruit, with 1,211,900 tourists from Southeast Asian countries traveling to Taiwan in the first half of this year, snapping at the heels of the 1,313,400 Chinese tourists that visited over the same period. Additionally, the number of Southeast Asian tourists visiting Taiwan grew by more than 17.49 percent on last year, compared with only a 3.83 rise in the number of Chinese tourists. Industry projections show that if the current growth rate of Southeast Asian tourists continues into the second half of this year, the annual figure will exceed the number of Chinese tourists for the first time since Taiwan opened up its market to Chinese tourists.
Lion Travel Service general manager Andy Yu attributes the increased numbers of Southeast Asian tourists to the gradual introduction of visa-free entry since 2016, in addition to China Airlines, EVA Airways and a number of budget airlines opening new routes or increasing the number of flights between Taiwan and Southeast Asian countries, helping to open up the Southeast Asian market.
According to data compiled by the Tourism Bureau, while the number of Southeast Asian tourists continued to steadily grow in the first half of this year, tourism from the Philippines and Vietnam grew the most, increasing by 60.5 and 39.07 percent, respectively.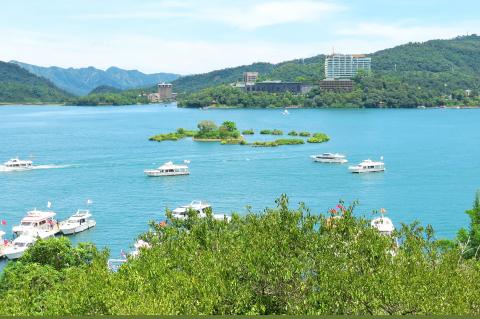 Sun Moon Lake, a popular tourism spot in Nantou County, is pictured on July 14, 2016. 南投縣著名觀光景的日月潭,攝於二○一六年七月十四日。
Photo: Chang Hsieh-sheng, Liberty Times
照片:自由時報記者張協昇
Yu attributes the dramatic increase in tourism from the Philippines to the nation's rapid economic growth, which has lead to increased disposable income and gradually stabilized incomes, causing Filipino tourist numbers to increase faster than from any other country. Yu adds that the majority of Filipino tourists travel as families and in inter-generational groups, while the adoption rate of mobile technology in the Philippines is relatively high, so that when traveling to tourist spots, Filipino tourists generally check-in, "like" and share on Facebook or Instagram. According to Yu, feedback from friends and family and opinions posted on social media tend to influence people's travel plans.
(Translated by Edward Jones)
為了避免中客流失影響觀光收入,蔡政府上台後積極推動新南向觀光,目前數據顯示此一策略奏效,因為根據最新的統計,上半年東南亞來台觀光人次已達一百二十一萬一千九百人次,逼近中客來台的一百三十一萬三千四百人次,且東南亞今年上半年來台觀光人次年增達百分之十七點四九,較中國的百分之三點八三強勁。市場預估,若下半年東南亞來台觀光人士保持上半年的成長力道,則今年全年東南亞來台觀光客將是開放中客來台後、人數首度超越中客。
雄獅旅遊總經理游國珍指出,東南亞入境旅客成長的最大原因,是因為二○一六年起台灣陸續開放免簽,再加上許多廉價航空開航,以及華航、長榮航新開東南亞航點及增加班次,也提升東南亞入境市場。
根據觀光局統計數據指出,今年上半年東南亞來台旅客數量持續維持穩定成長,其中又以菲律賓、越南兩國成長幅度最高,分別年增百分之六十點五、百分之三十九點○七最高。
游國珍分析,菲律賓的經濟成長快速,可支配收入也變多,收入日趨穩定,使得菲律賓成為上半年度東南亞國家來台人次成長最多的國家,而菲律賓旅客赴台主要多以家庭旅遊或多世代旅遊為主,加上菲律賓當地對於用行動科技掌握資訊相當普遍,到訪每個景點必定會在Facebook或Instagram進行打卡、分享,因此親友的回饋與社群媒體的意見,往往會影響旅遊決策。
(自由時報記者王憶紅)
讀後練習
FOLLOW UP
Questions
1. The government's strategy to promote tourism from countries other than China is beginning to show signs of success. (true/false)
2. Chinese tourist numbers increased at a faster rate than visitor numbers from Southeast Asian countries. (true/false)
3. Visitors from Southeast Asian countries are expected to surpass Chinese visitors this year. (true/false)
4. The increased income of Filipinos is one reason for the sharp rise in visitors to Taiwan. (true/false)
5. Most Filipino tourists who visit Taiwan travel alone or in small groups. (true/false)
6. Most Filipinos obtain travel advice through social media recommendations. (true/false)
(Edward Jones, Taipei Times)
Publication Notes
TODAY'S WORDS
今日單字
1. bang the drum phr.
積極推動 (ji1 ji2 tui1 dong4)
2. exodus n.
流失 (liu2 shi1)
3. bear fruit phr.
奏效 (zou4 xiao4)
4. snap at the heels phr.
逼近 (bi1 jin4)
5. budget airline phr.
廉價航空 (lian2 jia4 hang2 kong1)
6. economic growth phr.
經濟成長 (jing1 ji4 cheng2 zhang3)
7. disposable income phr.
可支配收入 (ke3 zhi1 pei4 shou1 ru4)
8. feedback n.
回饋 (hui2 kui4)
Comments will be moderated. Keep comments relevant to the article. Remarks containing abusive and obscene language, personal attacks of any kind or promotion will be removed and the user banned. Final decision will be at the discretion of the Taipei Times.