Taiwanese fashion house and artists shine at Paris Fashion Week 巴黎時裝週 台灣品牌和藝人成焦點
Chanel put on a spectacular fall/winter fashion show at Paris Fashion Week last week. Singer Jay Chou, his wife Hannah Quinlivan, and singer Jam Hsiao were invited this year, and they got a lot of media exposure. However, the label was criticized for allegedly cutting down old trees to turn the Great Palais into a forest for the show.
It was Taiwanese label Shiatzy Chen's 20th appearance in Paris Fashion Week. Creative director Wang Chen Tsai-hsia turned the Dunhuang frescoes into clothing totems, and revealed an exclusive line in collaboration with Disney for the first time at the show. Her good friend Wang Shaw-lan — the publisher of United Daily News and the former owner of Lanvin — was also there, to show her support.
Established in 1889, Lanvin is the oldest French fashion house still in operation. On the eve of Paris Fashion Week, however, the fashion world was shocked by China's Fosun International's acquisition of the label, which has had financial difficulties in recent years.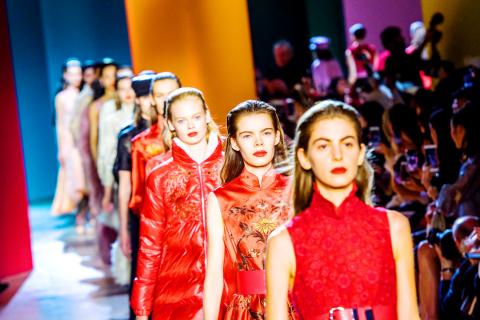 Models present creations at the fall/winter fashion show of Taiwanese label Shiatzy Chen during Paris Fashion Week in France on March 5. 模特兒於法國巴黎時裝週展示台灣品牌「夏姿‧陳」的秋冬新裝,攝於三月五日。
Photo: EPA
照片︰歐新社
(Liberty Times, translated by Eddy Chang)
「香奈兒」的秋冬大秀上週在巴黎時裝週盛大登場,歌手周杰倫和妻子昆凌、歌手蕭敬騰今年都受邀看秀,引起媒體一陣搶拍。但該品牌將巴黎大皇宮打造成一座森林辦秀,據說因此砍伐老樹而遭受批評。
這次也是台灣品牌「夏姿‧陳」第二十次登上巴黎時裝週,創意總監王陳彩霞將敦煌壁畫轉化為服裝圖騰,和迪士尼合作的獨家聯名系列則首度曝光。她的好友聯合報發行人、「浪凡」前總裁王效蘭亦現身力挺。
「浪凡」創立於一八八九年,是法國目前仍在營運中歷史最悠久的時裝公司,但就在巴黎時裝週前夕,該品牌因近年財務危機而被中國復星國際集團收購,令時尚界大感震驚。(自由時報)
Publication Notes
TODAY'S WORDS
今日單字
1. label n.
品牌 (pin3 pai2)
2. totem n.
圖騰 (tu2 teng2)
3. in collaboration with phr.
聯名 (lian2 ming2)
4. shock v.
震驚 (zhen4 jing1)
5. acquisition n.
收購 (shou1 gou4)
Comments will be moderated. Keep comments relevant to the article. Remarks containing abusive and obscene language, personal attacks of any kind or promotion will be removed and the user banned. Final decision will be at the discretion of the Taipei Times.