Rooftop solar farms of 99 square meters to pay for themselves in 8 years 三十坪屋頂種電 最快八年回本
The Executive Yuan is to implement a program subsidizing residential rooftop solar panels. From 2018 to 2020, the government will provide full subsidies for planning costs and 40 percent of installation costs.
Minister of Economic Affairs Shen Jong-chin has said the green energy rooftop program will be promoted through three approaches: Firstly starting from households and then expanding the program into the community, toward the goal of creating green energy cities; secondly, beginning with remote rural areas and Aboriginal tribal areas and state-run power plants; and thirdly by encouraging major industrial energy users to install solar panels to supply a certain percentage of their energy needs, and installing solar panels on the rooftops of factories in industrial areas, science and industrial parks and processing zones.
However, "rooftop solar farming" is not suitable for every household. One supplier estimated the likely cost and returns for solar panel installation. Installing solar panels on rooftops with an area of approximately 99 square meters, or 30 ping (where one ping = 3.3 square meters), the cost will be between NT$600,000 and NT$800,000. Wth the current subsidy and the rate Taiwan Power (Taipower) is offering to purchase electricity, it will take about eight to nine years to pay off the initial outlay at the earliest. However, if the rooftop area is half that, it is no longer cost-effective, due to the lower rate of return.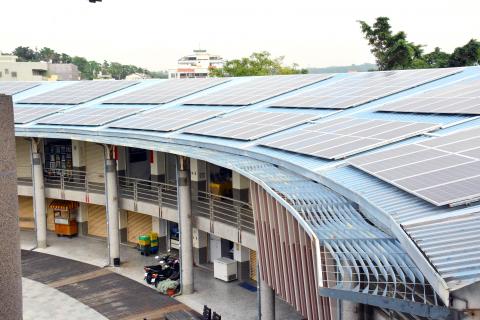 A rooftop fitted with solar panels is pictured on July 21 in Changhua County, where solar panels are common. 彰化縣屋頂種電盛行。攝於七月二十一日。
Photo: Chang Tsung-chiu, Liberty Times
照片:自由時報記者張聰秋
Given that solar panels can be expected to last about 20 years, if the installation pays for itself within nine years, the power generated after this point is net profit. However, the smaller the area, the higher the unit cost. For areas less than 50 square meters, it will cost about NT$75,000 per ping to install a one kW solar panel set, and this will take about 12 years to pay for itself.
In the case of a rooftop with an area of around 66 square meters, at a cost of NT$650,000 to install solar panels, the actual cost with the subsidy taken into account will be more like NT$400,000. If these costs are to be shared by building residents, each household will be liable for a much more affordable NT$50,000. It is recommended that building management committees first consult residents.
According to one energy company representative, government subsidizies for solar panel installation is a good policy, but Taipower must maintain the same rate for purchasing the electricty, without lowering it, to make it possible for people to install solar panels.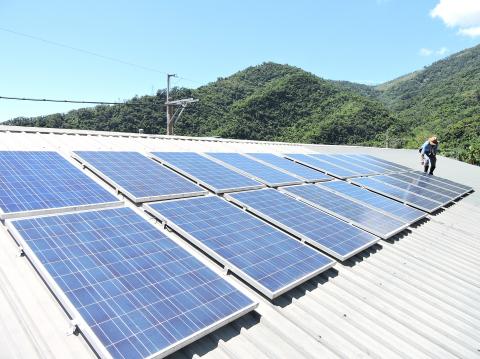 A rooftop fitted with solar panels is pictured on Oct. 13 in Taitung, where solar farming is subsidized by Taitung County Government. 台東縣政府獎勵民間在屋頂種電。攝於十月十三日。
Photo: Chang Tsun-wei, Liberty Times
照片:自由時報記者張存薇
(Liberty Times, translated by Lin Lee-kai)
行政院將推動「綠能屋頂全民參與行動方案」,民眾在自家屋頂加裝太陽能板發電,政府將補助全額規劃費用、補助百分之四十建置費用,期程從二○一八年開始至二○二○年。
經濟部長沈榮津表示,綠能屋頂的做法,將以三種途徑推動:第一種先從家戶再到社區,再往綠能城市推動;第二種作法是從偏鄉部落、公營電廠;第三是工業用電大戶,裝置一定比例的太陽光電,及在工業區、科學園區、加工區的廠房屋頂裝置太陽能板。
然而,「屋頂種電」並非家家戶戶都適合。業者估算,若在屋頂建置三十坪的太陽能板,成本約六十萬至八十萬元,配合現行的建置費用補助和台電收購電力,最快約八至九年可以回本;不過,如果屋頂面積低於十五坪,因投資報酬率太低,未必划算。
太陽能板使用壽命約二十年,若九年以後可以回本,之後的發電就都是「賺」的;不過,面積越小成本越高,如果坪數小於十五坪,每坪安裝一瓩的太陽能板價格約七萬五,回本大概要十二年。
若以屋頂二十坪的面積試算,安裝費用約六十五萬元,自費約四十萬,若大樓由各住戶分擔,一戶約五萬元並不高,將建議管委會徵詢各住戶意見。
一位能源公司負責人說,官方提供裝置補助是好事,但台電收購的電價費率也要維持以往水準不要降低,才能真正提升民眾安裝意願。
(自由時報記者張慧雯、劉力仁)
Publication Notes
TODAY'S WORDS
今日單字
1. subsidize v.
補助 (bu3 zhu4)
2. solar panel phr.
太陽能板 (tai4 yang2 neng2 ban3)
3. solar farming phr.
種電 (zhong4 dian4)
4. cost-effective adj.
划算 (hua2 suan4)
5. rate of return phr.
投資報酬率 (tou2 zi1 bao4 chou2 lu4)
Comments will be moderated. Keep comments relevant to the article. Remarks containing abusive and obscene language, personal attacks of any kind or promotion will be removed and the user banned. Final decision will be at the discretion of the Taipei Times.