Typhoons, hurricanes and cyclones 颱風、颶風與氣旋
No matter what they are called — cyclones, hurricanes or typhoons — the giant tropical storms that form in oceans near the Americas and Asia can be deadly, destructive and terrifyingly capricious. At full throttle, these low-pressure systems pack more power than the energy released by the atomic bomb that leveled Hiroshima.
In the South Pacific and Indian Ocean, they are known as cyclones. The same weather phenomenon in the Atlantic and northeast Pacific is a hurricane, while "typhoon" is the term used in Pacific Asia.
From outer space, they look like a smoke-enshrouded fireworks pinwheel, or what astronomers imagine as the swirling vortex around a black hole. Meteorologists call them "tropical cyclones," and grade them on a five-step scale according to intensity, taking into account maximum sustained wind force and potential damage.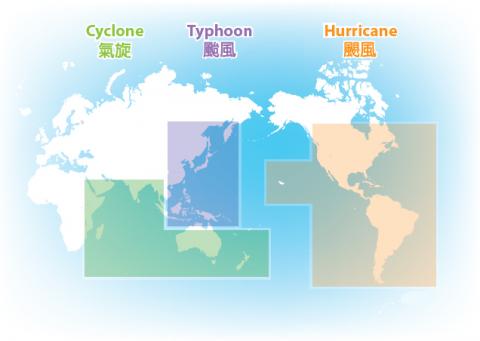 A tropical storm in the South Pacific and Indian Ocean is called a cyclone, in Pacific Asia a typhoon, in the Atlantic and northeast Pacific a hurricane. 熱帶風暴若在南太平洋和印度洋出現即稱為「氣旋」,出現在亞太地區叫做「颱風」,在大西洋及東北太平洋則為「颶風」。
Graphic: TT
圖片:台北時報美編組
Cyclones are formed from simple thunderstorms at certain times of the year when the sea temperature is more than 26 degrees Celsius down to a depth of 60 meters. Sucking up vast quantities of water, they can lead to torrential rains and flooding, along with loss of life and property damage.
Rising seas, along with warmer air and sea water — all brought on by global warming — will boost the strength of cyclones, and increase the damage they cause, scientists say.
Hurricanes and typhoons can trigger large swells that move faster than the storm, travelling 1,000 km beyond its confines. The storms themselves — with a calm "eye" at their center — measure up to 1,000 km across. They weaken rapidly when they travel over land or colder ocean waters.
(AFP)
無論是叫做氣旋、颶風或颱風,在美洲和亞洲附近的海洋所形成的這些巨型熱帶風暴變化無常,可能帶來極大的破壞,甚至致命。在風力最大時,這些低壓系的威力比夷平廣島的原子彈所釋放的能量還要更大。
這些低壓系在南太平洋和印度洋稱為「氣旋」。出現在大西洋及東北太平洋的稱為「颶風」,在亞太地區則叫做「颱風」,它們都是相同的天氣現象。
從外太空看,它們就像一個被煙霧籠罩的旋轉煙火,或如天文學家所想像的,像一個圍繞黑洞的旋渦。氣象學家稱之為「熱帶氣旋」,並依其強度、最大持續風力和可能造成的損害,將它們分為五級。
氣旋是由簡單的雷雨所構成,是在一年當中一段特定的時間,當海面至以下六○公尺深的溫度超過攝氏二十六度時形成。氣旋吸取了大量的水,因此可能導致暴雨及洪水,並造成生命及財產的損失。
科學家說,海平面日益升高、較暖的空氣及海水——以上皆因全球暖化而導致——都會增加氣旋的強度,使其所造成的破壞更加嚴重。
颶風和颱風可能會引發大風浪,其行進速度比暴風還要快,可超越風暴邊緣一千公里。暴風的中心有一個平靜「風眼」,含風眼在內直徑可達一千公里。這些暴風行經陸地或較冷的海洋水域時,其強度會迅速減弱。
(法新社,台北時報編譯林俐凱譯)
DID YOU KNOW? 你知道嗎?
Hurricane Harvey, which has been buffeting Texas last Friday (local time), is currently at Category 4 (209-251 km/h winds).
Category 5 packs winds of 280 km/h or more. Hurricane Katrina was a Category 5, killing over 1,800 people across the US Gulf Coast when it struck in 2005.
美國時間上週五襲擊美國德州的哈維颶風為第四級(風速每小時二○九至二五一公里)。
第五級颶風的風力可達每小時二八○公里以上。二○○五年的卡崔娜颶風屬第五級,在美國墨西哥灣沿岸地區造成一千八百多人死亡。
Publication Notes
TODAY'S WORDS
今日單字
1. cyclone n.
氣旋 (qi4 xuan2)
2. hurricane n .
颶風 (ju4 feng1)
3. typhoon n.
颱風 (tai2 feng1)
4. tropical storm phr.
熱帶風暴 (re4 dai4 feng1 bao4)
5. low-pressure system phr.
低壓系 (di1 ya1 xi4)
Comments will be moderated. Keep comments relevant to the article. Remarks containing abusive and obscene language, personal attacks of any kind or promotion will be removed and the user banned. Final decision will be at the discretion of the Taipei Times.