"Bad Genius" Taiwan's best-selling Thai movie 泰厲害!「模犯生」 登台灣影史最賣座泰片
Popular Thai film Bad Genius has remained at number one at the box office for several consecutive weeks since it opened in Taiwan, thanks to word-of-mouth publicity, and theaters have quickly increased the number of auditoriums screening it. As of last week, the film had earned more than NT$90 million (approx. US$3 million), making it the best-selling Thai movie in Taiwan's box office history.
In the film, genius high school student Lynn makes money by helping her classmates cheat on school tests. After receiving a million-baht job of cheating on an international exam, she invites another genius student, Bank, to take the same test in Sydney, Australia, and to text the answers back to Thailand before the test begins in her country that same day.
In order to thank Taiwanese fans for their enthusiastic support, film director Nattawut Poonpiriya, leading actor Chanon Santinatornkul and leading actress Chutimon Chuengcharoensukying are set to visit Taiwan to attend fan meetings next Monday.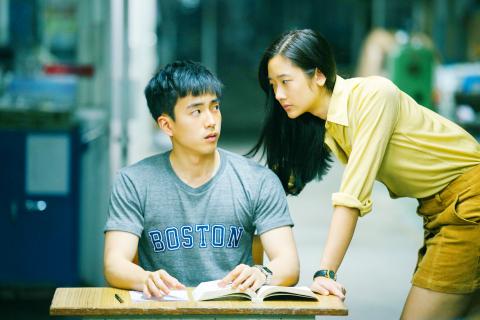 Actor Chanon Santinatornkul and actress Chutimon Chuengcharoensukying are shown in this still from popular Thai film "Bad Genius." 男演員查農‧桑提納同庫(左)、女演員茱蒂蒙‧瓊查容蘇,出現在泰國夯片「模犯生」劇照中。
Photo courtesy of the CatchPlay Group
照片︰CatchPlay提供
(Liberty Times, translated by Eddy Chang)
泰國夯片「模犯生」自上映以來,憑著好口碑,連續數週奪下票房冠軍,電影院還急增放映廳數,上週已累積超過九千萬台幣,成為台灣影史最賣座泰國片。
電影中,天才高中生小琳靠著幫同學在考試作弊來賺錢,因緣際會下,她接到價值數百萬泰銖的任務在國際會考中作弊,並找來另一位天才學生阿班跟她一起到澳洲雪梨參加考試,然後在當天泰國開考前將答案傳回。
為感謝台灣觀眾熱情支持,該片導演納塔吾‧彭皮里亞、男主角查農‧桑提納同庫、女主角茱蒂蒙‧瓊查容蘇,將於下週一來台與影迷見面答謝。
(自由時報)
Publication Notes
TODAY'S WORDS
今日單字
1. genius n.
天才
(tian1 cai2)
2. word-of-mouth adj.
口碑、口傳
(kou3 bei1; kou3 chuan2)
3. best-selling adj.
最暢銷的
(zui4 chang4 xiao1 de5)
4. cheat v.
作弊
(zuo4 bi4)
5. baht n.
泰銖
(tai4 zhu1)
Comments will be moderated. Keep comments relevant to the article. Remarks containing abusive and obscene language, personal attacks of any kind or promotion will be removed and the user banned. Final decision will be at the discretion of the Taipei Times.