Taiwan to stage premiere of Bartok's only opera 《藍鬍子公爵的城堡》一百年 台灣首演
This year marks the centennial of the one-act opera Duke Bluebeard's Castle, written by Hungarian composer Bela Bartok in 1911, and now music lovers in Taiwan have a chance to see it performed here for the first time. Director and conductor Tseng Dau-hsiong says that the story is about relationships between men and women, but only two characters appear in the entire performance — a baritone and a mezzo-soprano — because "the code of the drama is to be found within the musical score."
Bartok was one of the most important Eastern European composers of the 20th century, following on from Bedrich Smetana and Antonin Dvorak. Duke Bluebeard's Castle was composed in 1911, but because of World War I it was not until 1918 that it was premiered at the State Opera House in Budapest. Bartok incorporated Hungarian folk melodies in the composition, filling the music with strong ethnic color. On top of that, orchestras derive immense enjoyment from the score's colorful orchestration, strong logic and sound reasoning, which surprisingly give musicians a sense of playing without inhibition and in unison.
The opera tells the tale of a chaste lady named Judith who marries Duke Bluebeard despite the many rumors going around about him. On her wedding night, Judith, driven by curiosity, insists on prying into the secrets of her husband's past, using feminine seduction to persuade Bluebeard to open a series of seven doors in his castle. In the end, Judith dies in the castle, just like Bluebeard's former wives, all of whom are haunting it as ghosts.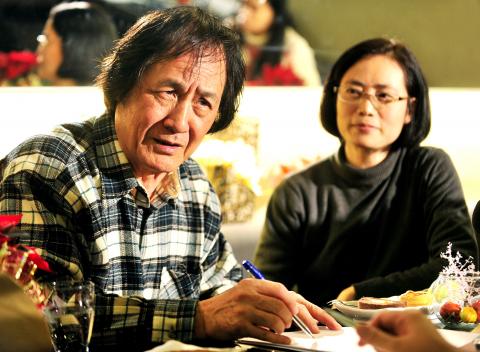 National Taiwan University of Arts professor Lu Shu-ling, right, looks on as director and conductor Tseng Dau-hsiong talks about the production of Duke Bluebeard's Castle at a press conference in Taipei on Monday last week. 導演兼指揮曾道雄(左)在上週一的記者會上,對於籌演《藍鬍子公爵的城堡》,侃侃而談。右為國立台灣藝術大學音樂系教授呂淑玲。
Photo: Chen I-chuan, Taipei Times
照片:自由時報記者陳奕全
Tseng says that the opera's seven doors are a metaphor for men's secrets. A clever woman would only want to open three or four doors and leave it at that. This way the couple would get along fine or even live happily ever after, but, on the other hand, if a woman insists all the doors be opened, then "the couple would bring destruction upon themselves," Tseng says. The finale includes a 20-second nude scene on stage. As Tseng says, "All this is specified and can be found in Bartok's score, since the composer had already taken the plot into consideration while composing the music. It is a very classic work."
This production of Duke Bluebeard's Castle went through many twists and turns before it could be put on stage. The first hitch came when the original organizer, the National Taiwan Symphony Orchestra, decided to cancel the production for this year. Given that the National Theater and Concert Hall had already booked a schedule for the opera, Tseng felt it would be a pity to cancel, so he decided to put on the production himself. Much to his surprise, he did not get any funding from either the Council of Cultural Affairs or the National Culture and Arts Foundation. Consequently, Tseng had to spend the cash prize he won from the National Award for Arts this year, but that still leaves a shortfall of NT$3.6 million. As Tseng says, "The opera is rarely performed, but it is very much worth producing. After the performances, I would like to see what excuses the two arts bodies can give me for not funding the production." The opera will be performed at the National Theater in Taipei next Friday and Saturday.
(LIBERTY TIMES, TRANSLATED BY LIN YA-TI)
匈牙利作曲家貝拉‧巴爾托克於一九一一年創作的獨幕現代歌劇《藍鬍子公爵的城堡》,至今正好一百年,樂壇首度有機會看到在台首演,導演兼指揮曾道雄說,此劇講述的其實是兩性關係,但全場只用男中音與次女高音兩個角色來鋪陳,因為「戲劇的密碼都在音符之下。」
繼貝多伊齊‧史麥塔納與安東寧‧德弗札克之後,巴爾托克是二十世紀最偉大的東歐作曲家之一。雖然《藍鬍子公爵的城堡》創作於一九一一年,但中間經歷一次世界大戰,直到一九一八年才在布達佩斯國立歌劇院首演。巴爾托克運用匈牙利民間音樂的旋律,民族色彩濃厚,再加上配器豐富、邏輯性強、合理,反倒讓樂團演奏起來暢快淋漓,有一氣呵成之感。
劇情講述一位純潔的姑娘尤蒂不顧傳言嫁給藍鬍子公爵。新婚之夜由於好奇心的驅使,尤蒂執意要查探丈夫過去的秘密,以色慾吸引藍鬍子公爵打開城堡中的七扇門。最後她自己也死在城堡內,與藍鬍子的前妻們一樣,都成了城堡內的魂魄。
曾道雄認為這齣歌劇隱喻男人的心中有七扇門,聰明的女生只打開三到四扇就好,就會相安無事,甚至會帶來幸福;但如果堅持要全部都打開,「兩人或許就得相互毀滅!」曾道雄說,在最後的結局裡,將會有一場長達二十秒的全裸,「這些都在巴爾托克的樂譜裡可以找到,他已經把劇情都交代在樂譜中,非常經典。」
其實,籌演《藍鬍子公爵的城堡》幾經周折,先是原本的主辦單位國立臺灣交響樂團決定今年不演出,但因兩廳院已將檔期留下,身為導演的曾道雄覺得可惜,就自己接下來做,沒想到文建會、國藝會都沒有任何補助。因此,曾道雄將國家今年的文藝獎獎金投進去還缺新台幣三百六十萬,他說,「這是一齣少見但非常值得製作的歌劇,我想知道正式演出之後,這兩個單位可以給我不補助的理由。」該劇將在下週五與週六於台北國家戲劇院演出。
(自由時報記者趙靜瑜)
Publication Notes
TODAY'S WORDS 今日單字
1. derive v.
得到 (de2 dao4)
例:Many people derive great pleasure from quiet pastimes such as gardening and hiking.
(許多人從像是園藝與踏青的寧靜消遣,得到極大的愉悅。)
2. haunt v.
常出沒於 (chang2 chu1 mo4 yu2)
例: The villagers told us that the bamboo grove was haunted by the ghost of a child who was eaten by a bear.
(村民告訴我們,竹林有一位命喪熊肚小孩的鬼魂出沒。)
3. hitch n.
障礙 (zhang4 ai4)
例: Our project ran into a hitch last week, but now everything is back on schedule.
(我們的計畫上週遇到障礙,但現在一切皆回歸正常。)
Comments will be moderated. Keep comments relevant to the article. Remarks containing abusive and obscene language, personal attacks of any kind or promotion will be removed and the user banned. Final decision will be at the discretion of the Taipei Times.