Swine flu game: sneeze to win 新流感遊戲:努力打噴嚏
You have only one sneeze. Use it wisely. Yes, it's "Stop Swine Flu," the video game.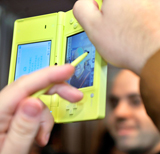 A man plays with Nintendo's portable video game console DSi at the Foreign Correspondents' Club in Tokyo on April 9, 2009.四月九日,一名男子在東京外籍特派記者俱樂部玩任天堂隨身電玩DSi。照片:美聯社
PHOTO : AP
The action starts with a splosh of green mucus hitting your screen, then switches to a street somewhere. Your avatar stands among pedestrians. The background noises are coughs, sneezes, noses being blown. Choose your moment, then tap the space bar to sneeze. Everyone hit by your spray turns green, then sneezes in turn, infecting others. How many are infected determines whether you go to the next level, which could be a train station, a factory floor or a nursery school.
Infecting a child is five points; an elderly person is 15. "I sort of like it, but I think it's really warped," said an eight-year-old who noticed the game on Sunday when it reached the Top 10 on his favorite free children's game site, www.miniclips.com.
"Stop Swine Flu" — which probably ought to be called "Spread Swine Flu" — is actually a new name for a game released this year as "Sneeze," before the possibility of pandemic flu dominated the news. And "Sneeze" was created with the best of intentions: to subversively teach young people healthy habits. It was commissioned by the Wellcome Trust, the world's second largest charity after the Bill & Melinda Gates Foundation.
"We did it to engage the older teen audience and teach them that where you sneeze matters," said Daniel Glaser, the trust's chief of special projects. "All the science is embedded in a contest that will look familiar to the YouTube generation."
The game does drop hints that it longs to be pedagogical. Each new level offers a germ fact: more than 100 viruses cause colds, colds cost $25 billion a year in lost productivity and so on.
But still — points for infecting toddlers? Isn't that the product of a ... well, of a sick mind?
"It's no sicker than Ring Around the Rosy, which is alleged to date from the time of the plague," Glaser retorted. "People have always caught virus and died. I don't think there's anything inappropriate about it." (NEW YORK TIMES)
你只能打一次噴嚏,所以得「加以善用」。沒錯,這就是「抵抗新流感」電玩遊戲。
這個遊戲以一團綠色黏液噴濺到你的螢幕開始,然後畫面就轉到某處街景,你的角色就站在一群行人之間。周圍傳來很多咳嗽、打噴嚏和擤鼻涕的聲音。選定時機後,就輕敲空白鍵打噴嚏。所有被你的鼻嚏噴到的人都會變成綠色,然後輪流打噴嚏,傳染給其他人。你總共傳染給多少人會決定你是否進入下一關,場景可能換成在火車站、廠房或護理學校。
傳染給一名兒童可獲得五分,老人則有十五分。一名八歲男孩上週日在他最喜歡的免費兒童遊戲網站www.miniclips.com上發現這個名列排行榜前十名的遊戲後說:「我還蠻喜歡這個遊戲的,但我覺得它實在很變態。」
這個今年推出的遊戲原本名為「打噴嚏」,但在可能造成全球大流行的新流感佔據新聞版面後便改名為「阻止新流感」──或許該叫「傳播新流感」才對。「打噴嚏」的設計宗旨是出於一片好意:用顛覆性的方式教導年輕人衛生習慣。該遊戲是由威爾康信託委任製作,威爾康信託是全球第二大慈善機構,僅次於比爾蓋茲伉儷基金會。
該信託特別企劃主任丹尼爾.葛萊瑟說:「我們設計了這款遊戲吸引年齡稍長的青少年,希望教導他們打噴嚏應慎選地點。科學知識就蘊藏在這些YouTube世代熟悉的遊戲競賽中。」
這個遊戲的確蘊含教育意義。每個進階關卡都會提供一個關於細菌的知識,例如:有超過一百種病毒會引發感冒、感冒每年造成兩百五十億美元市值的生產力損失等等。
但話說回來,傳染病毒給幼童的意義為何?這是否是一個…唔,一個病態的遊戲?
葛萊瑟反駁說:「這個遊戲沒有比以鼠疫為年代背景的兒歌『圍著玫瑰色斑疹繞圈』病態。世上總有人染上流感而死亡。我不覺得這有什麼不恰當之處。」(紐約時報╱翻譯:袁星塵)
Publication Notes
LEARN IT! 學習小站
1. sneeze v.
打噴嚏 (da3 pen1 ti4)
2. pedestrian n.
行人 (xing2 ren2)
3. infect v.
傳染 (chuan2 ran3)
4. habit n.
習慣 (xi2 guan4)
5. audience n.
愛好者 (ai4 hao4 zhe3)
Comments will be moderated. Keep comments relevant to the article. Remarks containing abusive and obscene language, personal attacks of any kind or promotion will be removed and the user banned. Final decision will be at the discretion of the Taipei Times.