Taiwan confirms three more virus cases
FIRST INDIGENOUS CASE: One of the cases involved the Taiwanese spouse of a woman who had visited Wuhan, while the other two were Chinese travelers
The Central Epidemic Command Center yesterday confirmed three new cases of 2019 novel coronavirus (2019-nCoV) infection in Taiwan — two Chinese visitors from the Chinese city of Wuhan, where the virus was first discovered, and one Taiwanese spouse of a previously confirmed case.
The command center also raised its travel advisory for China, excluding Hong Kong and Macau, to level 3, its highest warning level, meaning people should avoid unnecessary travel to the area, Centers for Disease Control (CDC) Deputy Director-General Chuang Jen-hsiang (莊人祥) said.
Yesterday's announcement raised the total number of cases of 2019-nCoV confirmed in Taiwan to eight, with the latest being the husband of the fifth case reported on Monday.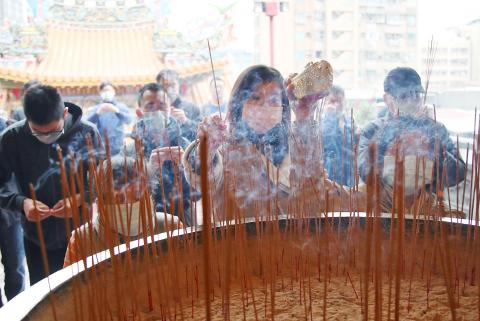 Worshipers burn incense and offer prayers at Ciyou Temple in Taipei's Songshan District yesterday. Concerned about the spread of a new coronavirus, a large majority of visitors to the temple this year have worn masks.
Photo: CNA
The man had not visited China, making it the first indigenous case of the 2019-nCoV infection, the command center said.
Minister of Health and Welfare Chen Shih-chung (陳時中) said the command center would enhance the health monitoring mechanism by providing electronic devices for people under home quarantine, including those who had returned from Wuhan and those who have had direct contact with confirmed patients, to report back to health departments daily, starting today.
The decision to raise the level of the travel advisory to China was made following a WHO report published late on Sunday that said the risk of the 2019-nCoV outbreak is "very high" in China, Chuang said.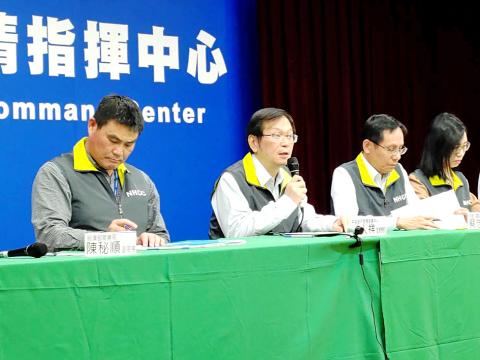 The Central Epidemic Command Center announces new cases of 2019 novel coronavirus infection at a press conference in Taipei yesterday.
Photo: Wu Liang-yi, Taipei Times
The US' Centers for Disease Control and Prevention has also raised its travel advisory to level three — meaning people should "reconsider travel" to China, he added.
"Cases of 2019-nCov infection have been confirmed in every province in China except for Tibet, and the number of cases have continued to increase, signifying a serious epidemic," Chuang said.
The two new imported cases in Taiwan are two female Chinese visitors in their 70s from Wuhan, who came to Taiwan on Wednesday last week.
The two women felt ill and sought treatment at a hospital on Saturday last week and they were immediately placed in negative pressure isolation wards and reported to the CDC as potential cases of 2019-nCoV, he said.
Their test results yesterday came out positive for the new virus, he said.
The two do not have pneumonia and are in stable condition, he said, adding that the hospital and local health bureaus are taking standard procedures in treatment and follow-up investigations on people who have had direct contact with them.
The command center on Monday received 130 reports of severe pneumonia with novel pathogens, bringing the total number of suspected cases to 530 in Taiwan.
Among them, eight were confirmed to have the virus, 269 people were ruled out and the remainder are under quarantine for further examinations, including 98 who had negative results in their first test.
Among the 470 people who have had direct exposure to the first five confirmed cases in the nation and are under medical monitoring, 16 exhibited symptoms of the disease, of which 10 returned negative results in two tests for the virus, while the other six are still under examination.
The Ministry of Economic Affairs' Department of Commerce deputy head Chen Mi-shun (陳秘順) said that from yesterday to tomorrow, the Ministry of Health and Welfare is distributing 6 million medical-standard masks per day to pharmacies and convenience stores for public purchase.
"Each person will only be allowed to buy three masks," he said, adding that the policy is an emergency measure, because mask production was down during the Lunar New Year holiday, which ends today.
Hopefully, production would return to normal after people go back to work tomorrow, he added.
The masks released by the ministry are to be sold for NT$8 apiece and retailers have obtained approval to sell them by piece, he said, urging people not to stockpile masks.
Comments will be moderated. Keep comments relevant to the article. Remarks containing abusive and obscene language, personal attacks of any kind or promotion will be removed and the user banned. Final decision will be at the discretion of the Taipei Times.