Lai to step down as premier 'when time is right'
'LONG LIVE DEMOCRACY': Lai said he accepted the position when the government was already in a tough spot because he wanted to help, but it 'did not work out well'
Premier William Lai (賴清德) yesterday said that he would step down "when the time is right" to take political responsibility for the Democratic Progressive Party's (DPP) heavy losses in the Nov. 24 nine-in-one elections.
"Taking political responsibility is the supreme value of democracy that no one should ever go against. I am a person who preaches 'long live democracy,'" Lai told a news conference at the Executive Yuan.
Asked whether the right time would be when the Legislative Yuan breaks for a recess next month or in 2020 for the presidential election, Lai did not elaborate.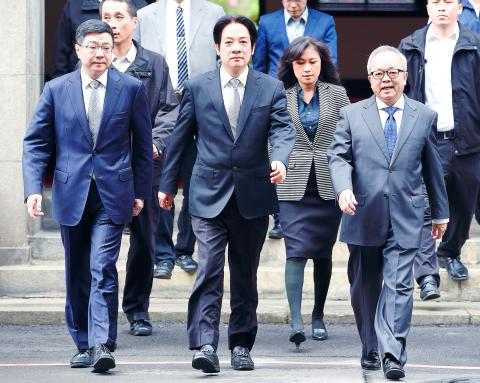 Premier William Lai, front center, Vice Premier Shih Jun-ji, front right, Executive Yuan Secretary-General Cho Jung-tai, front left, and Executive Yuan spokeswoman Kolas Yotaka, second row right, walk to a news conference in Taipei yesterday.
Photo: Liao Chen-huei, Taipei Times
The legislative session is scheduled to end on Dec. 31, but an extra session is likely to be held next month if next year's budget is not passed by the end of the year.
Lai on election night offered his verbal resignation to President Tsai Ing-wen (蔡英文), saying that the results reflected public dissatisfaction with the government for which he has to shoulder responsibility.
Tsai, who resigned as DPP chairperson that night, did not accept his resignation and told Lai to stay "in the interest of political stability and continuity."
On Nov. 26, Lai said he would remain in his post, because he was scheduled to deliver a report on the Oct. 21 Puyuma Express train derailment to the legislature the next day and must continue the Executive Yuan's efforts to pass next year's budget and other bills.
Lai yesterday said that he had accepted Tsai's offer to serve as premier in September last year against the advice of many of his friends, because the government was already in a bit of a predicament at the time.
"I wanted to help, but it turned out a year later that it did not work out well," he said.
Lai said he decided to stay on as premier regardless of the criticism heaped on him, which was "not for my own good, but rather for the interest of the whole nation."
"I am utterly resolute in stepping down when the time is right to shoulder political responsibility. What we have learned from the elections about our mistakes will surely be addressed and will not just be empty words," he said.
Only when he resigns as premier would Tsai have room to embark upon her agenda in a more vigorous way, he said.
Lai also presented a report detailing what the Cabinet saw as causes of public dissatisfaction with its policy planning and implementation.
He cited the government's failure to ensure that the effects of the nation's economic growth would trickle down to ordinary people, to protect the rights and welfare of farmers and fishers, and to spread the tourism benefits created by the increasing numbers of visitors from countries targeted by Tsai's New Southbound Policy to the eastern and southern parts of the nation.
Hasty amendments to the Labor Standards Act (勞動基準法), failure to curb air pollution and the chaos during election day were also possible causes, he added.
The Presidential Office later released a statement saying that Tsai and Lai have achieved a high degree of consensus on a government reshuffle, policy adjustments and implementation.
Since the elections, Tsai and Lai have had intense exchanges of ideas and they both understand each other's thoughts, the statement read.
"The president commends Lai for being a premier with a strong sense of responsibility. Lai's decision to take the post and continue to perform diligently after the elections has been made in the interests of Taiwan," it said.
Comments will be moderated. Keep comments relevant to the article. Remarks containing abusive and obscene language, personal attacks of any kind or promotion will be removed and the user banned. Final decision will be at the discretion of the Taipei Times.