President apologizes to DPP candidates
'DISCONTENT': The DPP would reflect on its mistakes and find solutions, Tsai said, while the Taoyuan mayor urged her to reshuffle the Cabinet and Presidential Office
President Tsai Ing-wen (蔡英文) yesterday apologized for letting her administration become a burden on Democratic Progressive Party (DPP) candidates in Saturday's local elections, as she embarked on a series of trips across the nation to gather opinions from the party's frontline campaign staff.
Tsai, who on Saturday evening resigned as DPP chairperson over the party's losses, made the remarks at a Kaohsiung forum attended by members of a fan club for DPP Kaohsiung mayoral candidate Chen Chi-mai (陳其邁), who lost to his Chinese Nationalist Party (KMT) rival Han Kuo-yu (韓國瑜).
Chen's loss ended the DPP's 20-year governance of the city, which has traditionally been a pan-green camp stronghold.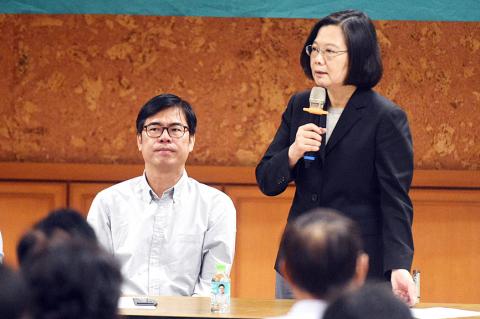 President Tsai Ing-wen apologizes for her administration's poor performance at a meeting in Kaohsiung yesterday for supporters of Democratic Progressive Party Kaohsiung mayoral candidate Chen Chi-mai, who lost in Saturday's elections.
Photo: Chang Chung-yi, Taipei Times
Kaohsiung is one of the seven cities and the counties the DPP lost in the local elections. The party had won 13 cities and counties in the 2014 race.
"I would like first to apologize to you for letting the central government become a burden on local elections. I am here today to join you to identify and reflect on our mistakes," Tsai said.
Elections are the cornerstone of democracy and are used by voters to evaluate a nation's leaders, which is why post-election reflection is an important task that allows the defeated party to find where it had failed and where it should pick itself up again, Tsai said.
Following reflection, Tsai said she would readjust her policies on the issues covered by the referendums and reshuffle her government.
"Tomorrow [today], the DPP will choose its interim chairperson. It will also elect a new leader as soon as possible to lead the DPP in the next phase," she said.
The DPP would bear in mind all the criticism Kaohsiung residents have voiced and humbly listen to their opinions, Chen said.
Despite his defeat, Chen said he still loves his hometown and believes in democracy and the progressive values upheld by its residents.
Earlier yesterday, Tsai wrote on Facebook that reflection should not be done by shutting oneself in a room, but rather should be acted on so that the DPP can regroup and start again.
As Taiwanese have expressed their discontent with the ruling party through their ballots, she must humbly listen to their opinions, Tsai said.
"Starting today, I will begin a series of events and go to the front lines to listen to your opinions," she added.
Taoyuan Mayor Cheng Wen-tsan (鄭文燦), a DPP member who was re-elected on Saturday, yesterday said that he told Tsai on Monday that she needed to reshuffle not only the party, but also the Presidential Office and the Executive Yuan.
The DPP should make drastic changes to respond to the public's discontent with the party, and not just reflect on its campaign strategies and carry out party reform, Cheng said.
It is the only way the DPP can regain the public's trust, he said.
Additional reporting by Wei Ching-yun
Comments will be moderated. Keep comments relevant to the article. Remarks containing abusive and obscene language, personal attacks of any kind or promotion will be removed and the user banned. Final decision will be at the discretion of the Taipei Times.