Leaders of four allies speak for Taiwan at UN
Four more of Taiwan's diplomatic allies on Wednesday spoke in favor of the nation taking part in UN activities, after two did so on Tuesday, the Ministry of Foreign Affairs said yesterday.
King Mswati III of Eswatini reiterated his nation's "unwavering stance" in calling upon the UN to afford the people of Taiwan the opportunity to partake and contribute to the UN development system.
"Taiwan's experience in various fields, vital to the dimensions of sustainable development, would go a long way in contributing to the work and membership of the UN," Mswati said in his address.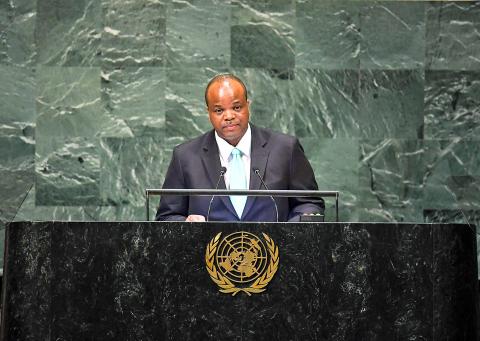 King Mswati III of Eswatini addresses the UN General Assembly in New York City on Wednesday.
Photo: AFP
In line with the spirit of universality, Taiwanese should not be left behind in making the UN relevant to all people, he said.
Kiribati President Taneti Maamau said that the UN theme to be delivered over the next year is about all the people living on this planet.
"This theme will be irrelevant if the UN continues to ignore the 23 million people who live and contribute to our shared home and continues to exclude them from the process," Maamau said.
"We are one family and we therefore call on an inclusive approach to have Taiwan participate in international processes and to allow it to contribute to address areas of concerns to this UN body and the implementation of the Sustainable Development Goals [SDGs]," he said.
Nauruan President Baron Waqa also said that making the UN relevant to all people must include Taiwanese.
"The people of Taiwan should be treated equally to those of other nations. The UN should resolve the serious issue of Taiwan's 23 million people being excluded from the UN system," he said.
Waqa quoted the UN Charter, which says that its mission is to "reaffirm faith in fundamental human rights, in the dignity and worth of the human person, in the equal rights of men and women and of nations large and small."
Palauan President Tommy Remengesau Jr praised Taiwan as a long-time supporter of his nation's efforts to achieve the SDGs, through help with infrastructure, and in the health and education sectors.
"We urge the UN to seek a solution to include Taiwan in all its processes, including the International Civil Aviation Organization and the WHO," he said.
"My government firmly believes that Taiwan's inclusion in the UN system will greatly benefit the UN's work and its sustainable development agenda," he added.
Comments will be moderated. Keep comments relevant to the article. Remarks containing abusive and obscene language, personal attacks of any kind or promotion will be removed and the user banned. Final decision will be at the discretion of the Taipei Times.